Texas Sen. Ted Cruz (R) has renewed his call for a ban on refugees entering the U.S. in the wake of the bombings in New York City and New Jersey and the stabbing attack in Minnesota.
A former 2016 Republican presidential contender, Cruz was an ardent critic of the Obama administration's refugee program while on the campaign trail and introduced the Terrorist Refugee Infiltration Prevention Act of 2015 in the Senate. His measure would have prevented refugees from any country with an Islamic State, al-Qaeda or other foreign terrorist organization presence be denied entry into the U.S.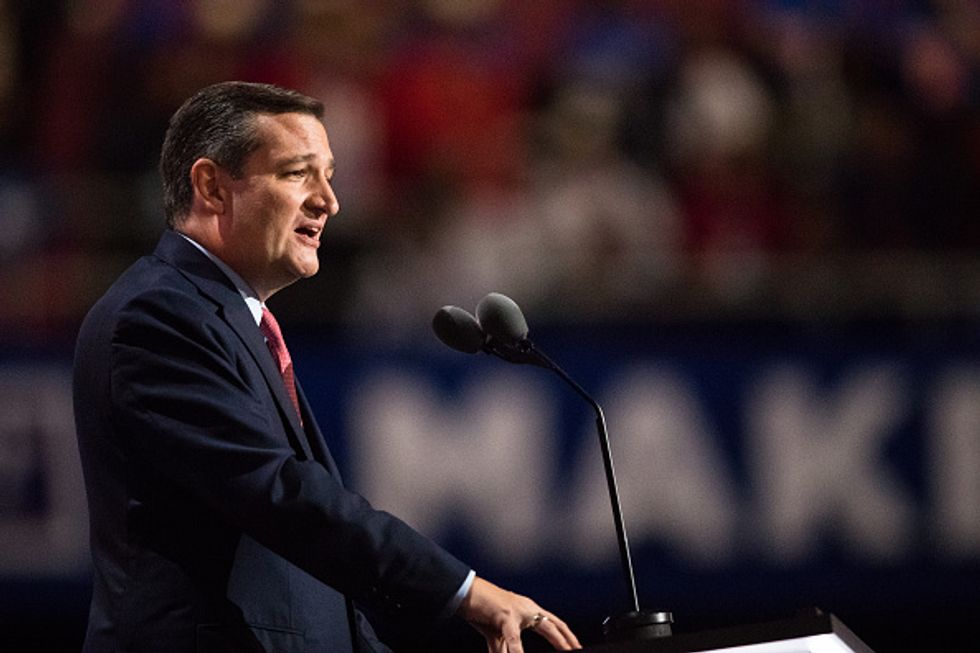 Sen. Ted Cruz (R-Texas) speaks at the Republican National Convention in Cleveland, Ohio. (Getty Images/Brett Carlsen)
In a lengthy statement to the Washington Free Beacon on Monday, Cruz once again called on Congress "to prevent Americans who have travelled abroad for training from returning here and to stop the flow of refugees from hotbeds of terrorism in the Middle East that President Obama is determined to bring into our country."
"As we confront this new phase, we must avoid the trap of misconceiving these attacks as isolated incidents somehow disconnected from the larger ideological struggle against jihad," Cruz said. "It is past time to take off the blinders and call the enemy what it is: radical Islamic terrorism engaged in a coordinated campaign designed to disrupt our very way of life."
He added, "We can't overcome our enemies by pretending they don't exist, and undermining our first line of defenders. Only together, clear-eyed and determined, can we defeat this foe."
Dozens of Americans were injured over the weekend in multiple apparent terrorist attacks in the U.S. from New Jersey to Minnesota.
A 22-year-old man went on a stabbing spree at a Minnesota mall Saturday, injuring nine people before he was fatally shot by an off-duty police officer. An Islamic State media outlet, the Amaq News Agency, said in an online statement that it claimed responsibility for the attack.
On Monday, Ahmad Khan Rahami, 28, was taken into custody following a shootout with police as law enforcement officials identified him a suspect in a series of explosions in Manhattan and New Jersey. The bombings began with a pipe bomb that exploded shortly before a Marine charity race was scheduled to begin on the Jersey shore Saturday morning. The bombing injured no one.
Later Saturday night, 29 people were injured in Manhattan during a blast that exploded in the Chelsea neighborhood. An unexploded pressure cooker bomb was also found by police just blocks away.
Additionally, five explosive devices were found Sunday in a trash can at a train station in Elizabeth, New Jersey. No injuries were reported in the New Jersey incident.
—
Follow Kaitlyn Schallhorn (@K_Schallhorn) on Twitter