The day after a black man was fatally shot by police in El Cajon, California, video captured protesters attacking a Donald Trump supporter.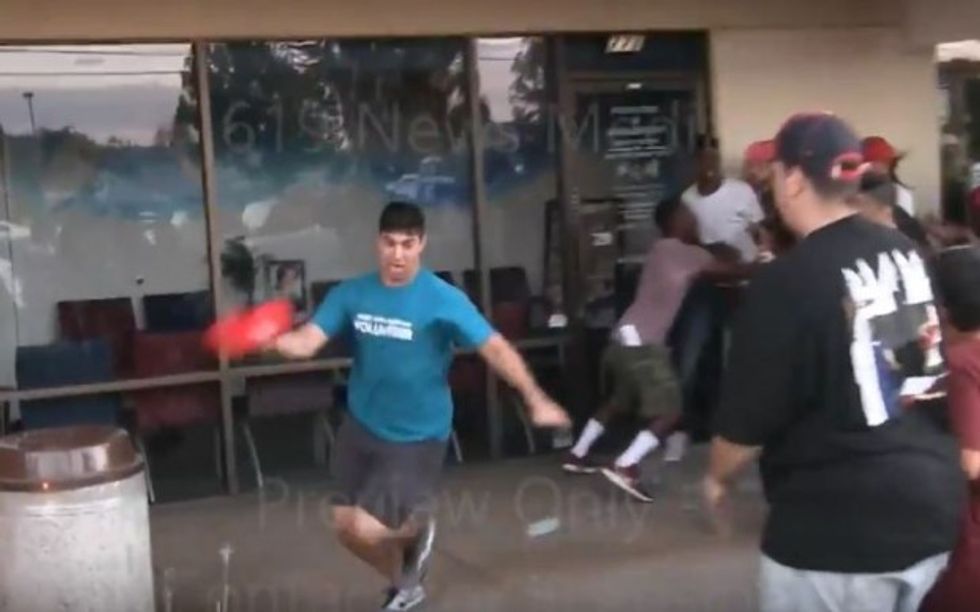 Image source: YouTube
The man was chased through a strip mall parking lot Wednesday until he fell to the ground and his red "Make America Great Again" cap was pulled from his hands.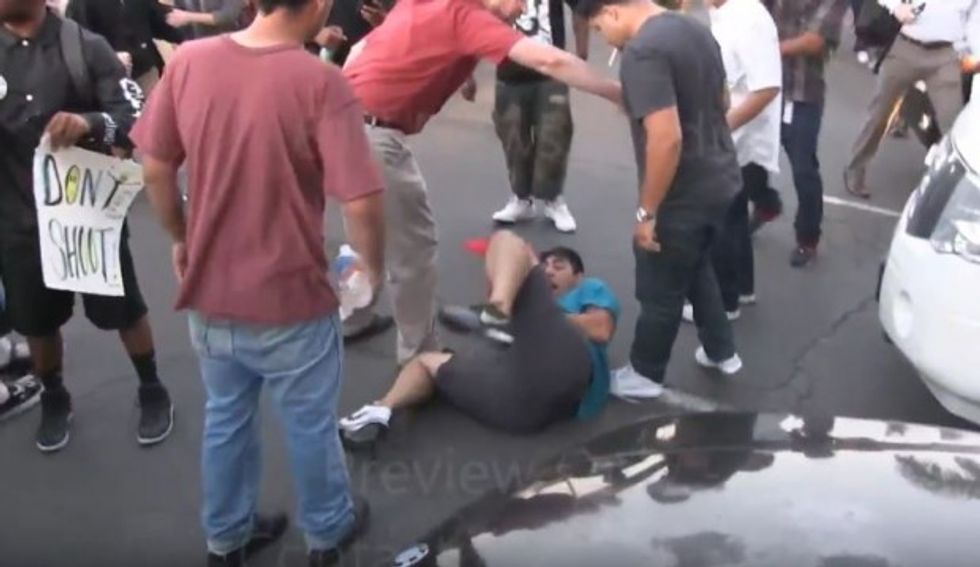 Image source: YouTube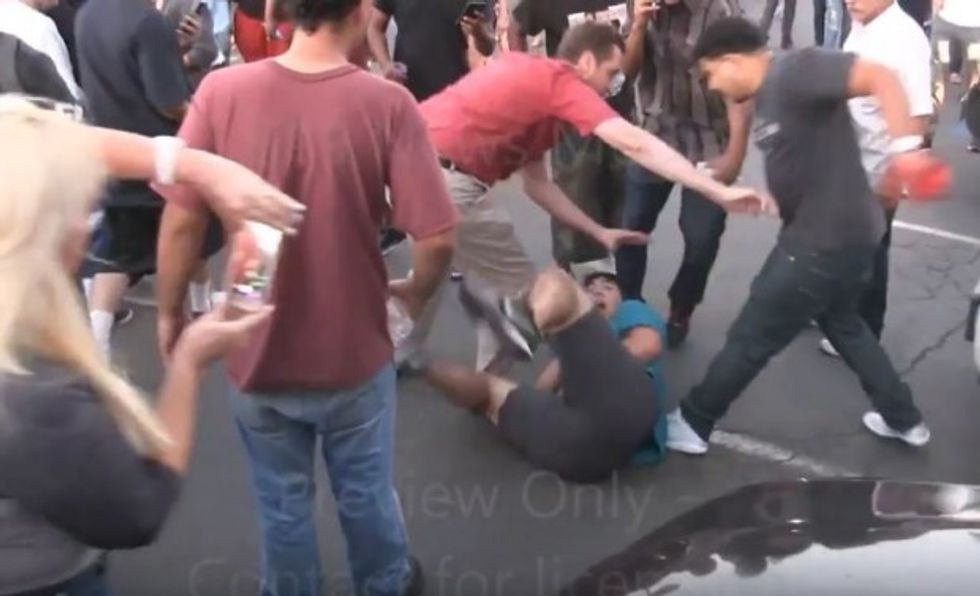 Image source: YouTube
He was then surrounded by a large crowd until a few people tried to calm the protesters and then led the man away to a safer spot.
In another tense scene, a video camera caught the moment a driver was stopped in the street by surrounding protesters and then plowed past them with at least one protester tumbling to the street:
In a longer clip, the Trump supporter was seen being shielded by a few people as the crowd continued to gather and yell.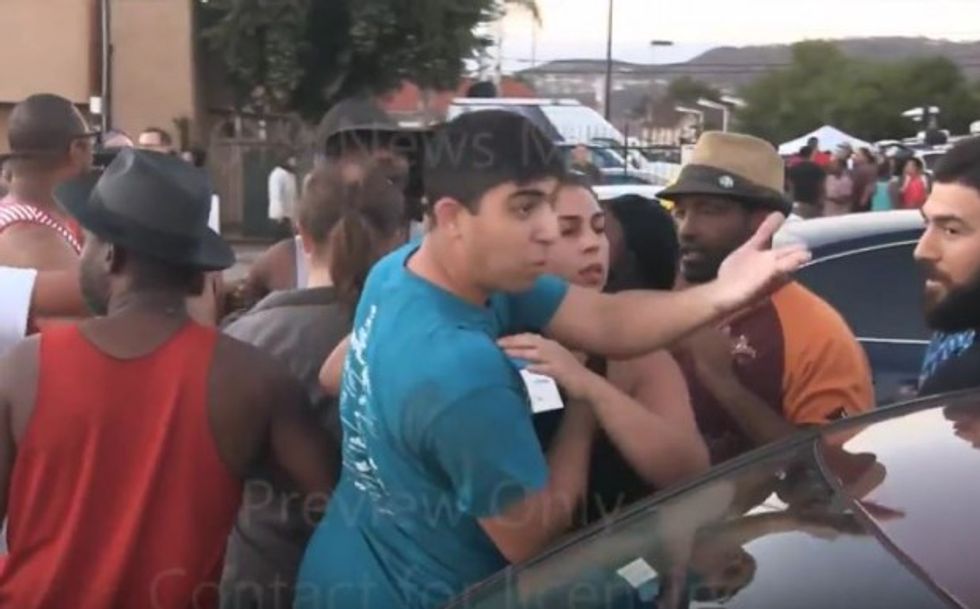 Image source: YouTube
Soon police arrived at the scene, and the Trump supporter flagged them down and hurried toward them as others were heard yelling, "Get him!" and "Get the f*** outta here, man!"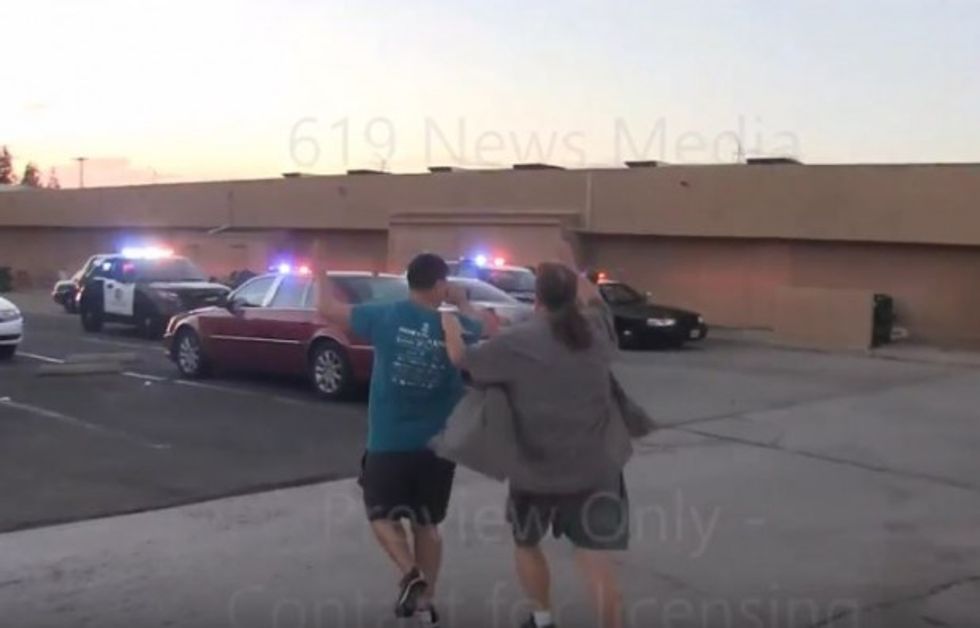 Image source: YouTube
When the Trump supporter explained on camera what happened to him, someone asked him, "Why did you decide to wear a Donald Trump hat?"
"Sir, that's a terrible question," the man replied. "I'm simply a Donald J. Trump supporter who also happens to want equality. ... I didn't do any type of provoking."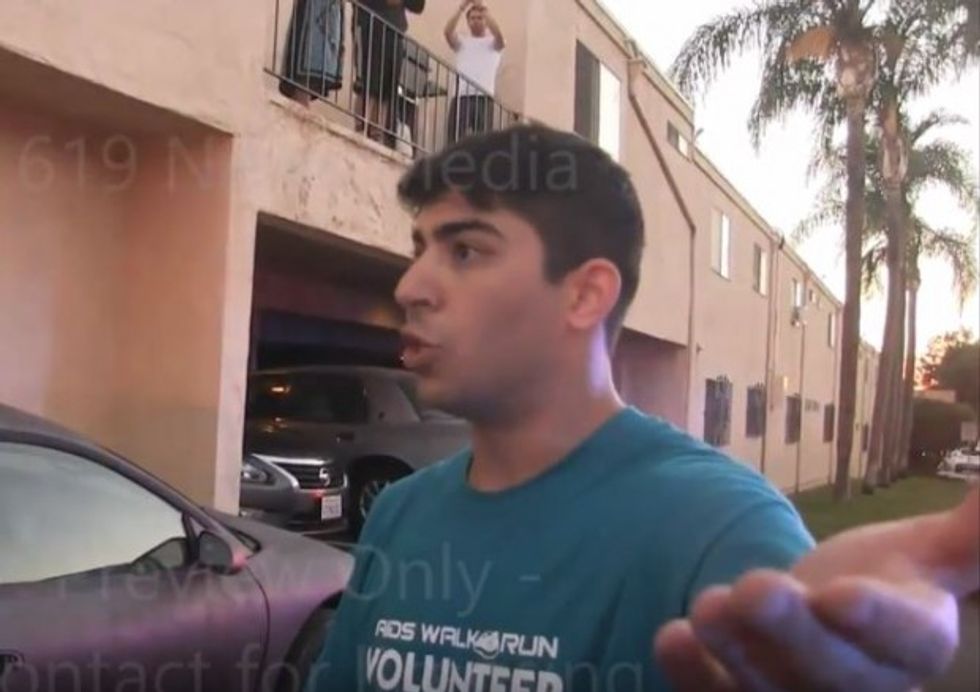 Image source: YouTube
The man, who identified himself as Feras Jabro, added that he shouldn't have to remove a hat to witness a protest.
Here's the clip (Content warning: Rough language):
More than 200 people marched in the streets near the site of the shooting of Alfred Olango, yelling, "No justice, no peace. No racist police!"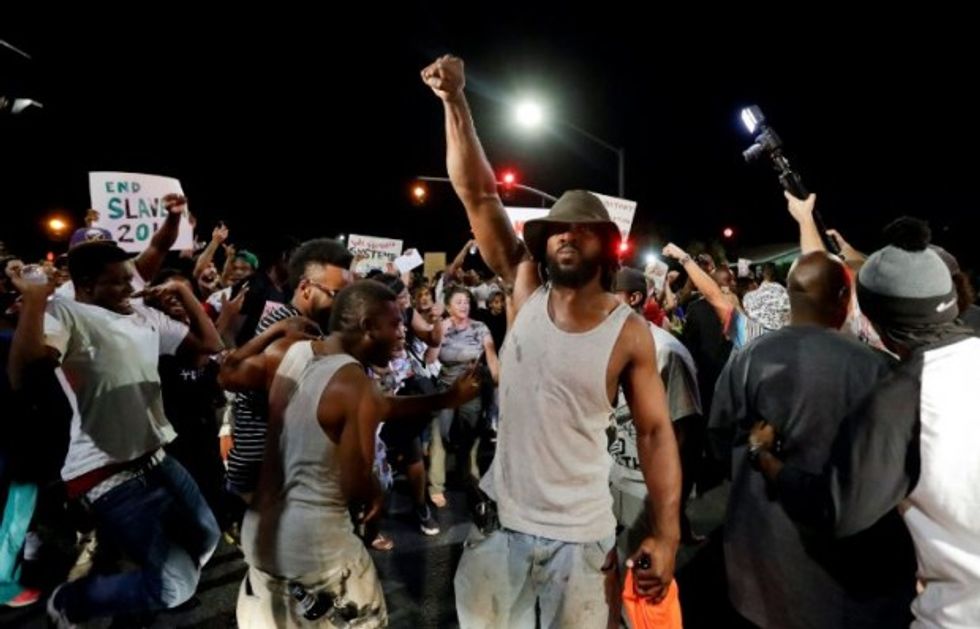 People block streets during a protest Wednesday in El Cajon, California. Dozens of demonstrators protested the killing of a black man shot by an officer after authorities said the man pulled an object from a pocket, pointed it and assumed a "shooting stance." (AP Photo/Gregory Bull)
Police in riot gear, some of them with dogs, faced off with protesters occasionally, bringing some tense moments, but mostly kept their distance.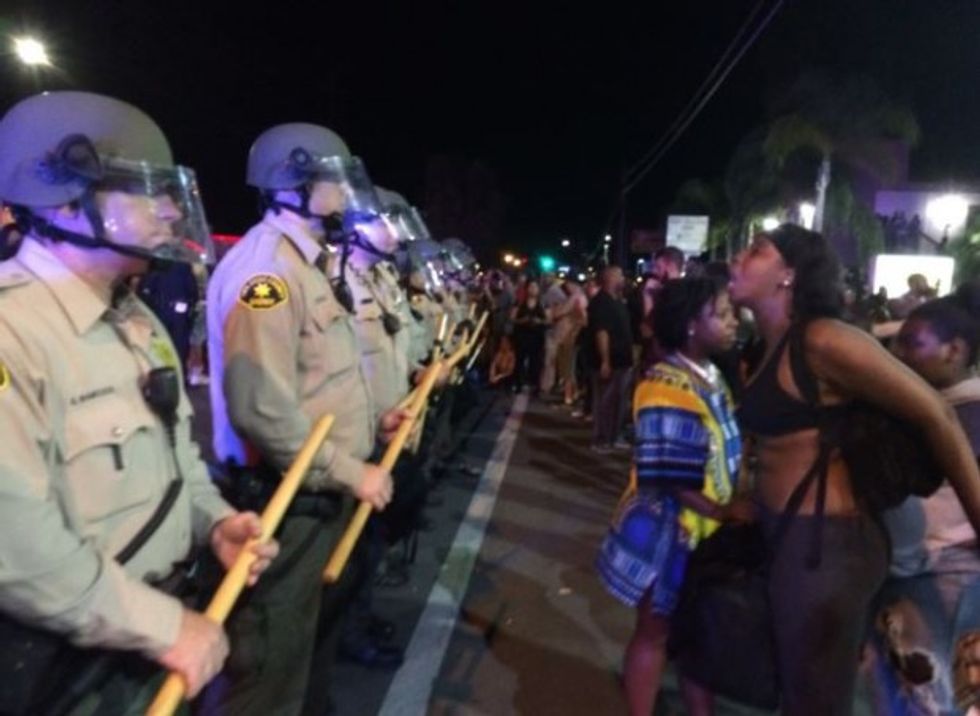 Demonstrators yell at police during a protest Wednesday in El Cajon, California. (AP Photo/Julie Watson)
On Tuesday, Olango pulled a large electronic cigarette, known as a vape pen, from his pocket and assumed a "shooting stance" as he pointed at the police officer who fired while a second officer stood nearby trying to subdue him with a stun gun, El Cajon police said.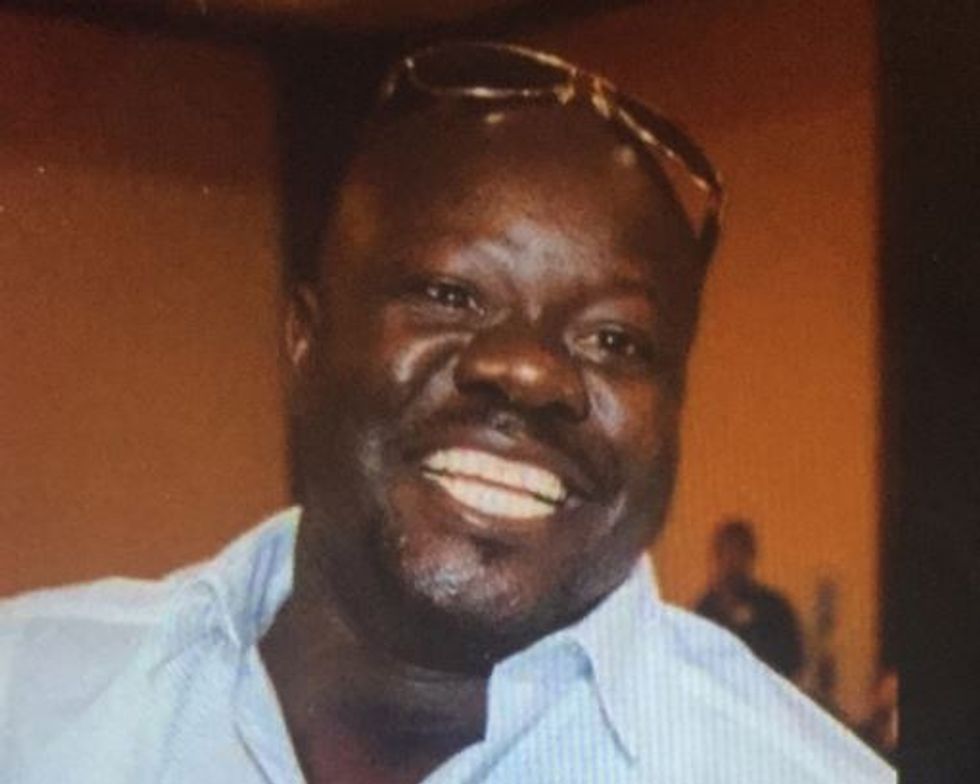 This undated cellphone photo released by Dan Gilleon, the attorney for the family of Alfred Olango, shows Alfred Olango, the Ugandan refugee killed Tuesday in El Cajon, California. (Olango Family via AP)
An attorney said Olango was having an emotional breakdown over the recent death of his best friend.
The Associated Press contributed to this story.