After they found out the front of a Brooklyn fire truck was adorned with a mask of Republican President-elect Donald Trump, New York City Fire Department officials reportedly brought the hammer down.
A memo was sent out this week decrying the Trump mask as well as "material posted about election" in firehouses. "Posting of these materials is not in compliance with Regs," the memo read, according to the New York Post. "Please make sure apparatus and quarters are clear of this material."
"Only [the] FDNY wouldn't want the democratically elected president of America hanging in a firehouse," one anonymous firefighter told the paper. "The firehouse is supposed to be a symbol of America. That's hard to believe when you can't post a picture of the president."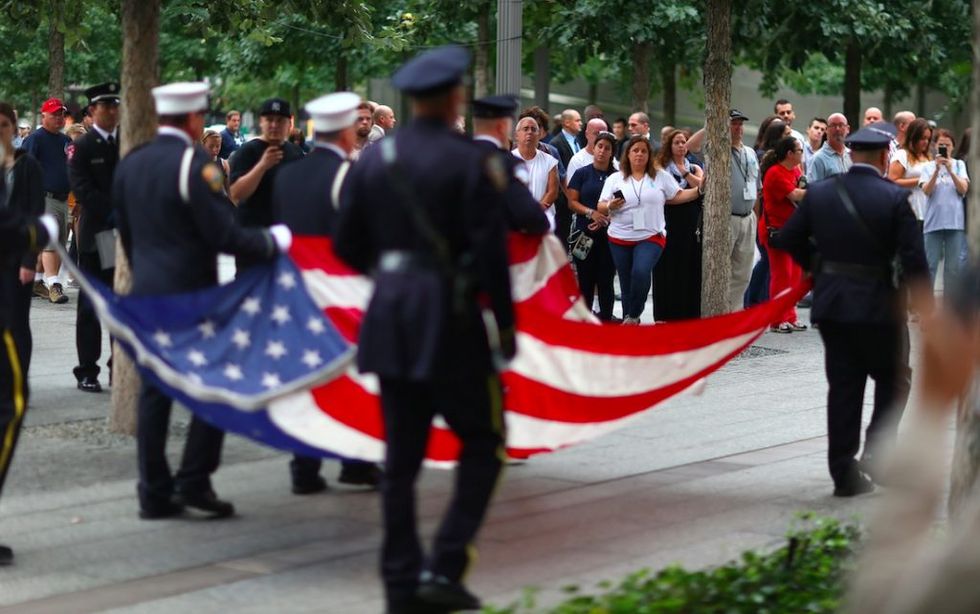 NYPD and FDNY officers bring in the American flag during memorial observances of the anniversary of the Sept. 11 terror attacks on the World Trade Center in New York. (AP Photo/The New York Times, Chang W. Lee, Pool)
Images of other presidents reportedly hang in firehouses.
"They have pictures of ... George Bush standing on the World Trade Center pile with a megaphone," the Post's source said. "FDNY posts pictures all the time. When Barack Obama visits firehouses, FDNY officially posts photos of him shaking hands, people smiling — no problem there."
FDNY spokesman Jim Long told the paper that the department simply wants firefighters to steer clear of politics.
"The message, specifically to its time, was to remain out of the political scene and out of the political field," Long said.
However, another Post source said the message is not out of the ordinary.
"The department has always been apolitical," the source told paper. "The message was a reminder of the importance of following the protocol and regulations within a work environment."