House Minority Leader Nancy Pelosi (D-Calif.) was heckled by protesters over the weekend during a town hall with constituents in San Francisco — and her frustration was apparent.
Pelosi appeared at Balboa High School in San Francisco, along with Rep. Jackie Speier (D-Calif.), to discuss the fate of the Affordable Care Act or Obamacare, Russia's interference in the U.S. elections, and climate change.
One of the most tense moments came as Pelosi was asked about health care. Just one day before, Republicans admitted they didn't have the votes to pass the American Health Care Act, the legislation crafted by Speaker of the House Paul Ryan (R-Wis.)  as a replacement for Obamacare. Pelosi was Speaker of the House when Obamacare passed in 2010. At the time, she was a proponent of moving toward a single-payer health care system, but after it became clear that such a bill couldn't pass the Democratic-controlled House and Senate, Democrats settled for an "individual mandate" based plan instead. The result was the Affordable Care Act, or Obamacare.
Despite previous previous efforts at the federal level to move to a single-payer system, however, protesters in Pelosi's liberal San Francisco district came out in full force Saturday to continue to advocate for socialized medicine. Pelosi tried to defend her progressive stance on the issue, but protesters weren't satisfied.
"I have been — as I said to my colleagues — I was on the streets holding signs for single-payer 30 years ago before I ever went to Congress," Pelosi said.
Hecklers then began shouting inaudible comments. Pelosi responded with a confused face, saying, "I'm sorry?"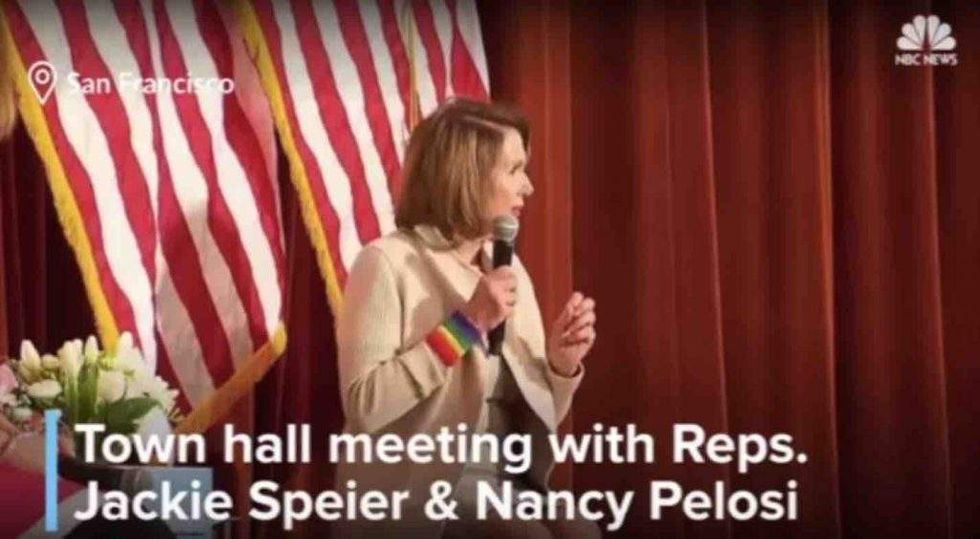 Image source: YouTube screen cap
Pelosi continued: "The Affordable Care Act, in certain respects, we have gone to the left of Medicare for all."
Again, protesters erupted with inaudible remarks. At that point, Pelosi was clearly perturbed: "Yes, yes, yes. Do you want to listen or do just want to speak? ... We tried to mitigate by not getting single payer or public option by putting as many benefits in the bill as possible and one of them — listen up — is catastrophic coverage."
For a third time, protesters interrupted Pelosi with comments that were not clearly heard. "I have always supported that," Pelosi assured the questioners.
Hecklers cut in a fourth time, and at that point, Pelosi shot back with a comment that prompted laughter.
"I have been supporting it since before you were born," Pelosi said.
(H/T: American Mirror)