Two years since the spate of race-fueled, headline-dominating student protests at the University of Missouri, the school says freshman enrollment at the main Columbia campus has fallen more than 35 percent, the New York Times reported Sunday.
The backlash showed itself in the form of racism charges on campus and as an out-of control protest culture that school officials failed to properly address and navigate, the paper said.
"The general consensus was that it was because of the aftermath of what happened in November 2015," new system President Mun Choi told the Times, referring to the height of the protests. "There were students from both in state and out of state that just did not apply, or those who did apply but decided not to attend."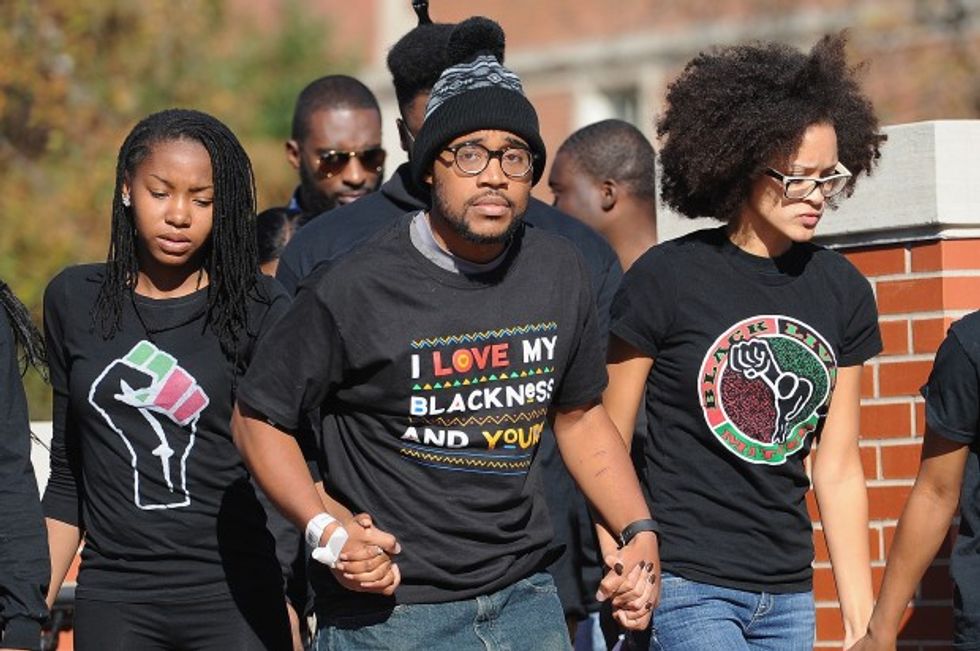 Jonathan Butler, a University of Missouri grad student who did a seven-day hunger strike, is greeted by fellow students on the Columbia campus on Nov. 9, 2015. (Michael B. Thomas/Getty Images)
Last fall, the enrollment drop among blacks was 42 percent compared to whites, which was at 21 percent, the paper said, adding that a racial breakdown was not yet available for this fall's freshman class. Blacks students have comprised a small minority at the university — in 2012 only about 10 percent.
A steep revenue loss led to Mizzou temporarily closing seven dormitories and cutting more than 400 positions — including those held by nontenured faculty members — through layoffs and not filling open jobs, the Times said.
With the 2014 shooting death of a black 18-year-old, Michael Brown, in Ferguson, Missouri — just a two-hour ride away — still simmering, things went downhill on campus in the fall 2015 after a student complained of bigotry just off campus. Then a grad student went on a hunger strike. A swastika written with feces was found on campus, and then the school football team vowed to stop playing until then-school President Tim Wolfe was removed.
Within days Wolfe resigned, followed by Chancellor R. Bowen Loftin just hours later.
But it would appear that protests went too far, crystallized by the unforgettable video of then-communications professor at the school, Melissa Click, calling for "some muscle" to remove a journalist she didn't want covering the fevered demonstrations.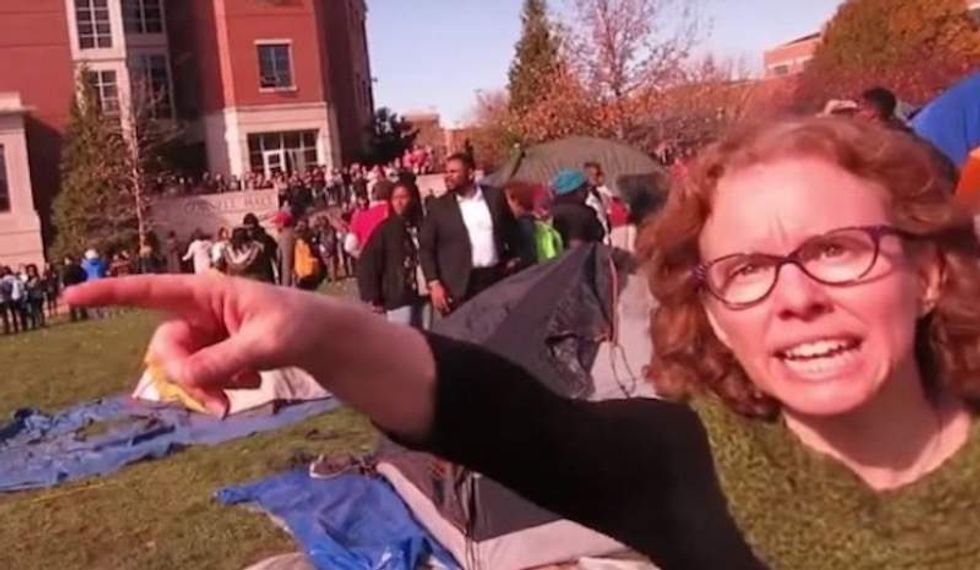 Then-University of Missouri communications professor Melissa Click tells a student journalist to leave a campus protest in the fall 2015. (Image source: YouTube screenshot)
Click's actions drew widespread outrage, not the least of which from parents concerned that a faculty member was stooping the level of protesting students who were already getting physical with those they saw as enemies. (Click was eventually fired and then claimed in April 2016 the reason was because she's white.)
More from the Times:
In one [email], the parents of a junior wrote that while they did not underestimate the extent of bigotry in the world, "the way to effect change is NOT by resorting to the type of mob rule that's become apparent over the past few days."

The university, they added, had shown a "complete lack of leadership," and their two younger children had "all but eliminated Mizzou from their college list."

The email was forwarded to Ellen de Graffenreid, vice chancellor for marketing and communications, with a brief note saying, "I'm sure you already know this but you have a P.R. nightmare on your hands." Ms. de Graffenreid, in turn, forwarded it to other administrators with a note saying, "This is pretty representative of the middle of the road people we are losing."
The Mizzou protests were a precursor to later campus skirmishes that captured just as many headlines and ignited just as much controversy: Middlebury College in Vermont; the University of California, Berkeley; and Evergreen State College in Olympia, Washington; to name a few.
But, the Times noted, Missouri showed how a poorly handled conflict can cripple a college's reputation.
Tyler Morris said he was afraid of being stereotyped as a bigot if he went to Missouri, the paper said, so he decided to go to Missouri Valley College instead.
"The discrimination wasn't against white people, but I didn't want to be that person who I guess was stereotyped because I was white," he told the Times.
Aly Zuhle is Jewish and said she decided against applying to the University of Missouri after hearing about the swastika incident.
"Looking for colleges is intimidating just by itself," she told the Times. "Adding anti-Semitism on top of that was just too much."