President Donald Trump recognizing Jerusalem as Israel's capital would be a "red line" for Muslims, Turkish President Recep Tayyip Erdogan warned the Trump administration Tuesday, Fox News reported.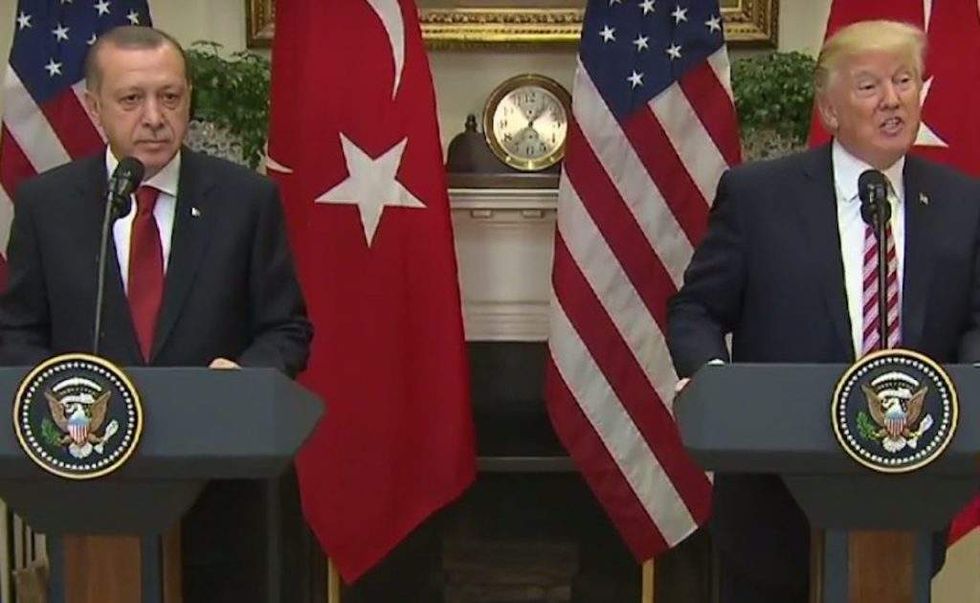 President Donald Trump with Turkish President Recep Tayyip Erdogan at the White House earlier this year. (Image source: YouTube screenshot)
Erdogan in an address to Parliament said Turkey would cut off all diplomatic ties with Israel should such a move occur, the cable network said, adding that Erdogan promised to rally other Muslim countries to oppose recognition of Jerusalem as Israel's capital.
Trump was reportedly set to announce as soon as Tuesday that the United States formally recognizes Jerusalem as Israel's capital — as well moving the U.S. embassy in Israel from Tel Aviv to Jerusalem "at some point," CNN reported, which was one of Trump's campaign promises.
"We will move the American embassy to the eternal capital of the Jewish people, Jerusalem," Trump said at a major foreign policy panel in March 2016.
What are Muslim nations saying about Jerusalem as Israel's capital?
Some say such a move would hinder the possibility of a peace settlement between Israel and the Palestinians, Fox News said.
It also would be an insult to the Muslim world, the network added.
Palestinian leaders said Tuesday they will "stop contacts" with the U.S. and call for mass protests if Trump makes the move, Fox News said.
The Organization for Islamic Cooperation added Monday that such a decision would amount to "naked aggression" against the Arab and Muslim world, the network reported.
What are other world leaders saying?
French President Emmanuel Macron told Trump during a Monday phone call that he was "concerned" about such a move and asked Trump to reconsider, Fox News said, citing the Jerusalem Post.
"Mr. Macron reaffirmed that the status of Jerusalem must be resolved through peace negotiations between Israelis and Palestinians, particularly those relating to the establishment of two states," Macron's office said, the network added.
United Nations General Assembly last week voted overwhelmingly to condemn Israel's claim to an undivided Jerusalem, with the U.S. among just six countries to vote against the resolution.
The resolution states that "any actions by Israel, the occupying Power, to impose its laws, jurisdiction and administration on the Holy City of Jerusalem were illegal and therefore null and void," the United Nations said.
"It further stressed the need for the parties to refrain from provocative actions, especially in areas of religious and cultural sensitivity, and called for respect for the historic status quo at the holy places of Jerusalem," the U.N. added.
Israel sees an undivided Jerusalem as its capital while Palestinians want East Jerusalem as the capital of a Palestinian state, the Washington Post reported.