A new poll has bad news for Democrats hoping for a "blue wave" in the midterms - the advantage they held over the Republicans has crumbled to just a small margin.
Here's a CNN report on the new poll:
Here's what the poll says
In February, registered voters were asked who they prefer to vote into Congress, and Democrats had an enormous 16 percentage point advantage. Only 38 percent said they preferred Republicans, while 54 percent said they preferred Democrats.
Only three months later, Democrats only have a three point advantage, with 47 percent of voters saying their prefer Democrats, and 44 percent saying they prefer Republicans for Congress.
The astounding change in voter attitudes was noticeable in March, where the margin had fallen to only 6 percentage points.
The margin in enthusiasm between Democrats and Republicans has also narrowed significantly.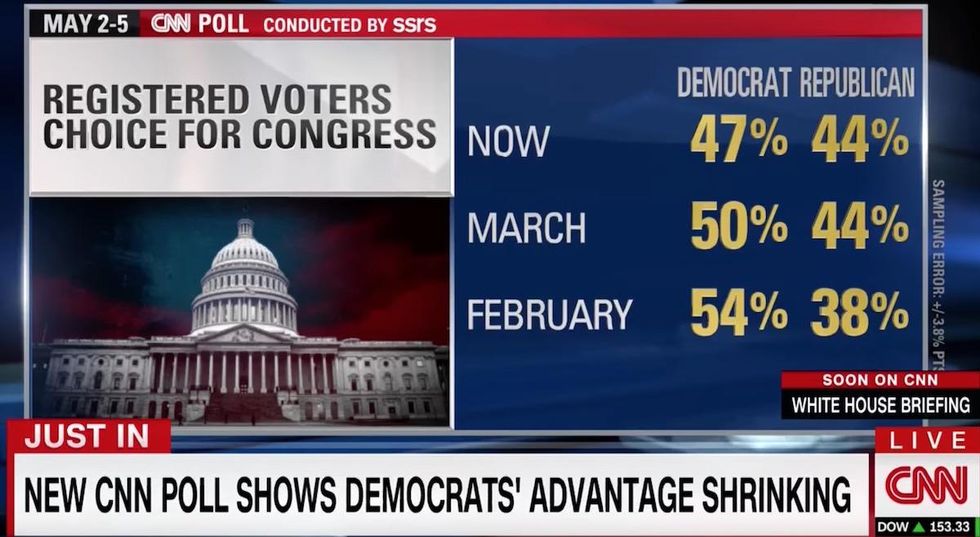 CNN poll results. (Image Source: YouTube screenshot)
In March, Democrats had a 15 percentage point advantage over Republicans when asked if they were enthusiastic about the Congressional midterm election - 51 percent of Democrats were enthusiastic, while only 36 percent of Republicans reported the same.
But just a few months later, the margin has shrunk to just 6 percentage points, with 50 percent of Democrats enthusiastic, and 44 percent of Republicans reporting enthusiasm.
Other recent polls have indicated that Republicans have other reasons to be more optimistic about the midterms. In one poll, more Americans said that the country is doing well than the percentage of Americans saying the same in every year of former President Obama's two terms. In another poll, Trump's criticism against special counsel Mueller and his investigations was seen to take greater hold among Americans.