England's South Yorkshire police force tweeted an addendum Sunday to its call for citizens to report hate crimes; the department also wants folks to report "non-hate crime incidents" such as "offensive or insulting comments."
For real. Check it out:
In addition to reporting hate crime, please report non-crime hate incidents, which can include things like offensiv… https://t.co/QFvuEJwSgB

— South Yorkshire Police - #StayAlert (@South Yorkshire Police - #StayAlert) 1536525906.0
To be clear, the offensive or insulting comments can be online, in person, or in writing, the force noted. "Hate will not be tolerated in South Yorkshire," the tweet concluded. "Report it and put a stop to it."
How did folks react?
As you might imagine, there were more than a few non-sympatico responses to the department's non-hate crime reporting appeal.
According to the Sun, among the fire backs to police were:
"Don't you have anything else to do? Like arresting people for owning knives or something?"

"Really? Protecting people's feelings is in no way an appropriate use of police resources!"

"So just to be clear, you want me to phone the police when there hasn't been a crime but someone's feelings have been hurt?"

"Your role is to solve crime not police feelings and what some may consider offensive. Being offended is purely subjective, nothing bad happens #policestate."

"So not enough police resources to deal with the violent crime wave sweeping Britain because of budget cuts, but plenty of police resources to real with hurt feelings."
Others invoked George Owell's dystopian novel, "1984," the paper added.
How did police respond to the backlash?
South Yorkshire's finest were seemingly unrepentant for the tweet, telling commenters in a reply that police "can only prosecute when the law is broken, but we want to know about non-crime hate incidents. Incidents may not be criminal offenses but can feel like a crime to those affected, & can sometimes escalate to crimes."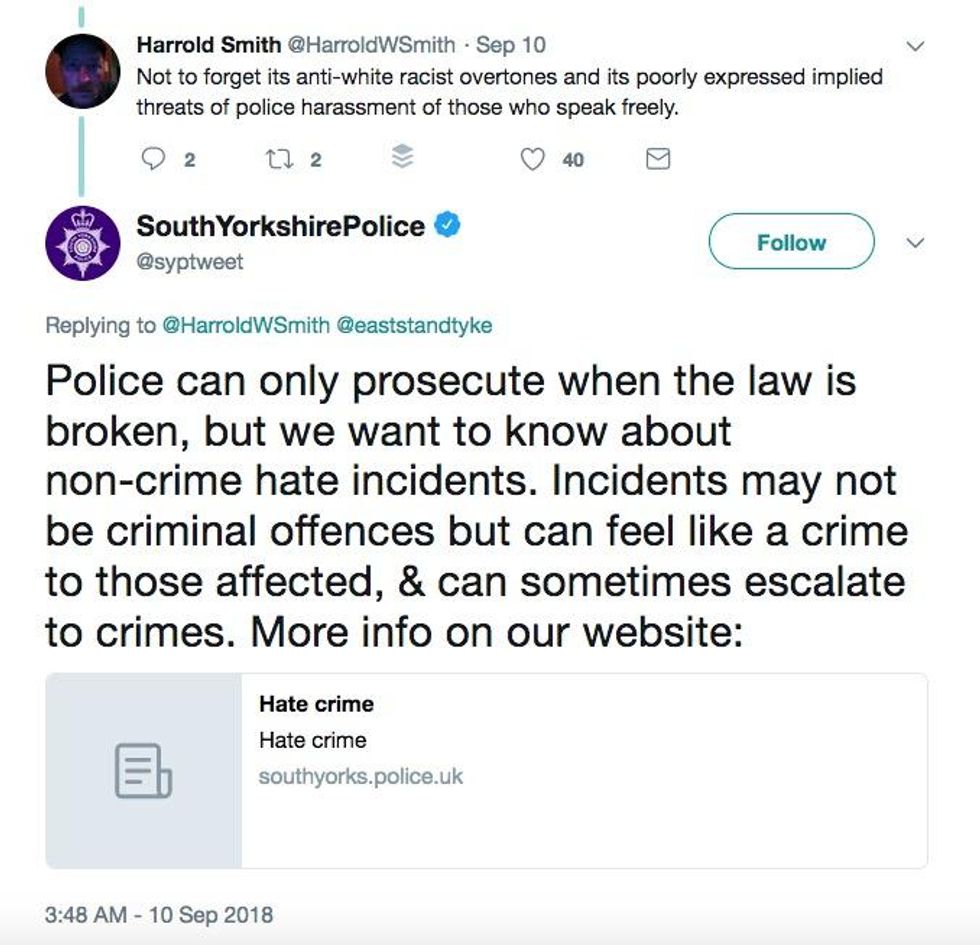 Image source: Twitter
What other political correctness has occurred in South Yorkshire recently?
South Yorkshire made some headlines a few months back for political correctness of a different sort when its fire chief was shamed into apologizing "unreservedly" for uttering gender-specific words "man" and "he" at a meeting when discussing fire crew staffing levels.
Indeed Jamie Courtney used the word "man" four times — and the word "he" four times, after which an unidentified person complained to authorities.
Perhaps South Yorkshire soon will be dubbed the Berkeley of Great Britain.
(H/T: Louder With Crowder)