The brother of Jussie Smollett said in a lengthy BET essay that he's seen him experience "night terrors" in the wake of a racist, homophobic attack the "Empire" actor claimed he suffered in January — but for which Chicago police said Smollett actually orchestrated for personal gain.
"Jussie is as strong as iron, but following an attack like this, there is a normal and natural amount of post trauma that mostly anyone should expect to suffer," older brother Jojo Smollett wrote in the essay published over the weekend. "I have literally seen him violently awakening from night terrors, following the assault. Some of my siblings, as well as Jussie's partner and closest friends have seen similar things."
Here's a portion of Jussie Smollett's interview with ABC News' Robin Roberts prior to his arrest:
Jussie Smollett: 'I'm pissed off' at people who question attack youtu.be
What's the background?
Smollett claimed a pair of masked attackers yelled "this is MAGA country" — a reference to President Donald Trump's "Make America Great Again" 2016 campaign slogan — put a noose around his neck, and poured a substance that smelled like bleach on him while beating him in a Chicago street around 2 a.m. Jan. 29 in near zero temperatures.
But police arrested Smollett in February, accusing him of staging the entire thing and paying two black men to help him pull it off. In fact, Chicago Police Superintendent Eddie Johnson, who also is black, tore into Smollett after the actor's arrest and said Smollett "took advantage of the pain and anger of racism to promote his career."
CPD Supt. Johnson: Smollett took advantage of pain and anger of racism to promote his career youtu.be
Smollett pleaded not guilty to 16 counts of disorderly conduct for filing a false police report — and then in a shocking move, prosecutors dropped all charges against Smollett in late March. In addition, a "judge granted a motion to seal the case," and a Smollett spokesman said the actor's "record will be fully expunged."
That didn't stop Chicago Mayor Rahm Emanuel from angrily blasting the decision to drop Smollett's charges and saying the move was "not on the level" and a "whitewash of justice."

Chicago Mayor On Smollett: 'This Was A Whitewash Of Justice' | NBC News youtu.be
Emanuel promised to send a bill to Smollett for the investigative work Chicago authorities took on in relation to his case, and when he missed the deadline to pay the $130,000 bill earlier this moth, the city said it was suing the actor.
Meanwhile, it was widely reported that Cook County State's Attorney Kim Foxx recused herself from the Smollett case after rumblings that she interfered in the investigation — but then it came to light that she never actually recused herself at all.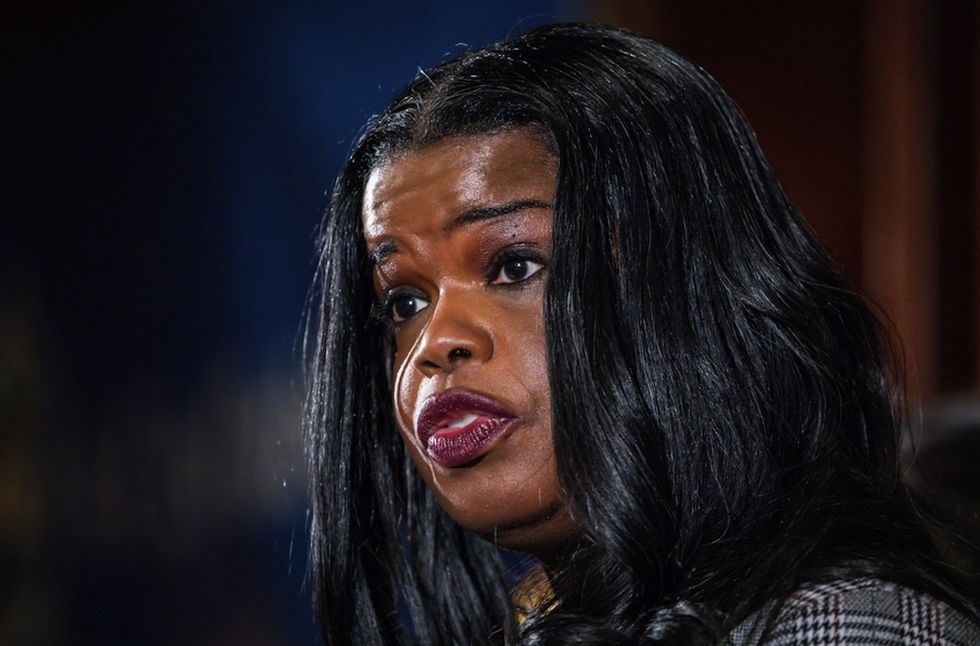 Cook County State's Attorney Kim FoxxZbigniew Bzdak/Chicago Tribune/TNS via Getty Images
In the aftermath, associations from every police department in Cook County announced "no confidence" in Foxx, and the Illinois Prosecutors Bar Association accused her of making "repeated misleading and deceptive statements to the public" and having "failed in her most fundamental ethical obligations to the public."
Dueling rallies over Jussie Smollett case held near Kim Foxx's Loop office youtu.be
In response Foxx wondered whether racism and sexism was behind criticism she was been receiving.
What else did Smollett's brother say?
"Within less than three months, [Jussie's] life has been turned upside down as my family and I have witnessed him endure unrelenting attacks to his character and reputation," Jojo Smollett wrote. "Like so many others, this entire process quickly devolved from a focus on him as a victim of assault, to him being falsely accused and held responsible for a crime that was perpetrated against him. To define this experience as unjust would be an understatement."
He added amid his staunch defense of his brother, "Simply ask yourself this, 'What if Jussie is telling the truth?'"
More from the essay:
I was shocked at how easily everyone accepted the ridiculous motive about Jussie's career that was promulgated. Jussie had actually begun directing episodes of Empire, which brought additional compensation. He worked out a deal with Fox to own 100% of his music masters, released an album, which lead to a sold out world tour and he donated every cent of ticket sales to charity. He even signed the group, June's Diary, to his label. My brother was developing two films with one of the biggest producers in Hollywood, had the lead to a Broadway show on the table and owns the option rights to the authorized autobiography of his idol, Alvin Ailey. All pointing to not only an advancing career but a business savvy mind. To suggest that he staged his own attack to boost a sagging career is ludicrous. Jussie has a team of extremely effective agents, managers, publicists, and attorneys who helped him acquire career advancement. He wouldn't need to roll around on the icy ground of a Chicago street, staging an attack on himself to make this happen.
Jojo Smollett also said his brother "didn't even want to contact the police following his assault. He was weary and didn't care for the unnecessary attention it might garner." However, Smollett's choreographer "insisted" and "contacted the police himself," Jojo Smollett added.
"It should be noted: if he staged the attack for publicity to boost his career, as alleged, why would he not want to make the incident public?" he also wrote, adding that Jussie "was concerned that forfeiting the $10,000 bail could look like an admission of guilt. In fact, not paying, and proceeding with a potentially multi-year process that would bankrupt him and his career was not a realistic option. Even now he carries immense financial burdens for his legal defense and security needs."