It was fitting that Pastor Mac Hammond of Living Word Christian Center made the astounding announcement during the Minnesota congregation's Easter service.
You see, the family of the 5-year-old boy who earlier this month was thrown from the third-floor balcony at the Mall of America attends Living Word, and Hammond has been ministering to them — and particularly Landen, the victim of the heinous act.
Hammond told the Brooklyn Park congregation Sunday that after a five-hour MRI, an attending physician said what the test found was "truly a miracle," KMSP-TV reported.
What did the MRI find?

"There was zero evidence of brain damage ... there wasn't even any swelling in the brain," Hammond told the cheering congregation in a clip that the station said Landen's family authorized. "No spinal cord injury, no nerve damage, no internal injuries that were life-threatening."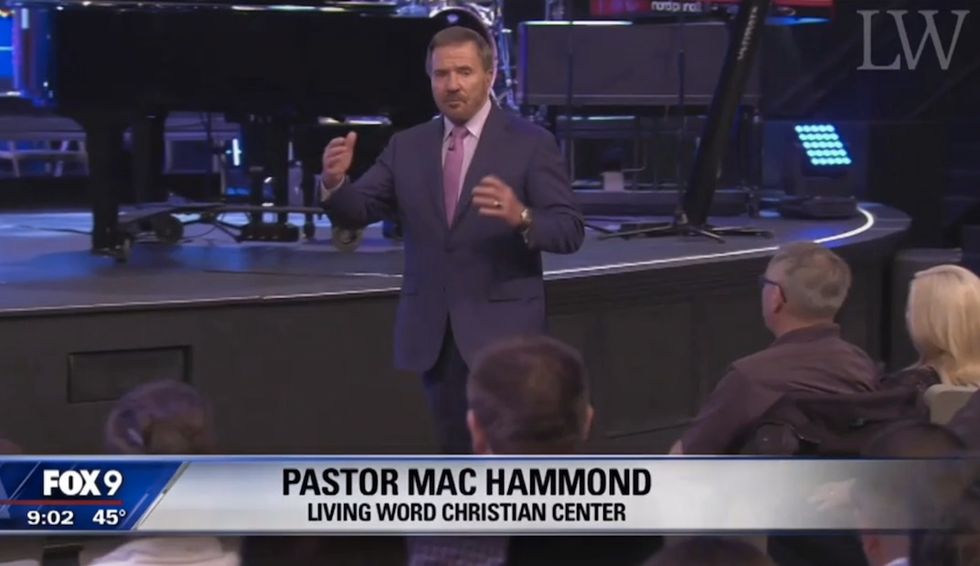 Image source: KMSP-TV video screenshot
Hammond added that the physician who called the findings miraculous also said it was as if Landen "fell off a bicycle" as opposed to the third floor of a mall, KMSP reported.
While the boy suffered some minor internal bleeding and several broken bones, the station noted that even the fractures in his face appear to be healing in the right places.
'He is answering our prayers'
The GoFundMe page for Landen has raised $960,000 of its $1 million goal as of Tuesday morning.
"Our faith in God, and our Savior Jesus, is strong, and we are gaining more reason for optimism day by day," the GoFundMe page's Good Friday update noted, adding that "we all feel your overwhelming love, prayers and support. He is answering our prayers, and they ARE working. Please continue to pray for Landen and his family, every single prayer is important. Thank you so much from all of us and have a blessed Easter weekend."
Anything else?
The man accused of throwing the boy off the balcony admitted to police he went to the mall in search of someone to kill — and was upset that his plan did not "work out." Emmanuel Aranda, 24, was charged with first-degree attempted premeditated murder.
Here is another video report on Landen's miraculous recovery:
Doctors call test results of boy thrown off third floor of MOA 'truly a miracle' youtu.be