The mother of a woman who appeared to assault a New York City police officer Tuesday — and got decked for it — is outraged over the caught-on-video incident.
"I get blown away to see this happen to my daughter; it's so painful for a mother to see that," the mother of 19-year-old Tamani Crum told WNBC-TV. "They are just violating these kids' rights; it's not right."
Crum's grandmother told the station that the officer who hit her granddaughter — Detective Kendo Kinsey — "should never, never, never put his hands on her, or any female. He's wrong."
What's the background?
Officers were arresting Tamani Crum's boyfriend — an attempted murder suspect — in Harlem, and Crum confronted Kinsey, who was in uniform. Crum and Kinsey appeared to exchange initial contact, with Kinsey sending her backward a few feet.
But Crum moved toward Kinsey again and appeared to push or slap him on his right shoulder, and then the cop walloped Crum — appearing to hit her in the face or head and sending her flat on her back on the sidewalk.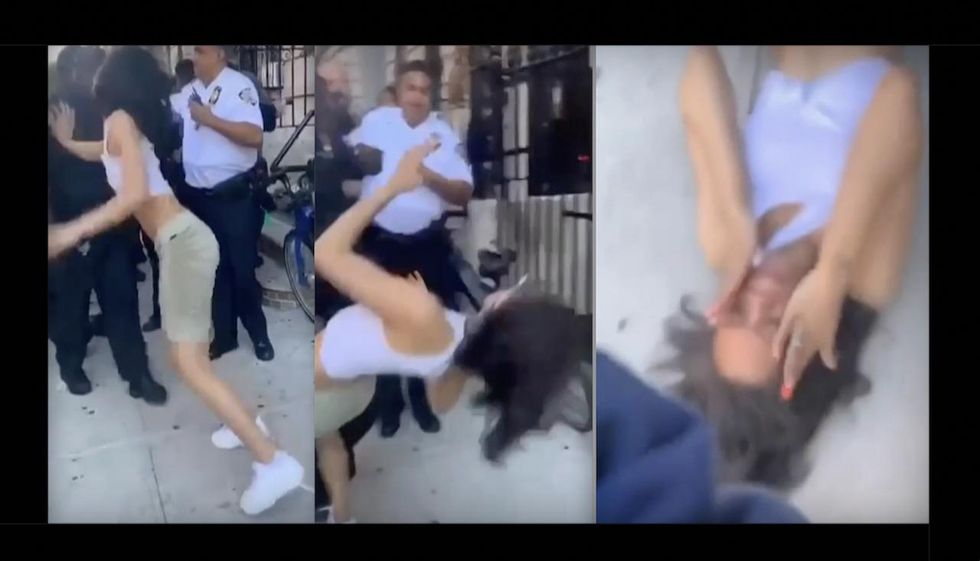 Image source: WNBC-TV video screenshot, composite
Soon Kinsey and another officer picked up Crum and handcuffed her. Police said Crum was charged with assault on an officer, obstructing governmental administration, and resisting arrest, the New York Daily News reported.
Now what?
WNBC said Crum's mother hired an attorney as her daughter — who remained in police custody Wednesday evening — was expected to face a judge in lower Manhattan.
"This has to stop, and we are seeking full accountability in this action," attorney Jamie Santana Jr. said, according to the station.
"You mean to tell me a grown man more than twice her size in weight could not handle a 19-year-old female in a different manner?" Santana also asked, according to WABC-TV.
Community members gathered outside the 32nd precinct where Kinsey works and demanded that he lose his job, WNBC added.
"The question is: When did it become a tactic for crowd control to knock somebody else unconscious?" Rev. Stephan Marshall of the National Action Network asked, according to the station.
"He cold knocked her out," Crum's grandmother added, according to WABC. "He's no better than the people [who are] knocking out people in the streets."
Crum's family said they are considering filing a lawsuit, WABC noted.
The other side of the story
But officials from the Detectives' Endowment Association indicated they are considering filing a civil lawsuit on Kinsey's behalf, WABC added.
"When you assault a New York City detective in order to interfere with an arrest of a man armed with a gun there are repercussions," Paul DiGiacomo, president of the DEA, told the station.
Kinsey and other cops were arresting 22-year-old Elvin James — a suspect in an Aug. 12 case of attempted murder, the Daily News said. During his arrest, James was found with a loaded gun and drugs, police added to the paper.
Also during the arrest, an angry crowd gathered and began assaulting officers, the Daily News said, citing NYPD statements. One officer suffered a minor head injury, the paper added.
Faith Harrell, 27, was hit with the same charges as Crum, along with menacing and harassment, the Daily News reported. A 26-year-old woman was given a summons for spitting at an officer, the paper added.
"This could have been a travesty where members of the NYPD and civilians could have been shot by this individual if he didn't take the action he took," DiGiacomo said of Kinsey, according to WABC.
Anything else?
Kinsey has had six complaints logged against him over the last 10 years, WNBC reported, citing the Civilian Complaint Review Board. But the station added that none of the claims were substantiated.