© 2023 Blaze Media LLC. All rights reserved.
Rabbi says Palestinian flag just raised over Massachusetts town 'represents hatred ... war ... anti-Semitism'
A Palestinian flag was raised this week over North Andover, Massachusetts — the culmination of a battle between those who support Palestinians in the ongoing Israel-Hamas war and those who view the flag as emblematic of terrorism.
Rabbi Idan Irelander of Congregation Ahavat Olam in North Andover told WBTS-CD that "as a Jewish community, we are very disappointed" that the Palestinian flag was raised Tuesday morning.
The rabbi added to the station that "unfortunately, today the Palestinian flag represents hatred, represents war, represents anti-Semitism."
What's the background?
North Andover decided to raise an Israeli flag days after the deadly Oct. 7 Hamas attacks against Israel, the station said, adding that Irelander viewed it as a gesture of "solidarity to an American ally."
With that, Jenna Khayal's sister filed a permit asking to raise a Palestinian flag for one month as well, WBTS said.
Khayal told the station the Palestinian flag "represents its people. It represents the culture. It is not a terrorist flag, and we will not let it be misconstrued that way."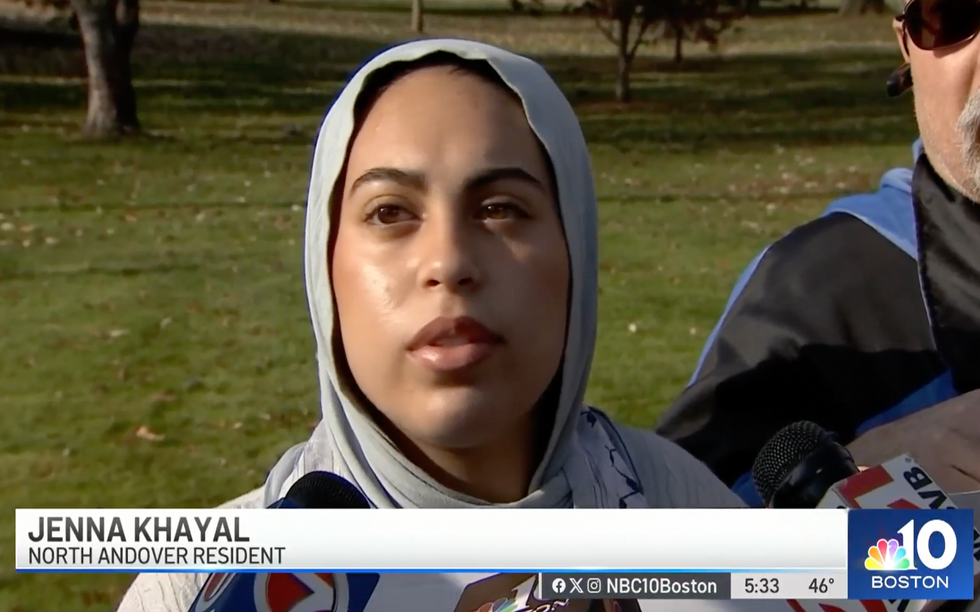 Image source: WBTS-CD video screenshot
The possibility of a Palestinian flag flying over North Andover raised eyebrows and ire around town — so much so that officials heard more than an hour of testimony about the issue in a packed auditorium Monday night, WBZ-TV reported.
Residents formed two lines, WBZ said: one made up of Palestinian flag supporters, the other consisting of those who see the Palestinian flag as backing terror group Hamas.
More from WBZ:
Even before the meeting, it seemed the board had already made their decision. The town manager said in a statement that a resident submitted the petition for the Palestinian flag just six hours before the town stopped accepting applications to fly flags, which means it needs to be considered under the old rules.
In the end, North Andover officials approved putting a Palestinian flag on the town common, WBTS said.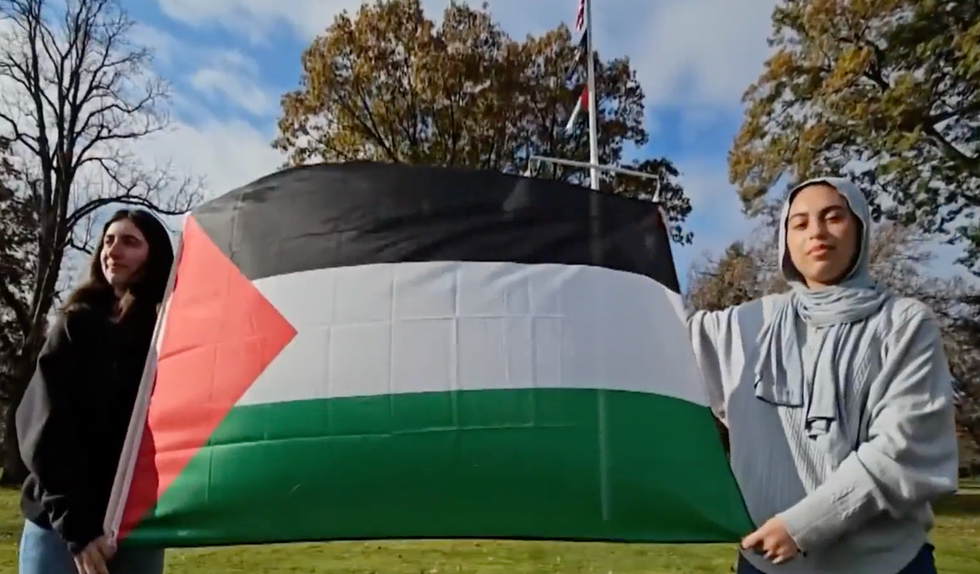 Image source: WBTS-CD video screenshot
Town leaders also said the old rules state that they can't deny the flag even if they disagree with it since the ruling must be a "content-neutral decision," WBTS noted.
"It doesn't mean they necessarily wanted this to happen, but they had to under the law because it is our right," Khayal added to WBTS.
The Palestinian flag will fly until Dec. 7, WBTS reported, adding that after that date, only statements of governmental speech can hang from the flagpole.
WBTS legal analyst Michael Coyne, who's lived in North Andover most of his adult life, added to the station that "the town would have been foolish to not allow this activity because it would have subjected the taxpayers to millions of dollars in potential damages."
Like Blaze News? Bypass the censors, sign up for our newsletters, and get stories like this direct to your inbox. Sign up here!
Want to leave a tip?
We answer to you. Help keep our content free of advertisers and big tech censorship by leaving a tip today.
Sr. Editor, News
Dave Urbanski is a senior editor for Blaze News.
DaveVUrbanski
more stories
Sign up for the Blaze newsletter
By signing up, you agree to our
Privacy Policy
and
Terms of Use
, and agree to receive content that may sometimes include advertisements. You may opt out at any time.