Two men that Chicago police called "persons of interest" Thursday in the alleged racist and homophobic attack against "Empire" actor Jussie Smollett last month have been arrested on "probable cause that they may have committed a crime" and are considered suspects, a Chicago police spokesman said Friday, WGN-TV reported.
Police have identified the pair only as Nigerian brothers, the station said. Chicago Police spokesman Anthony Guglielmi told WGN they were picked up at Chicago's O'Hare International Airport Wednesday and taken into custody upon their return from Nigeria after police learned at least one of them worked on "Empire."
Police told WLS-TV they have a relationship with Smollett but no charges have yet been filed against them.
Ben Bradley of WGN went further Thursday, reporting that the two men police were questioning are black:
.@WGNInvestigates has learned new details about the two men police are questioning about Jussie Smollett's claim he… https://t.co/NJ1gHy85LU

— Ben Bradley (@Ben Bradley) 1550179157.0
Guglielmi added to the station that he didn't know in what capacity the one suspect worked on the show but confirmed a search warrant was executed at the Chicago apartment where the men lived; he didn't have information on what police found, WGN said.
But Charlie De Mar of Chicago's WMAQ-TV said police "took bleach, shoes, electronics, and more" in the raid:
BREAKING:Police raided the home of two persons of interest in Jussie Smollett case last night. Both men are of Nige… https://t.co/ou3KEcEv1j

— Charlie De Mar (@Charlie De Mar) 1550185046.0
Staged attack?
WLS also said — citing multiple sources — that police are investigating if Smollett and the two men staged the incident allegedly because Smollett was being written off "Empire."
But Guglielmi denied that report:
Media reports anout the Empire incident being a hoax are unconfirmed by case detectives. Supt Eddie Johnson has con… https://t.co/RxKtiNNOnG

— Anthony Guglielmi (@Anthony Guglielmi) 1550190862.0
And Smollett's reps denied he was being written off the show, WLS said, and added a statement from 20th Century Fox Television and Fox Entertainment saying likewise: "The idea that Jussie Smollett has been, or would be, written off of EMPIRE is patently ridiculous. He remains a core player on this very successful series and we continue to stand behind him."

'White' attackers?
TMZ initially reported — citing "sources directly connected to Jussie" — that he was attacked by two "white" men "wearing ski masks."
Problem is, neither Smollett nor police revealed the alleged attackers' skin color. In addition, Smollett never mentioned his alleged attackers' race during his lengthy interview this week with ABC's Robin Roberts, noting, "I can't tell you what color their eyes were, and I did not see anything except the second person I saw running away. And the first person, I saw his stature. I gave the description as best as I could ... You have to understand also that it's Chicago, in winter. People can wear ski masks, and nobody's going to question that."
Yet TMZ still ran with a story Friday saying it "broke many of the details of Jussie's story just hours after the attack," including that "his 2 attackers were white."

Anything else?
Neighbors of the men now under arrest told WLS they believe the suspects are Nigerian brothers who grew up in that apartment, and have lived there for years. Neighbors added to the station that they appeared to be friendly and possibly body builders who long have wanted to be actors.
Smollett said in his interview with Roberts that he believes the figures seen in a dark, grainy surveillance image released by Chicago police are the individuals who he said victimized him in a racist, homophobic attack at 2 a.m. Jan. 29.
CPD public information officer Sally Bown added to TheBlaze Thursday that she wasn't sure if the two suspects who had at that point only been brought in for questioning as "persons of interest" are the same individuals in the surveillance photo.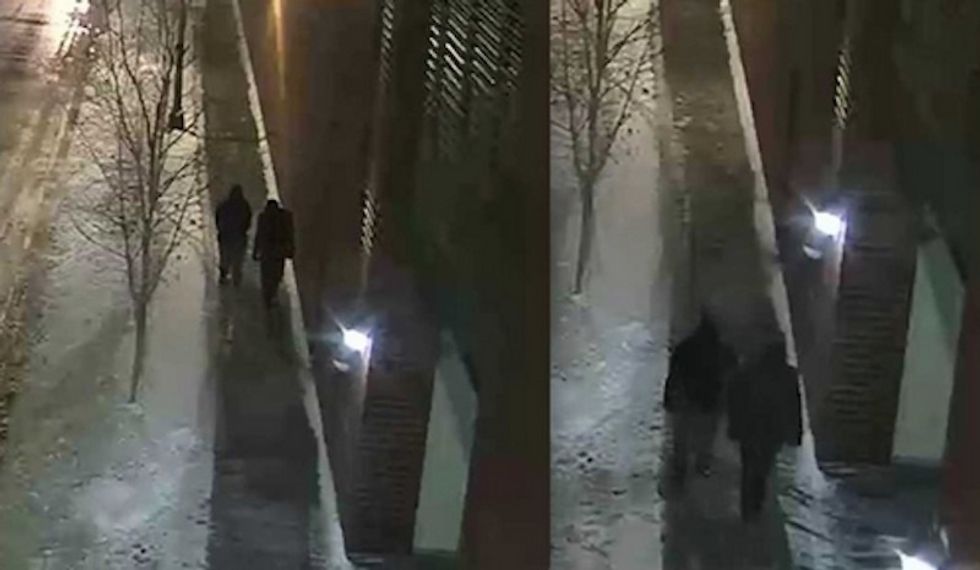 Image source: Chicago police
On Thursday Guglielmi said in a statement, "After a meticulous investigation with the use of advance technology, interviews with the victim and witnesses and transportation records, detectives have identified two persons of interest in the Empire cast member case."
Smollett, 36, also told Roberts he's " pissed off" at assertions his claims are a hoax:
It's like, you know at first it was a thing of like, "Listen, if I tell the truth, then that's it, 'cuz it's the truth." Then it became a thing of like, "Oh, how can you doubt that? Like, how do you not believe that? It's the truth." And then it became a thing of like, "Ohhh, it's not necessarily that you don't believe that this is the truth, you don't even want to see the truth."
"I have to acknowledge the lies, and the hate," he added to Roberts, according to ABC News. "And it feels like if I had said it was a Muslim, or a Mexican, or someone black, I feel like the doubters would have supported me much more. A lot more. And that says a lot about the place that we are in our country right now."

He also disputed a claim that he said his alleged attackers "were wearing MAGA hats" — the iconic red caps with President Donald Trump's 2016 "Make America Great Again" campaign slogan: "I never said that."
"For me, the main thing was the idea that I somehow switched up my story, you know? And that somehow maybe I added a little extra trinket, you know, of the MAGA thing," Smollett added, ABC News said. "I didn't need to add anything like that. They called me a f***ot, they called me a [N-word]. There's no which way you cut it. I don't need some MAGA hat as the cherry on top of some racist sundae."
While at least one outlet, Forbes, reported the alleged attackers wore MAGA hats, numerous outlets ran with a TMZ report saying the Smollett was beaten up by two white men wearing ski masks who asked, "Aren't you that f***ot 'Empire' n*****?" before pouring bleach on him, putting a noose around his neck, and yelling, "This is MAGA country!"— a reference to President Donald Trump's 2016 campaign slogan, "Make America Great Again."
Chicago police told TheBlaze there was "no mention of MAGA" in initial reports, but when detectives followed up with Smollett later on the day of the attack, he recalled the attackers making those comments, and detectives completed a supplemental report.
Police didn't specify the race of the alleged suspects but did call it a "possible racially charged assault and battery" and that they are "treating it as a possible hate crime."
Smollet, who's openly gay, also said he was angered by claims the incident was "a date gone bad, which I so resent ... I'm not gonna go out and get a tuna sandwich and a salad to meet somebody. That's ridiculous. And it's offensive. Yes, there's Grinder, yes, there's Jack'd, yes there's all of these things, which I have not been on in years. I can admit that I was on it back in the day. I was single. You know what I'm sayin'? But I haven't been on that in years."
Smollett said he was on the phone with his manager, Brandon Moore, during the alleged incident. But Chicago police said the "limited and heavily redacted" phone records Smollett turned over detectives "do not meet the burden for a criminal investigation" as cops continue looking into Smollett's claims, WBBM-TV reported.
Guglielmi told the New York Post that "we offered to take the phone to download the data, and he expressed he couldn't be without his phone for several hours."
Other curious details:
Here's Smollett's full interview with Roberts: