Leftists far and wide praised Democratic House Speaker Nancy Pelosi for ripping up her copy of President Donald Trump's State of the Union speech Tuesday night.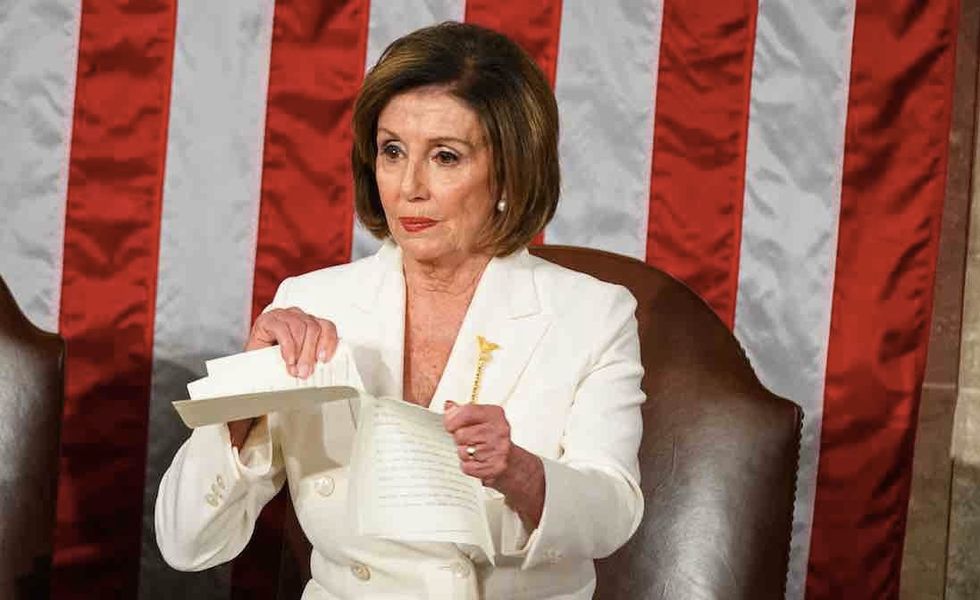 Photo by MANDEL NGAN/AFP via Getty Images
Their operative word for her viral stunt? Courageous.

Famed author Joyce Carol Oates seemed to think so, calling Pelosi's actions — and GOP Sen. Mitt Romney (Utah) decision to vote to convict Trump prior the Democrats' failed impeachment attempt — "courageous & noble." Oates went even further, noting "there is something Shakespearean, or at least excitingly theatrical, in these public gestures."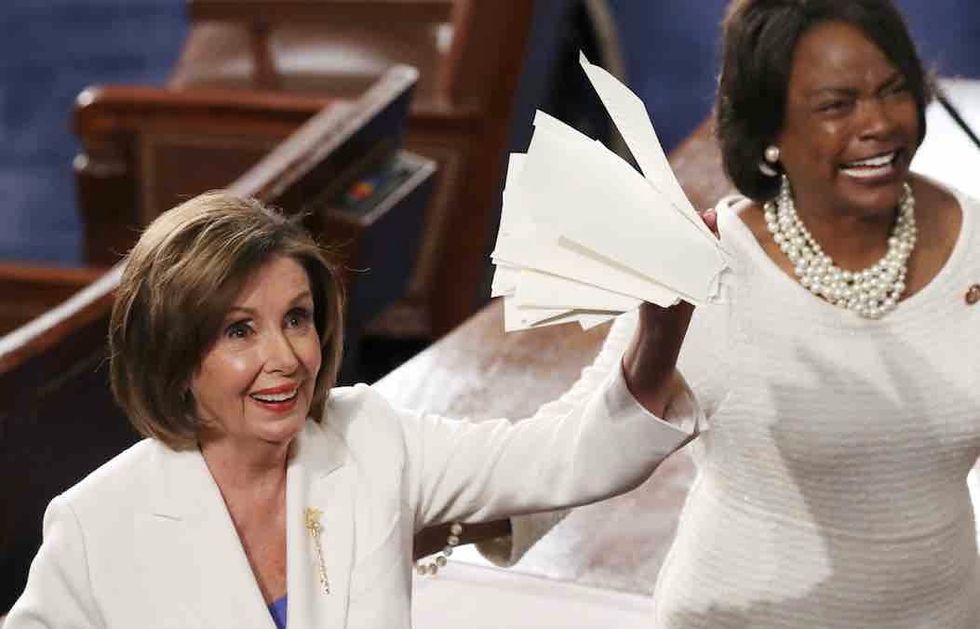 Photo by Drew Angerer/Getty Images
Other Twitter users agreed:

"AMEN to courageous SPEAKER PELOSI! So proud of what she did after Trump refused to shake her hand at SOTU address."
"Nancy that was awesome; it's about time someone call out this f***ing liar; not classless, Pelosi is courageous."
"Pelosi's defiance is courageous."
"Your final SOTU speech will be remembered for the courageous Nancy Pelosi ripping it up."
"Speaker Pelosi's tore up his speech. America yelled out with you. We are in anguish and feel you. We all do things we wish we hadn't, but this was courageous and came from your heart. Much love today and always."
"SPEAKER PELOSI is my hero! The most courageous person alive, next to Adam Schiff my hero!"
Oh, really?
If the left-wing consensus is that Pelosi is a "hero" and was "courageous" amid an act that appeared to spring spontaneously from her "heart," a clip of the speaker prior to her gutsy stand for truth and justice would seem to say otherwise.
Video from the New York Post shows Pelosi grabbing her copy of Trump's speech, placing it near her lap and mostly out of camera view, and apparently making tiny tears into it — a "pre-rip," if you will — presumably so that her big moment at the conclusion of Trump's address would go flawlessly.
Check it out:
The Post added that photos of the sheets of paper show them face down with small slits on the side, apparently near where Pelosi soon ripped them up.
Pelosi is such a moron she had to pre-rip pages of the president's speech https://t.co/dF6zVOvrAm

— Mark R. Levin (@Mark R. Levin) 1580992459.0
The Post said Pelosi's office didn't immediately respond to a request for comment.

Anything else?
In the aftermath, a number of Republicans said they're taking action against Pelosi for her stunt: Rep. Matt Gaetz (R-Fla.) tweeted that he's filing an ethics complaint against the Democratic leader; Rep. Kay Granger (R-Texas) introduced a resolution criticizing Pelosi for her act; and Rep. Paul Gosar (R-Ariz.) tweeted that he introduced a resolution to censure Pelosi.