Imagine that it's your first day on the job as secretary of state, and as you're filling out your W-2 form, human resources says:
"You don't have to use a State.gov email if you don't want to. Shoot, you don't even have to use our servers, you can use your own! Just keep your personal communications separate from any State Department emails. Forward the government stuff to us, and make sure it stays, you know, top secret."
Most of us would say:
"Really? Is that safe? Won't hackers, spies, and ninjas be trying to find out who I'm talking to and what I'm saying? I don't know how it works digitally at all, I'd rather just leave this in the hands of government professionals. Shouldn't that be standard procedure at the State Department?"
And that's what makes you different from Hillary Clinton, who evidently told HR something more along the lines of:
"Sweet. I've got a barn in the back yard, this'll be an excuse to keep Bill out of it. I'll try real hard to keep my yoga routines out of any official business and vice versa, scout's honor! By the way, do you know what the Russian word for "reset" is?"
So, what's worse: that the State Department treats email security like a take-home test, or that Hillary Clinton turned hers in over two years late and completely blank?
[sharequote align="center"]The whole affair makes the State Department look utterly inept.[/sharequote]
Apparently, there are good reasons for people to shun the State Department email system: it does a poor job of archiving emails, and uses "incredibly unreliable software" that's unsuitable for priority messages. (And who wants to use an unreliable government email address for their Ashley Madison account?)
But this is more than a "technical glitch," it's bureaucratic negligence. Why is there no protocol to forward every last email the secretary of state sends or receives – whatever the email account or server – to the State Department for archiving? Shouldn't they get all these emails the same day? Why didn't the State Department go to Chappaqua to look at Clinton's server setup? Why didn't they vet the companies and individuals maintaining Clinton's server?
Big picture, how did we get to the point where – over two years after the end of Hillary Clinton's four-year stint in office – the feds are just now looking at her blank server to see whether data that was deleted from the server included anything that was classified or should have been passed along to the State Department for archiving?
The whole affair makes the State Department look utterly inept.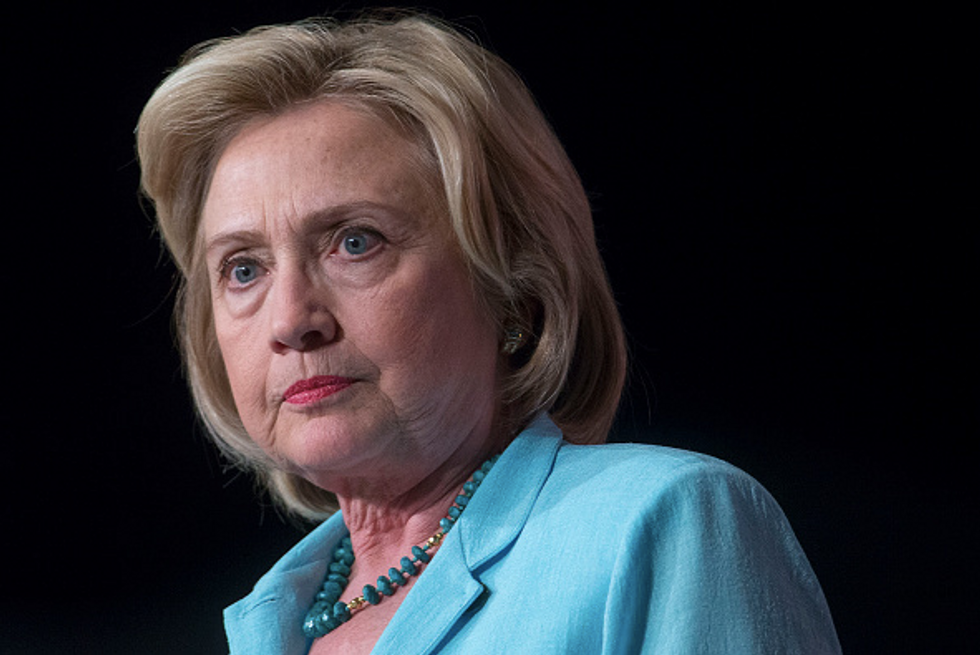 Hillary Clinton, former U.S. secretary of state and 2016 Democratic presidential candidate, pauses while speaking during the annual Democratic Wing Ding in Clear Lake, Iowa, U.S., on Friday, Aug. 14, 2015. The event, first held in 2004, raises funds for county Democratic Central Committees. Photographer: Andrew Harrer/Bloomberg via Getty Images
I'm not asking us to overlook Clinton. She's been reckless with government secrets, and her excuses are ridiculous. The fact that items are sometimes retroactively tagged as classified is all the more reason she should have secured every last bit of information that passed through her email account. Her dismissive "Like with a cloth or something" remark will likely be her "I did not have sex with that woman" moment.
And the State Department situation is a further avenue to criticize Clinton. Most of us would have been aghast at the idea of government secrets being handled with so little oversight. Not Clinton. Where others would have seen a problem that needed fixing for the sake of the country, Clinton saw an opportunity to make life easier for herself.
But the State Department had any number of opportunities to impose a course correction on her digital escapades. Yet it failed to do so. Whoever wins the 2016 election, the State Department and its do-it-yourself attitude to data security will remain in office. Our first concern should be to fix that.
What's being done to upgrade the security and efficiency of the State Department's email servers and software? Are we making sure federal workers are meeting the highest standards of data management? Why did no one at the State Department blow the whistle on this gaping hole in security? Why did we only stumble on it as a result of the Benghazi probe?
And is current Secretary of State John Kerry doing anything about all of this?
Ultimately, Hillary Clinton failed to reform the State Department's data management in a way that would have stopped Hillary Clinton from making horrible email server decisions. The top priority now should be to make sure someone else is picking up the slack.
–
TheBlaze contributor channel supports an open discourse on a range of views. The opinions expressed in this channel are solely those of each individual author.