As more information regarding the emails sent from Hillary Clinton's private email server, used during her tenure as secretary of state, come to light after she turned it over to the FBI, a new report suggests the content of some of those emails would be inherently considered classified based on the government's own regulations.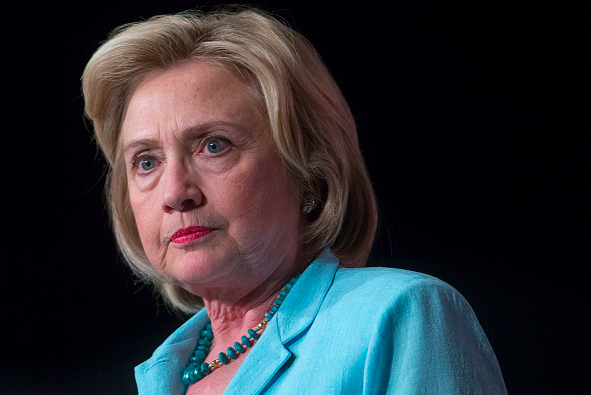 Hillary Clinton, former U.S. secretary of state and 2016 Democratic presidential candidate, pauses while speaking during the annual Democratic Wing Ding in Clear Lake, Iowa, U.S., on Friday, Aug. 14, 2015. The event, first held in 2004, raises funds for county Democratic Central Committees. (Andrew Harrer/Bloomberg via Getty Images)
This would contradict statements the democratic presidential candidate herself has made about the types of emails she sent using her home server.
"I did not send classified material, and I did not receive any material that was marked or designated classified," Clinton told reporters at a campaign event in Nevada on Tuesday.
But Reuters reported that in its review of some of her publicly released emails, it found "at least 30 email threads from 2009, representing scores of individual emails, that include what the State Department's own 'Classified' stamps now identify as so-called 'foreign government information.'"
Here's more from Reuters' report, in which it notes that its findings are separate from the Inspector General of the Intelligence Community's findings that at least four emails from Clinton's server could have contained classified information:
While the department is now stamping a few dozen of the publicly released emails as "Classified," it stresses this is not evidence of rule-breaking. Those stamps are new, it says, and do not mean the information was classified when Clinton, the Democratic frontrunner in the 2016 presidential election, first sent or received it.

But the details included in those "Classified" stamps — which include a string of dates, letters and numbers describing the nature of the classification — appear to undermine this account, a Reuters examination of the emails and the relevant regulations has found.

The new stamps indicate that some of Clinton's emails from her time as the nation's most senior diplomat are filled with a type of information the U.S. government and the department's own regulations automatically deems classified from the get-go — regardless of whether it is already marked that way or not.
J. William Leonard, a former director in the Information Security Oversight Office, told Reuters some types of information are "born classified."
"If a foreign minister just told the secretary of state something in confidence, by U.S. rules that is classified at the moment it's in U.S. channels and U.S. possession," he said.
Reuters reported that the State Department disagreed with this analysis, but it would not elaborate further.
Earlier this week, Clinton's personal lawyer told a Senate committee that emails and all other data stored on her computer server were erased before the device was turned over to federal authorities.
Clinton campaign officials on Wednesday sought to show that the information contained in the emails that she received did not risk spillage of classified data at the time they were sent to her. During a conference call, campaign aides pointed to a Fox News report that at least two of the emails that prompted the inspector general's referral may have contained sensitive information but were not marked "classified" at the time they were sent to Clinton by aides.
Campaign spokesman Brian Fallon noted that the two emails were sent to Clinton from career diplomats, not political appointees, and that they "did not have information marked `classified' or any classified documents attached to them."
Information in one of the documents, a 2012 email to Clinton about arrests in Libya, was later classified as secret by the FBI, but then released with redactions this year by the State Department, highlighting a dispute between the two agencies over whether the material should have been made public. A second email from 2011 was also released in full but reportedly contained classified military information.
"All this goes to show that when it comes to classified information, not all standards are black and white," Fallon said.
An expert told TheBlaze this week that as secretary of state, Clinton would likely have signed a nondisclosure agreement known as "standard form 312," which explicitly states the person signing it "received a security indoctrination concerning the nature and protection of classified information."
This form also states that a person signing it understands "that if I am uncertain about the classification status of information, I am required to confirm from an authorized official that the information is unclassified before I may disclose it."
"It's the responsibility of the person to know if the information is classified," Jim Hanson, a former U.S. Army Special Forces sergeant, now the vice president of the Center for Security Policy, told TheBlaze. "If she didn't sign a 312, she signed a version of a nondisclosure agreement. If she is indicted, they would lay that document down in front of her and say, 'Is this your signature?'"
—
The Associated Press contributed to this report.