On June 24, 2015, Michigan Judge Lisa Gorcyca sentenced three siblings, 14- and 10-year-old brothers and their 9-year-old sister, to juvenile detention.
Judge Gorcyca's reason for the sentence? Contempt of court because she felt the children had ignored her instructions to have a healthy relationship with their dad.
The problematic case started in December 2009, when Maya Eibschitz-Tsimhoni filed to end her 14-year marriage to husband Omer Tsimhoni, who had relocated to Israel as an engineer for General Motors. Although the divorce was finalized in August 2011, the parents continued to disagree over multiple matters involving the children. Serious allegations were raised by both parties so Judge Gorcyca appointed a guardian ad litem to represent the best interest of the couple's three minor children.
But the court-appointed guardian, attorney William Lansat, who reportedly has no children of his own, began drawing some highly questionable conclusions.
[sharequote align="center"]But children aren't business, nor are they commercial property.[/sharequote]
During a court appearance last August, Mr. Lansat stated, "The children would not answer any adult; they huddled together as if they were sending messages/vibes to each other in some sort of Manson-like behavior."
Three traumatized children. Two feuding parents. And the court-appointed guardian who has no children of his own compares the siblings to the insane, violent convicted murderer Charles Manson?
In another statement recorded by Mr. Lansat, he noted that the children had been observed by a mental health professional "tapping their feet under the table in the jury room as if they were sending Morse codes to each other."
Really? Most 14-year-old boys can't be bothered with 9-year-old sisters, let alone teach them Morse code so they can communicate in secrecy.
The idea of sending the siblings to juvenile detention was first raised by Mr. Lansat in a report he submitted to the court last August.
"The three minor children sat outside the courtroom on the chairs. The children would not respond to me — but more important — either to the deputies or the prosecutor. For minor children to basically evade armed Sheriff's [deputies] is absolutely appalling. I advised Mother that unless she gets these kids off the bench, there will be grave consequences — such as placement in the Children's Village."
Children's Village is a county-owned facility that houses up to 240 children, including those removed from their homes due to neglect, abuse and status offenses. It also houses children deemed dangerous by the court.
The court-appointed guardian ad litem (who has no children of his own) has now accused the three children he is assigned to protect of behaving like convicted murderers, using toe tapping to secretly communicate, and behaving unacceptably towards a father who lives overseas. And suggested that if their behavior doesn't improve, they'll be sent to live in a facility housing dangerous children.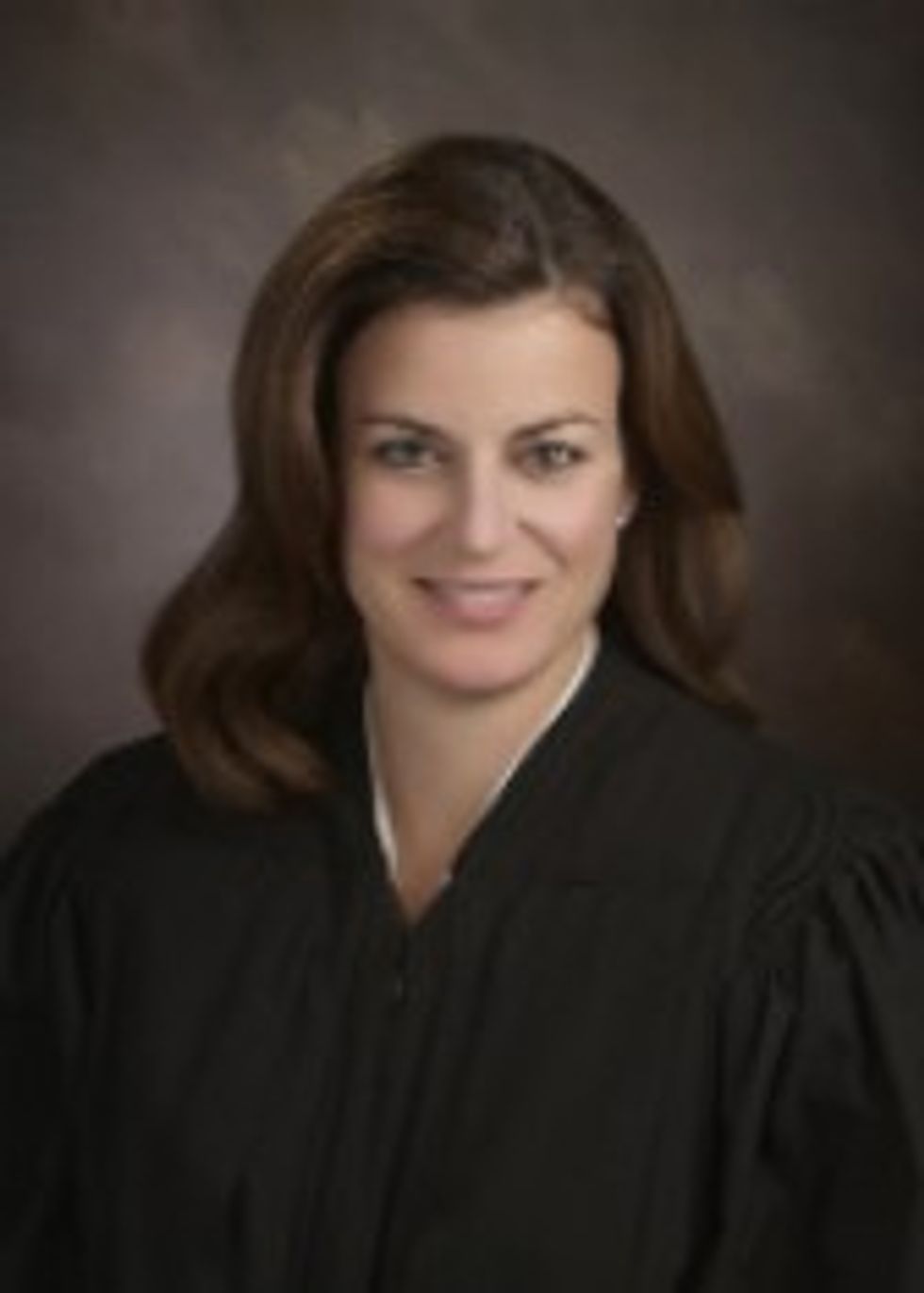 Family Division Judge Lisa Gorcyca (Oakland County, Michigan)
Despite a 2010 report by U.S. District Judge Robert Cleland who described the three siblings as "intelligent, sociable, and pleasant," Judge Gorcyca not only accepted Mr. Lansat's report without question, she even went so far as to publically humiliate the 14-year-old.
"You're supposed to have a high IQ, which I'm doubting right now because of the way you act," according to the June 24, 2015, court transcript.
So now the traumatized children had to endure a verbal beating to their self esteem by a judge questioning their intelligence. Where is the justice in this court room?
According to a court transcript dated June 24, 2015, Judge Gorcyca asked the 14-year-old son what he had to say.
"Okay, so I do apologize if I….I didn't understand that the rules of the…like the…with…with…like apologize to whatever I did to you, but I do not apologize for…for not talking to him because I have a reason for that and that's because he's violent and he…I saw him hit my mom and I'm not gonna talk to him."
Judge Gorcyca's reply?
"All right. Well, the court finds you in direct contempt. I ordered you to have a healthy relationship with your father."
Adding insult to injury, she further added:
"You are a defiant, contemptuous young man and I'm ordering you to spend the rest of the summer…and we'll review it….we'll review it when school starts, and you may be going to school there. So you're going to be….I'm ordering you to Children's Village. Is there anything you'd like to say about that?"
But the judge disagreed and sentenced the young teen and his two younger siblings to juvenile detention.
Judith Burdick, a licensed psychotherapist in Bingham Farms, Michigan, said that given the divorce and lengthy custody battle, the children are already traumatized. Burdick states that Judge Gorcyca "has taken a bad situation and made it 10 times worse," and that this experience will likely have a long-term, traumatic impact on the children.
"The ones who are the most vulnerable are being treated the worst," she said. "Why should the children have to suffer this way?"
A petition has been started to remove Judge Lisa Gorcyca from the bench. But what about the guardian ad litem, William Lansat, who painted the picture of three heinously behaved siblings who have been caught between two feuding parents for the past six years? Without children of his own, how can he possibly have an objective understanding of the situation?
According to his biography, Mr. Lansat has represented clients in a wide range of business and commercial disputes and has led a vast number of lawsuits. But children aren't business, nor are they commercial property.
According to Michigan's Lawyer-Guardian ad Litem Protocol, of which Mr. Lansat served as a member of the editorial advisory committee, "A lawyer-guardian ad litem's duty is to the child, and not the court," and "to serve as the independent representative for the child's best interests."
Apparently Mr. Lansat's recommendation to send three traumatized siblings to juvenile detention is in their best interest. And Judge Lisa Gorcyca strangely agreed.
Due in part to international criticism of the case, the siblings spent two weeks in juvenile detention before being transported to summer camp last week.
But not before Judge Gorcyca had the last word.
"Your children — you need to do a research program on Charlie Manson and the cult that he has. Your behavior in the hall with me months ago, your behavior in this courtroom ... is unlike anything I've ever seen in 46,000 cases."
Three traumatized siblings, two feuding parents, one guardian ad litem and judge with a mutual fixation on Charles Manson, and one can bet that these three children will need more than just a few weeks of summer camp.
Feature Image: Shutterstock
–
TheBlaze contributor channel supports an open discourse on a range of views. The opinions expressed in this channel are solely those of each individual author.