A family's nightmare that dragged out for 16 miles along a snowy Michigan highway started minutes after they returned home from a Florida vacation.
"It was a pretty helpless feeling," Matt Menz recalled to WJBK-TV.
Menz, his wife Pam, and their two adult children Justin and Jennifer were traveling along Interstate 75 from Bishop International Airport in Flint, Michigan, where their plane had just landed early Wednesday. As the family made their way back home in Roscommon, harsh wintry whiteout conditions struck and and their vehicle plunged into the back of a moving tractor-trailer, WJBK reported.
But that was just the beginning of the horror they had yet to face.
The minivan became lodged beneath the tractor-trailer as it traveled down the interstate. The driver of the truck had no idea the family was being dragged right behind him. According to CNN, the impact from the crash virtually shut down every part of the vehicle, from the horn to the heater.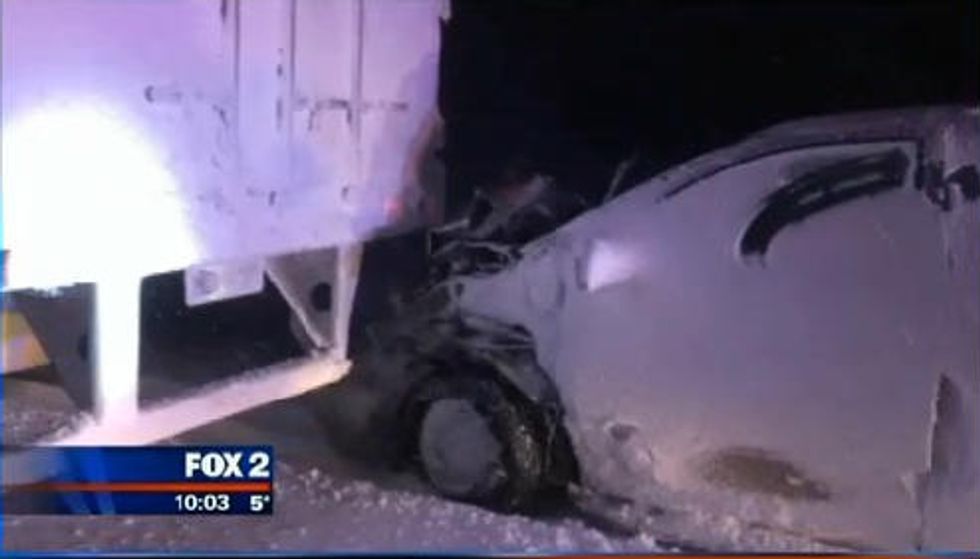 Image source: WJBK-TV
That's when Pam called 911.
"I just want to get off the back of this thing," Pam told the dispatcher.
"How fast are you guys going?" the dispatcher asked her.
"I don't know, I can't even see because we don't have any lights or nothing in here," Pam said.
Police began plotting the best way to locate the trapped family. It took 35 minutes, but police were finally able to track them down using the GPS from their phone.
As officers were on their way, the dispatcher asked if they were still OK.
"Yeah, we are alright. If the van breaks from underneath us, I don't have any control of this thing," Matt responded.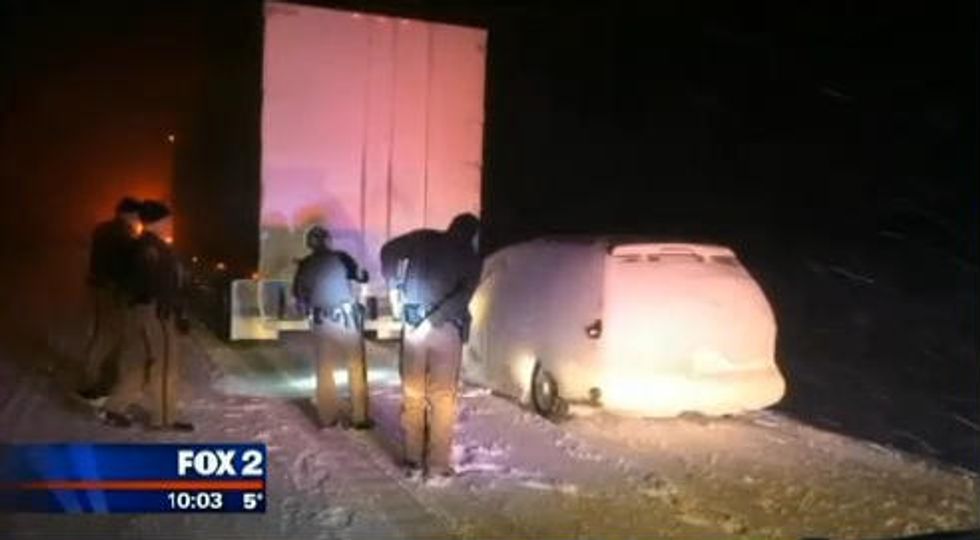 Image source: WJBK-TV
By the time police caught up with the family stuck inside the wedged minivan, they were 16 miles away from where the accident happened. At least one officer from the Crawford County Sheriff's Department – a different county from where it all began –  managed to get in front of the truck and direct the unknowing driver to a safe stop. The family was taken to the hospital by ambulance to be treated for bumps and bruises but no further injuries were reported.
The driver of the tractor-trailer, although not reportedly injured, was so shaken up by it all that he told WJBK-TV he doesn't want to drive the truck again.
(H/T: WJBK-TV)
–
Follow Jon Street (@JonStreet) on Twitter