The strenuous physical fitness test once required of every New York City firefighter is no longer a must-pass.
For the first time in the city's history, someone who has not passed the "functional skills test" will graduate from the fire academy and join the ranks of the FDNY, the New York Post reported.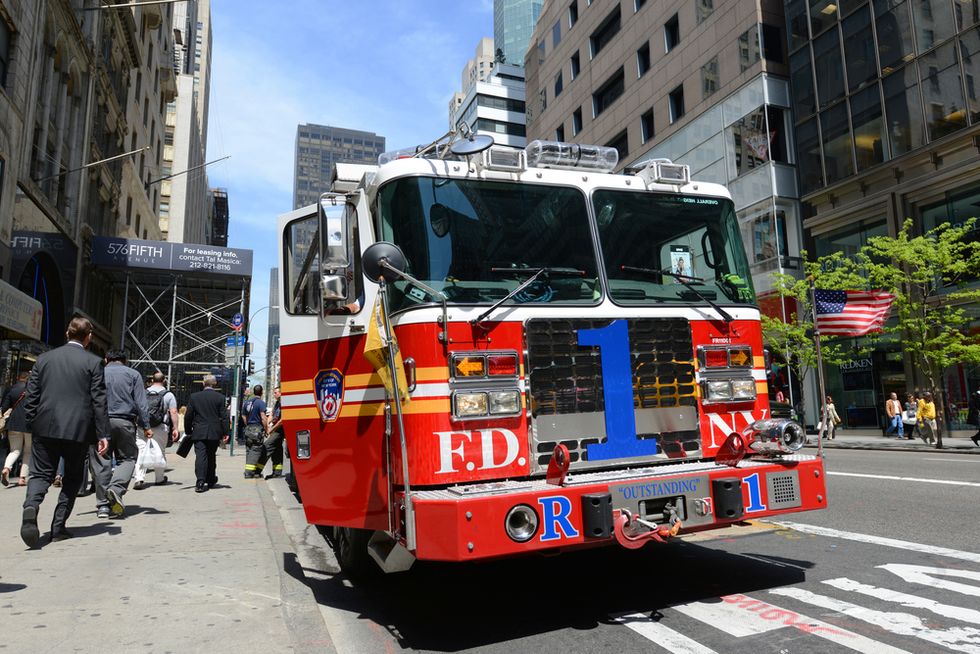 Photo credit: Shutterstock
Rebecca Wax is set to graduate from the academy Tuesday, despite having failed the test multiple times over the course of the 18-week training period.
Among the components, the test requires candidates to climb at least six flights of stairs in full gear and drag dummies through low-visibility tunnels in no more than 18 minutes. Wax, 33, finished the test only once, in 22 minutes. She made other attempts throughout the course of her training, but never completed it.
One source told the New York Post that city officials decided Wax's high academics score could make up for not passing the physical component.
FDNY Commissioner Daniel Nigro told the city council in December that he had changed the graduation requirements in order to make it possible for more people to become firefighters.
"We still grade the people. You can still fail it if you go beyond the time, but you're not automatically failed from the program," he said.
This isn't the first time city officials have been urged to soften firefighter requirements. In 2011, Wax attended a city council meeting where she asked members to consider raising the age limit for firefighters from 29 to 35. Wax, who was 29 at the time, said she wanted "nothing more than to be a New York City firefighter."
The council ultimately never had to make a decision regarding age restrictions for firefighters because a federal judge imposed a hiring freeze. The FDNY website now lists an exception beneath the age limitation, saying candidates are eligible to become firefighters if they are 35 or younger at the time of beginning the application process.
The FDNY website states that to be hired as a firefighter, one must "pass both the computer-based test and physical ability test."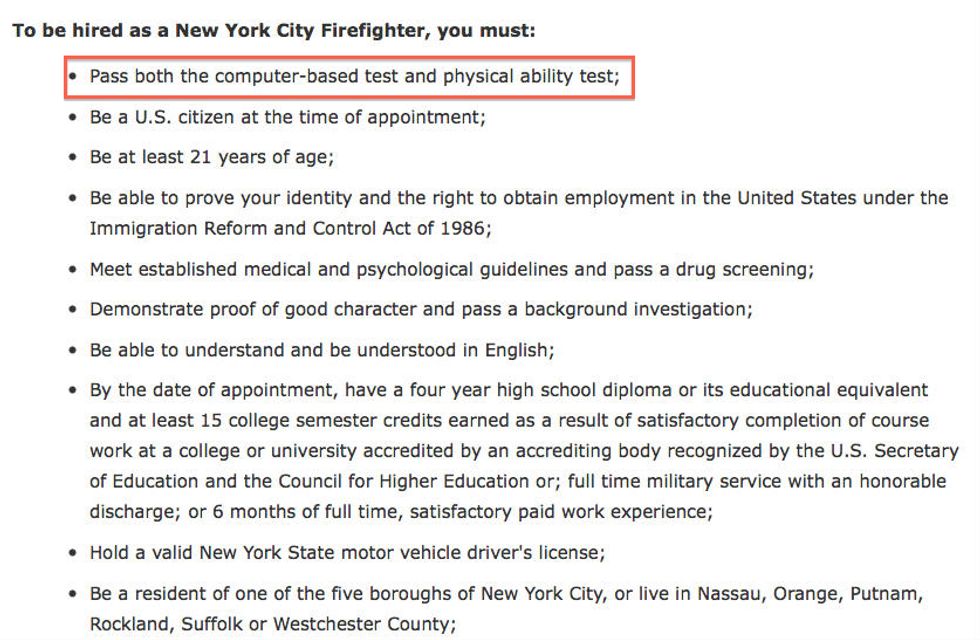 Image source: FDNY
Wax is one of three women expected to graduate from the academy, though the other two women passed the physical test.
"They're kicking butt. They're doing better than 50 percent of the class. When they get assigned to a firehouse, they'll be welcomed with open arms because they've done what everyone else has gone through," a source within the fire department told the Post.
In a brief statement to the Post, Nigro said of Wax: "Every one of our 305 probies have passed and will be graduating Tuesday. She has met the requirements."
The FDNY did not immediately respond to a request for comment from TheBlaze.
(H/T: New York Post)
–
Follow Jon Street (@JonStreet) on Twitter