President Barack Obama on Friday called for healing the divide between police and the communities they patrol.
Speaking at the annual National Peace Officers Memorial Service marking the end of Police Week, Obama said the government can't take away all of the dangers, and that the nation must fight the cycle of poverty that leads to violence.
"We can do everything we have to do to combat the poverty that plagues too many communities in which you have to serve," Obama said. "We can work harder as a nation to heal the rifts that still exist in some places between law enforcement and the people you risk your lives to protect."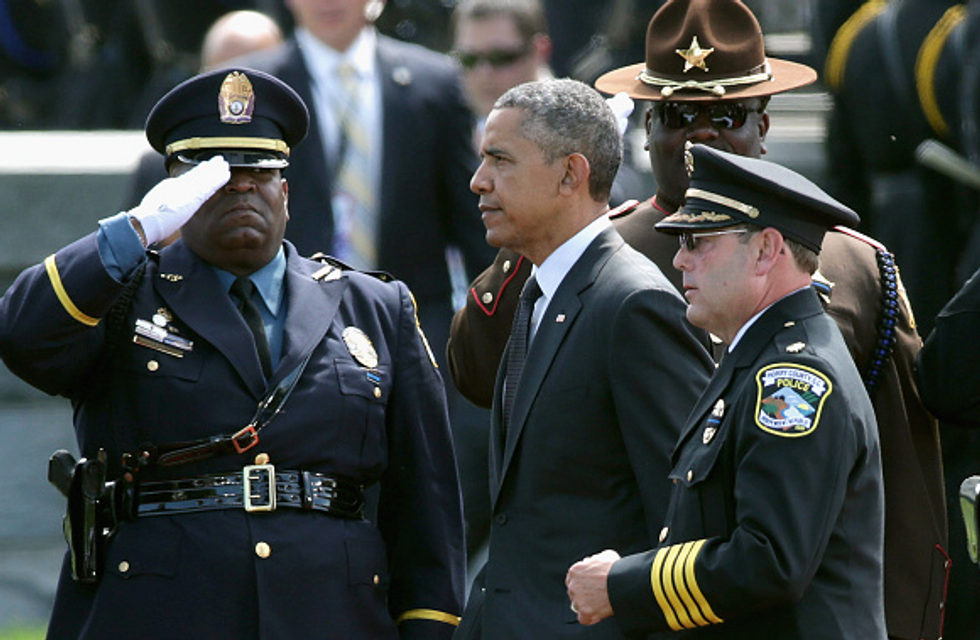 President Barack Obama and Fraternal Order of Police National President Chuck Canterbury arrive for the 34th annual National Peace Officers Memorial Service on the west front of the U.S. Capitol, May 15, 2015 in Washington. (Chip Somodevilla/Getty Images)
The president delivered the remarks to a large crowd of police officers and families of fallen officers in the midst of a Justice Department probe into the Baltimore Police Department following the death of 25-year-old Freddie Gray, and after the recent killings of several police officers.
"Your jobs are inherently dangerous. The reminders are too common," Obama said. "Just a few days ago, two police officers were killed in the line of duty in Mississippi. A week before that, an officer was killed in the line of duty in Queens. A few months before that, two of his fellow officers in the NYPD were killed as well."