Kennesaw State University student Kevin Bruce had a couple of questions for his exercise science adviser, so he dropped by her office at the Georgia school Wednesday despite not having made an appointment.
Once in the office, Bruce said he was told his adviser was busy and that he should complete a form and come back in an hour. When Bruce said he'd rather wait, Abby Dawson was summoned.
Bruce's reaction? "Oh my God."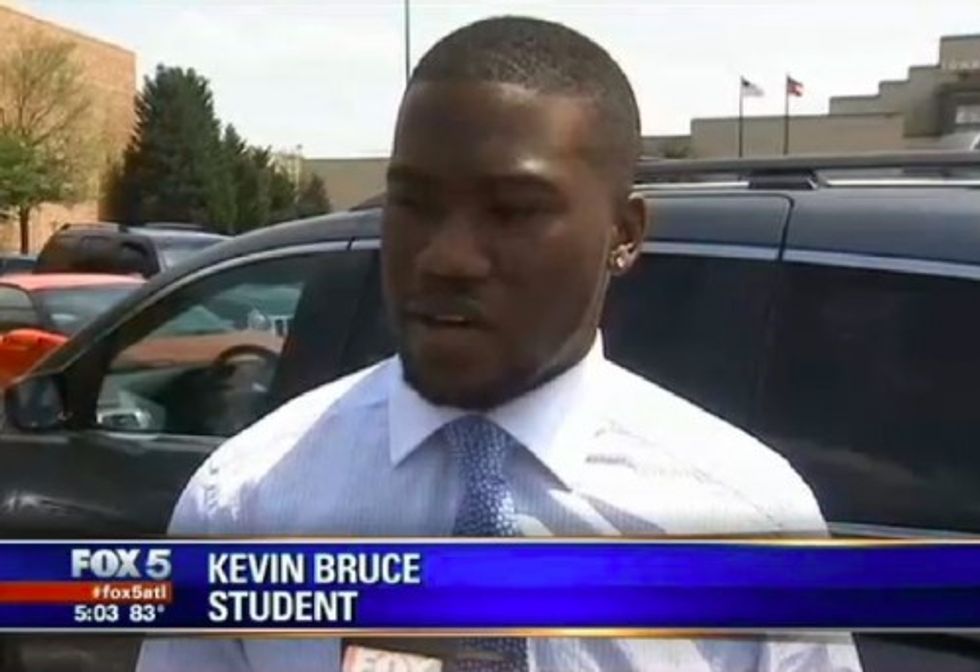 Image source: WAGA-TV
Claiming Dawson has an "attitude" based on previous dealings with her as an adviser, Bruce told WAGA-TV the wise move was pulling out his cellphone and hitting record.
The resulting video, which has gone viral, showed Dawson confronting Bruce and telling him that his desire to wait in the office constituted harassment.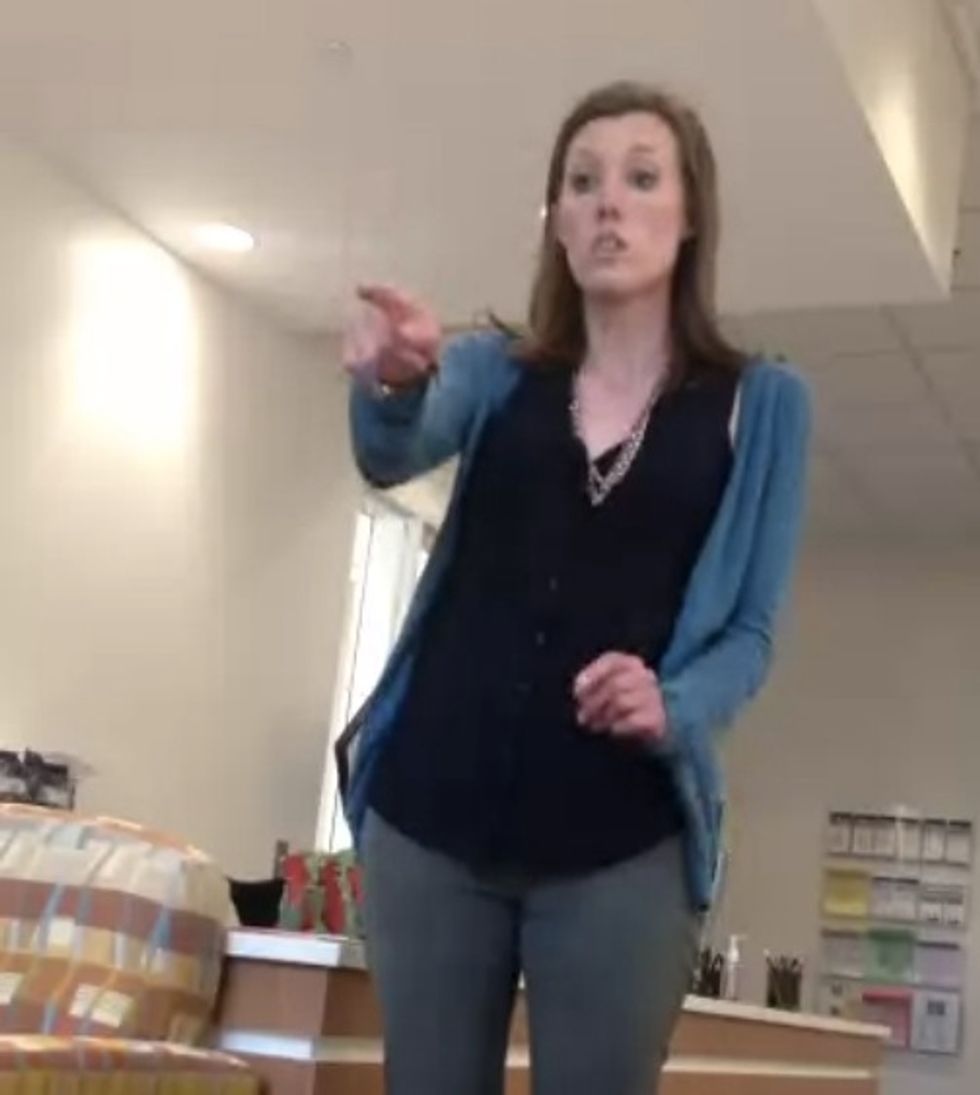 Image source: Twitter
"Sitting here until somebody is available is harassing them," Dawson said on the clip.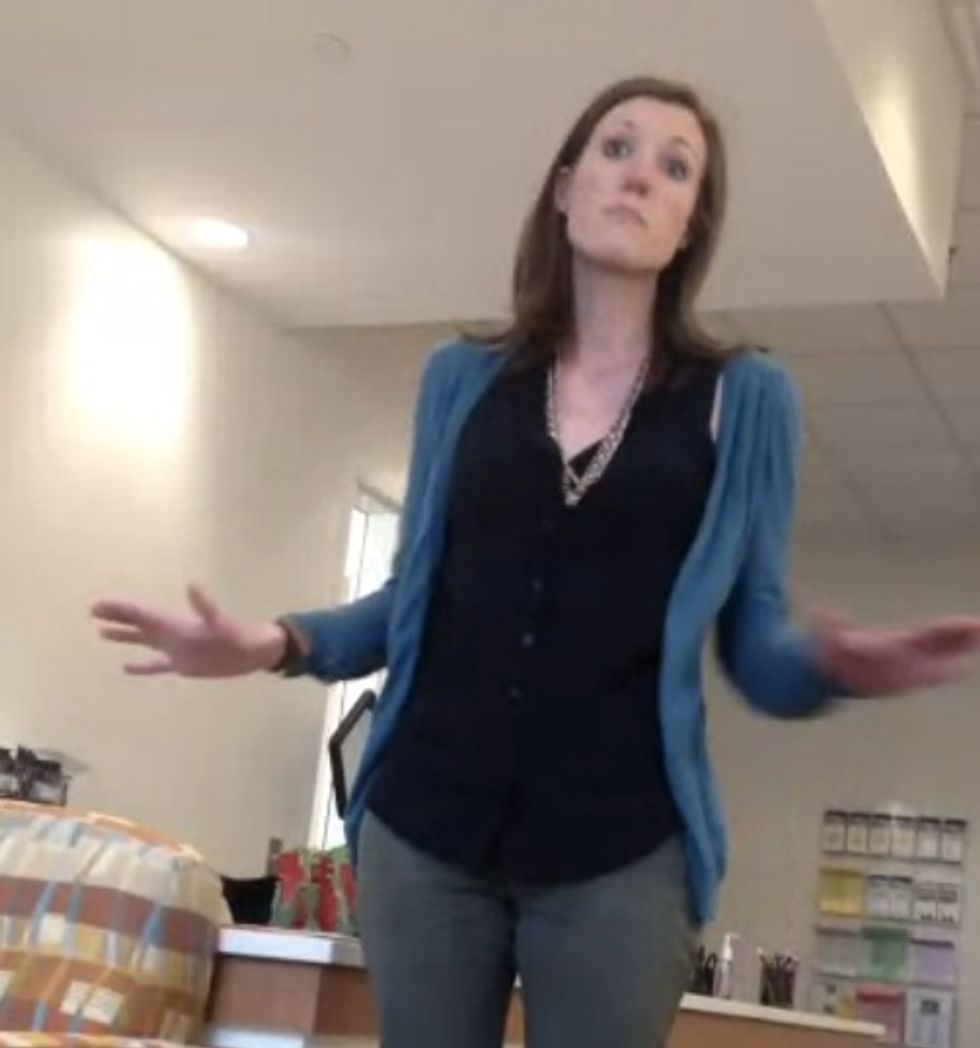 Image source: Twitter
"I'm not harassing no one," Bruce is heard replying.
"You are," Dawson said. "You can fill out the form just like everybody else does." Soon she turned and walked away, saying she was calling security.
Bruce filed a complaint with the school, and Kennesaw State said it's investigating the incident.
Since Bruce posted the video on Twitter, others have hit the #itsbiggerthanKSU hashtag with complaints about Dawson, academic advisers at the school — and alleged racism.
Several observers said it's racist for a white woman to claim harassment against a black man who's simply sitting and waiting for questions to be answered:
Bad advising may be a school issue that affects students of all races but the threat of criminalization was racist (5) #ItsBiggerThanKSU

— Doc Ock (@OckyJ83) May 15, 2015
Abby Dawson @ KSU is a disgustingly perfect example of WW faux fear of BM for simply existing in "their" spaces #ItsBiggerThanKSU

— Unapologetic Negro (@HollaBlackGirl) May 14, 2015
Others disagreed:
Disregard race. As a student who pays thousands of dollars to attend this school, stuff like that shouldn't occur. #ItsBiggerThanKSU

— black. (@_annakae) May 14, 2015
Bruce himself said no racism was involved —
Guys It's not a racial issue . Every Race has this problem .

— KB (@IamKB_) May 14, 2015
— he's just upset over what he sees as poor treatment of a tuition-paying student.
"I know you have to set up a meeting," he told WAGA, "but when you have a couple of questions, I feel like they could have took two minutes out their time to speak to me ... there's really no excuse for that."
Atlanta News, Weather, Traffic, and Sports | FOX 5
This story has been updated.
—
Follow Dave Urbanski (@DaveVUrbanski) on Twitter