Department of Homeland Security agents would not be able to effectively communicate at all levels in the event of another terror attack, despite the agency having spent more than $400 million since 9/11 to do just that.
According to the DHS inspector general, the department has spent $430 million on radios since 2001 that are now outdated and don't work with the radio systems used by state agencies.
In addition, the report found that fewer than 1/4 of 1 percent of radios could even access the common radio channel DHS officials use to talk with each other and fewer than 20 percent of the radios tested contained the correct settings for the common channel.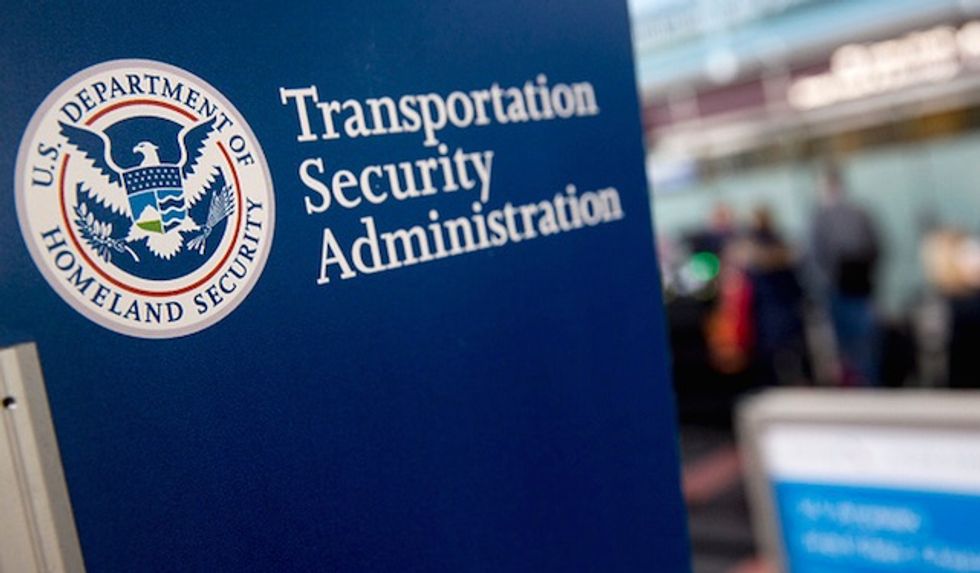 A Transportation Security Administration (TSA) sign stands at Ronald Reagan National Airport (DCA) in Washington, D.C., U.S., on Wednesday, Feb. 25, 2015. (Andrew Harrer/Bloomberg via Getty Images
A 2012 report released by the DHS inspector general's office found the same problem. Officials were advised to resolve the issue right away, the Washington Times reported.
"We are disappointed to see the lack of progress in this area. DHS leadership must prioritize effective interoperable communications, a fundamental aspect of the homeland security mission," DHS Inspector General John Roth said.
The bombshell revelation is just one of several problems described by the report. The inspector general's investigation also discovered that the Transportation Security Administration, under DHS supervision, cleared as many 73 individuals to work in sensitive jobs in airports despite their alleged terrorist ties.
The TSA cleared the employees in question because it didn't have comprehensive access to all of the government's terror watch lists, according to the June 4 report. Another recent report found that undercover DHS officials were able to smuggle 95 percent of the items prohibited by the TSA past airport security screeners.
DHS and TSA officials were scheduled to testify before members of Congress Tuesday to explain the security failures.
(H/T: Washington Times)
–
Follow Jon Street (@JonStreet) on Twitter