Israeli media outlets on Thursday raised "concerns" over why U.S. Secretary of State John Kerry offered his input on a natural gas dispute in Israel when he once owned stock in the Texas-based exploration company Noble Energy, one of the main players in a long-running regulatory saga.
But information about Kerry's ownership of Noble Energy stock has been online for years - since at least 2004 - raising the question why the Israeli media focused on the issue Thursday, the precise day Prime Minister Benjamin Netanyahu's security cabinet was expected to allow Noble and its Israeli partner, Delek, to keep control of the Leviathan field, one of the largest offshore gas finds in years that had been put into question by antitrust regulators.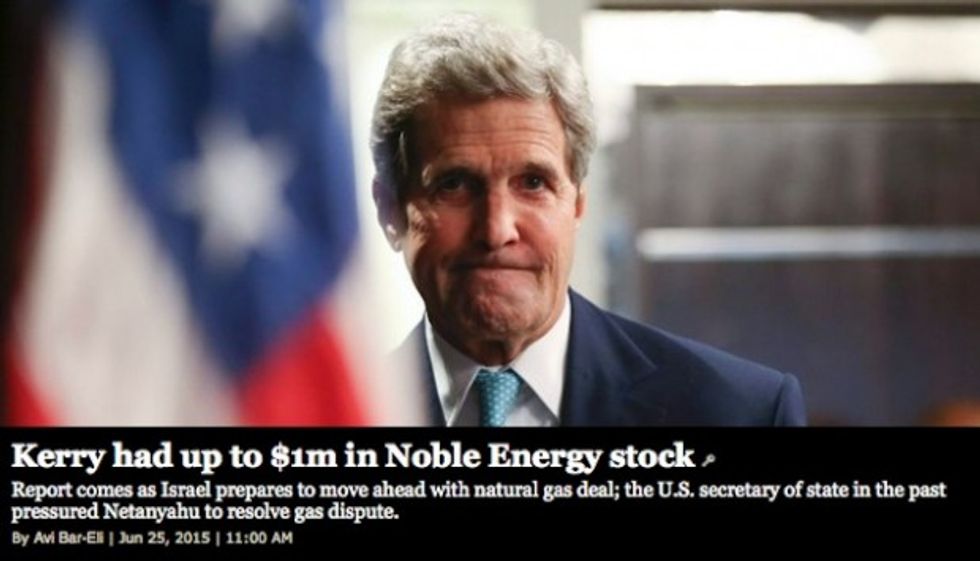 Reports suggesting John Kerry had a possible conflict of interest by owning stock in Noble Energy got top headline treatment in Israel Thursday, as seen in the first entry in Haaretz.com's front page photo carousel (Screenshot: Haaretz.com)
Citing documents found on opensecrets.org - a website run by the Washington-based nonpartisan Center for Responsive Politics - the Israeli financial website Calcalist on Thursday pointed out that in his 2013 asset declaration, Kerry held between $501,002 to $1,015,000 in Noble Energy stocks.
Kerry also had shares in other energy companies.
Noble Energy is one of the two main partners exploring for natural gas off Israel's Mediterranean coastline.
Calcalist further reported that Kerry sold Noble Energy shares in 2015 "for a negligible amount":
A browsing of previous financial statements he submitted shows that Kerry held the shares for at least ten years, and that their value was higher in the past - over a million dollars - and may have decreased due to the decline in world oil prices […]
"This didn't prevent him from being involved in the gas agreement with Jordan and the outline gas plan being decided today," ran the text under Calcalist's headline.
The Israeli newspaper Haaretz offered this take: "The report raises concerns regarding Kerry involvement in the local gas market."
Calcalist noted that Kerry's Noble Energy investment comprised a small fraction of his wealth. When he took office in 2013, Kerry placed some of those holdings in a blind trust, though Noble Energy shares were not among those, Calcalist added.
Last fall, Israel signed an agreement promising to supply neighboring Jordan with $15 billion in natural gas over 15 years from the Leviathan reserve. The deal was then described by the Times of Israel as "the largest collaboration with Jordan to date."
But in December, Israel's antitrust commissioner announced he would not allow Noble Energy and Delek to operate both the Tamar and Leviathan natural gas fields, threatening not only future development of the offshore fields but also the agreement with Jordan.
That's when Kerry stepped in to discuss the matter with Netanyahu, State Department spokesman Jeff Rathke said in December.
"We continue to engage and we support all parties to move forward with the natural gas deal signed between Noble Energy and entities in Jordan and Egypt," Rathke told reporters. "We strongly believe that these deals would enhance energy security in the region."
"It is important for all countries to have a strong investment climate, including a consistent and predictable regulatory framework," Rathke said.
Haaretz quoted an unnamed source "close to the deal with Jordan" who previously told its sister financial publication The Marker that "the person working behind the scenes and pushing this deal forward is the American secretary of state" in the hopes of elevating moderate Arab states and promoting regional stability.
U.S. government officials, not just Kerry, have made no secret they wanted Netanyahu to try to find a solution that would allow Noble to move forward with the project which they believe would promote not only the interests of the American gas explorer but also Arab-Israeli cooperation.
"The U.S. has an interest in the growth of the Israeli economy, and also an interest in the success of a U.S. company [Noble Energy] that has made large-scale investments," U.S. ambassador to Israel Dan Shapiro told Israel's Army Radio on June 17.
"The U.S. has an interest in the security and economic relations that the gas can make possible," Shapiro added, referring to the Israel-Jordan gas deal.
The ambassador also issued a series of tweets in November – before the antitrust chief's announcement, encouraging the Israeli government to promote a "stable, predictable investment climate."
Important that Israeli gov't maintain a stable, predictable investment climate to attract & retain US investors in competitive global market

— Dan Shapiro (@AmbShapiro) November 3, 2014
Netanyahu's security cabinet was expected to vote Thursday to define the natural gas deposits as a matter of national security concern, allowing the government to bypass the antitrust authorities and allow development of the fields by Noble and Delek to proceed.
Following widespread social protests in 2011, there have been calls from socialist-leaning politicians to nationalize large portions of the reserves and to limit how much gas the companies could export.