The man with a "White" tattoo who was captured on camera shaking hands with Hillary Clinton this month said in a new interview Monday that he is not a racist — and revealed what is inked on his other arm as proof.
Hillary looks very happy to get the support of this guy with a "WHITE" tattoo on his forearm. http://t.co/06scTZrY28

— Chris (@Chris)1436311668.0
Last week, Clinton deleted a photo from her Twitter account showing her shake hands with a man outside a New Hampshire ice cream parlor after people noticed he had "White" tattooed on his right forearm.
Speaking to BuzzFeed, 33-year-old Nicholas Brown said he was the man pictured in the photo. He said the "White" tattoo is part of a larger "White Trash" piece that only is visible when both of his arms are displayed.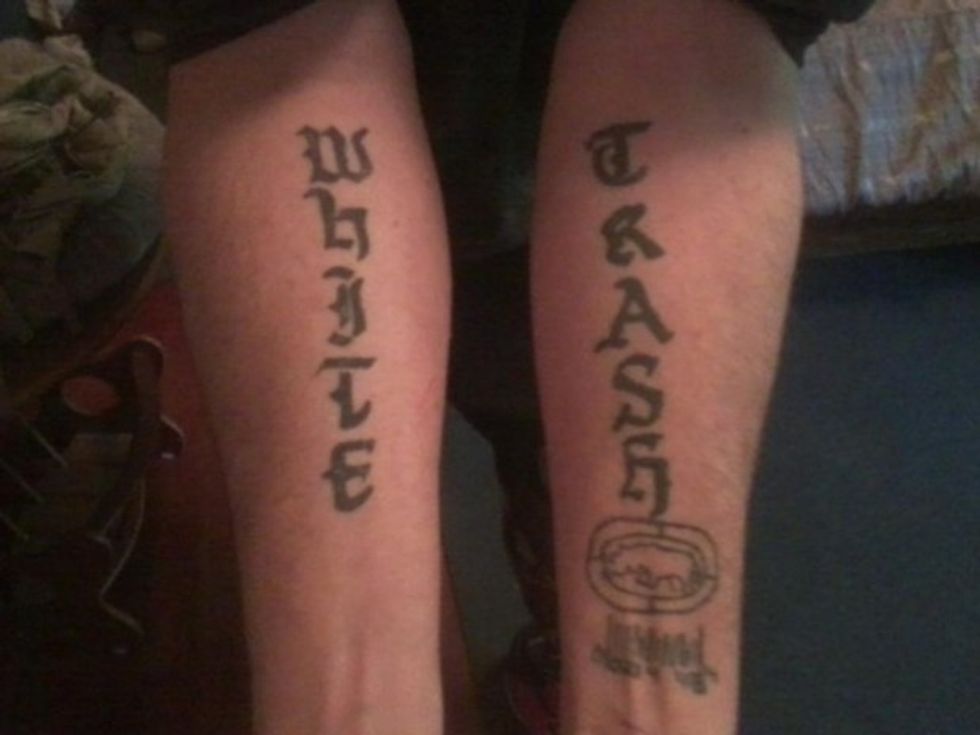 Image source: Nicholas Brown via BuzzFeed
Brown told BuzzFeed that he got the tattoo four years ago after falling into a coma for six weeks and losing both of his legs as a result of a battle with pneumonia. The tattoo was meant to show the world how he felt after leaving the hospital, he reportedly said.
"I got out, and I saw my body totally messed up," Brown, a Clinton supporter, told BuzzFeed.
He said he happened to be at the New Hampshire ice cream parlor as Clinton held a mini-campaign stop.
"I was just standing in line and turned around," he said. "She started talking to me."
Clinton's campaign at the time told BuzzFeed that the man approached her and asked to shake the Democratic presidential contender's hand.
—
Follow the author of this story on Twitter and Facebook: