A Texas family's only car broke down in June. Unable to pay for a tow truck, it sat on the road while the owner went to get help. When he returned, it was gone — stolen.
While the family might have thought their car was gone forever, on Sunday they spotted it.
KHOU-TV reported that Chelsea Peters of Livingston, Texas, saw her and her husband's silver Dodge Durango — the dents helping her identify it — at a local gas station.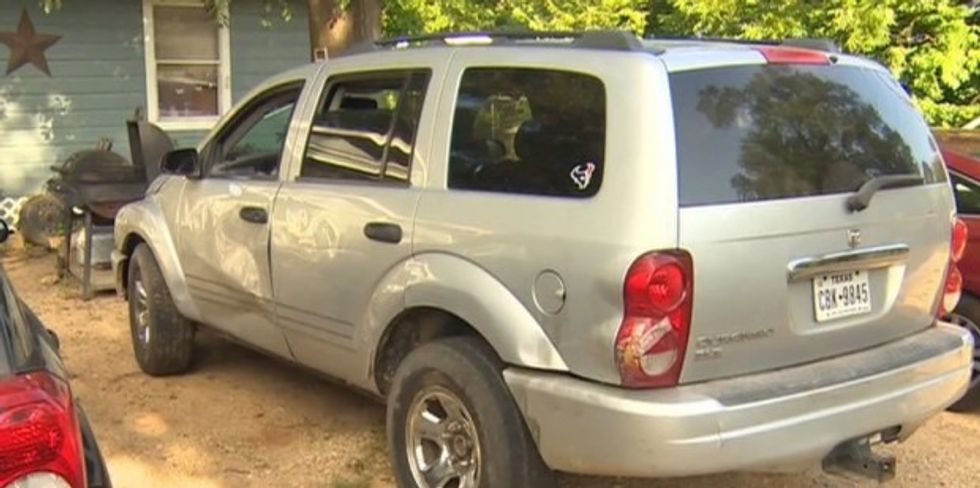 Image source: KHOU-TV
The fact that it was up and running at all was a bit of a surprise. According to the news station, the vehicle couldn't even start with keys. Before it broke down the family figured out a way to use a screwdriver to get it going. It's drive shaft was also broken.
"I was shocked," Peters told KHOU after she spotted it. "Shock was all I could feel.
The news station reported that Peters followed the SUV she believed to be her own while she called the police. The vehicle was recovered by the authorities and did in fact belong to her family.
Once back in their possession, the Peters found several repairs had been made and new tires were put on by the thief as well.
They also discovered about 30 small baggies of drugs in one of the SUV's compartments and turned this over to police.
"I'm very happy we got it back," Shane Peters, Chelsea Peters' husband, told KHOU of his only ride to work.
Watch the report: