The video is only 14 seconds long, but its content has some calling it "extremely disturbing" and "scary."
The footage appears to show a drone — the remote-controlled, quadrotor kind that are becoming increasingly popular among the general public — and attached to it is a handgun.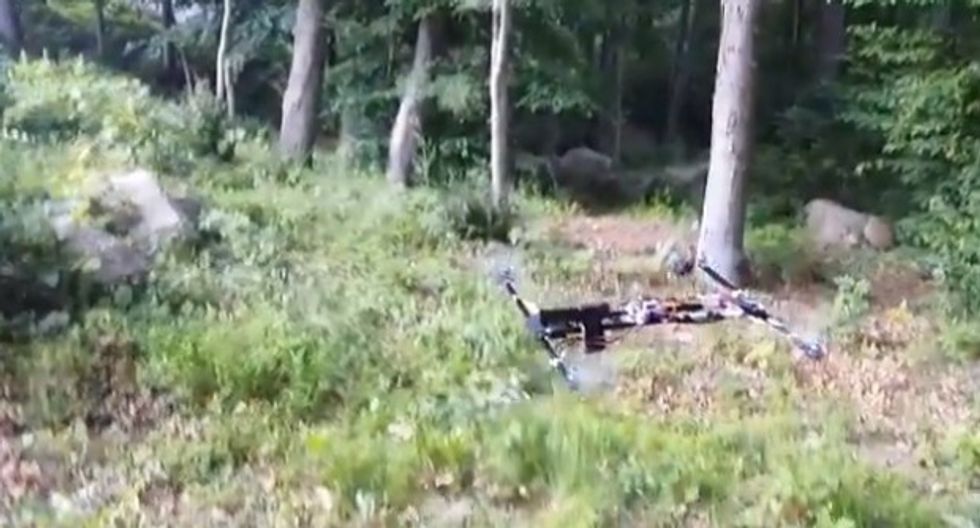 Image source: YouTube
In the video, the gun appears to fire several times. The setup for how the trigger is pulled, if real, is unclear.
Though posted with few details by YouTube user Hogwit, he did write that the weapon is semiautomatic and the "length from the muzzle to the rear of the frame is over 26 [inches]."
Watch the footage:
The Verge might have tracked down the YouTuber's identity:
Howgwit, the YouTube user who uploaded the recent 14-second clip, also references another video showing a CGI quadcopter with a mounted machine gun on his Google+ account, commenting: "Too bad it's fake... though I have a real one in my channel." Hogwit appears to be Austin Haughwout, a US drone hobbyist who was involved in a drone-rage incident last year. While flying a video-equipped drone at a beach, Haughwout got into a confrontation with a woman, Andrea Mears, who felt she was in danger from the craft. Footage of the incident went viral, and Mears was charged with third-degree assault before being granted probation.
Hogwit (Haughwout) did not immediately respond to TheBlaze's request for more information about the drone.
As for the legality of such a device, Jim Williams with the Federal Aviation Administration a few years ago referenced already established rules that "would prohibit weapons from being installed on a civil aircraft."
That hasn't stopped people from trying it though. Check out the "TaserDrone" from a few years back.