Marcy's Diner is a cash only establishment. It's a place with the cheekily named Web URL NiceMuffin.com. And its owner isn't afraid of letting her personality shine through on social media or across the counter.
She's also apparently not about to take a screaming toddler in her restaurant.
"I was working on the grill. I had my back to the child. I listen to the child scream for probably close to 40 minutes," Darla Neugebauer told WCSH-TV. "Went over with boxes and asked them to either package up the goods for everyone to leave or if they would just take the child out. And they acted like I had three heads."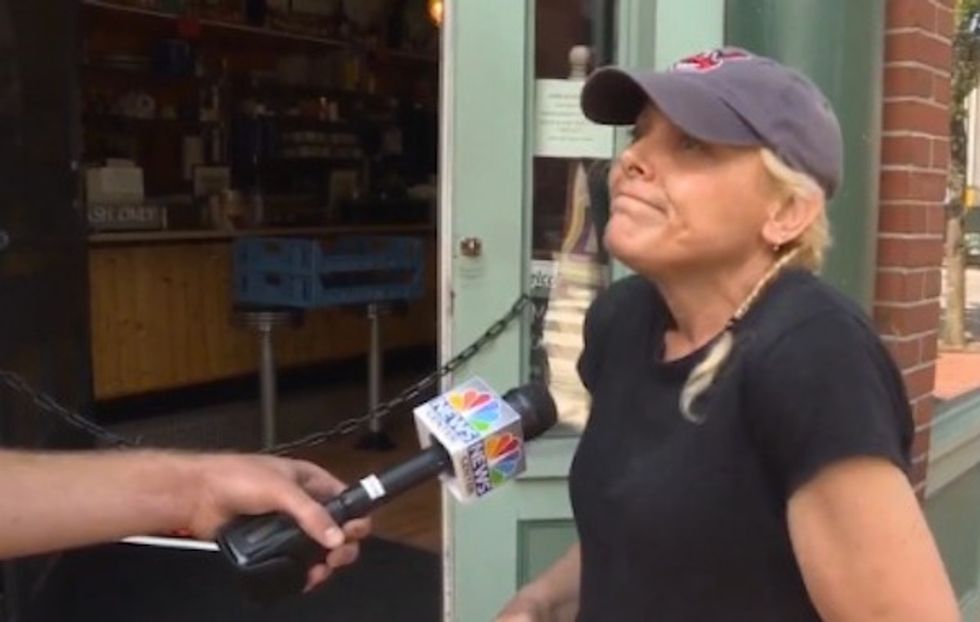 Marcy's Diner owner in Portland, Maine, defends her actions to tell a screaming child in her restaurant to "shut up." (Image source: WCSH-TV)
In response to a reporter asking her if she feared backlash for yelling at the toddler, Neugebauer said: "Life's full of choices and you've gotta live with all of them. I chose to yell at the kid. It made her shut up, which made me happy. It made my staff happy. It made the other 75 people in the restaurant happy."
According to the news station, Neugebauer took some flak on the diner's Facebook page for her actions Saturday, yelling and then asking the family with the vocal toddler to leave. Those posts though, do not appear to still be on the page.
However, there have been some recent posts on Yelp that have what seems to be a screencapture of a Facebook post from Marcy's page.
"Snarled at top volume 'THAT NEEDS TO STOP!' the post read, also explaining that pancakes ordered for the girl were out of reach on her table, which is why she was crying. "Pointing directly at the rotten child! Shocked! They said 'did you just yell at a child?' Yup! Sure did! Shut her up too! Why is it OK for that kid to disrupt the experience for 75 other people when mommy or daddy could have taken it outside! Good parents do that! [...] Good parenting makes great kids. Good luck lady with that monster."
Earlier in the post, she also blasted the parents for ordering three full-size pancakes for their child after her waitress explained that it would be difficult due to the space on her grill at the time.
Other's took to Yelp to express their opinion on the situation.
"Absolutely unacceptable response from this establishment after a complaint of a 2 year old child crying," Katie D. from Holbrook, Massachusetts wrote. "The owner came up and screamed from across the place in front of everyone to tell the 2 year old to 'shut up' Here is the owners response word for word!! Horrific!!"
Another reviewer disagreed.
"GOOD FOR YOU!" Regina H. from Richardson, Texas, wrote on the review site in support of Neugebauer's response. "When parents allow their child to scream and cry in a restaurant (or anywhere for that matter), thus disturbing 75 other patrons, there's a problem.
"Parents, manage your child's behavior," Regina continued. "The 'terrible 2s' don't have to be terrible for everyone! Take the child outside! Leave the establishment! And when you don't, refrain from getting all ruffled up when the restaurant owner takes the bull by the horns and remedies the situation!"
Neugebauer told WCSH after looking at responses on social media, she thinks "I might be a local hero."
"It's not that I don't enjoy children," Neugebauer, who is not a mother herself, told the news station. "I enjoy good children."
Watch Neugebauer talk about the incident:
As for the other side of the story, WCSH contacted the parents, Tara and John Carson, who were on vacation in the area when they went to the diner.
"I turned to my daughter and I was like 'Listen, this is how I'm raising you not to be as an adult. Like, you will never be like this when you get older,'" Tara Carson told the news station. "I felt helpless as a mom that, you know, I couldn't do anything to help her, because I can't explain why there's crazy people in this world that behave like that."
Here's another report:
Let us know what you think of the diner owner's actions in our poll:
—
This story has been updated to include more information. This story has also been updated to correct that Marcy's Diner is located in Portland, Maine, not Oregon.