Update 2 p.m. ET: The Sacramento Police Department officially identified the victim as Spencer Stone, as previous reports had confirmed, and said the suspects in the stabbing after midnight Thursday remain at large.
"We firmly believe that this is not a terrorism related event and that it is in no way related to the incident that occurred in France," a news release from the police department stated. "The assault does not appear to be a random act and is believed to be a nightlife related incident."
The suspects were described at a news conference as two male adults wearing white T-shirts and blue jeans. After the altercation, they fled in a dark gray or black Toyota Camry.
The police chief would not get into specifics of the altercation but did say a "dispute" lead up to it."
In a tweet, the police department said the altercation occurred outside a bar and "alcohol is believed to be a factor."
—
One of the four men who helped prevent a terrorist attack on a French train in August is in stable condition after being stabbed.
KVOR-TV reported that Spencer Stone, 23, was "repeatedly stabbed" in Sacramento Wednesday night.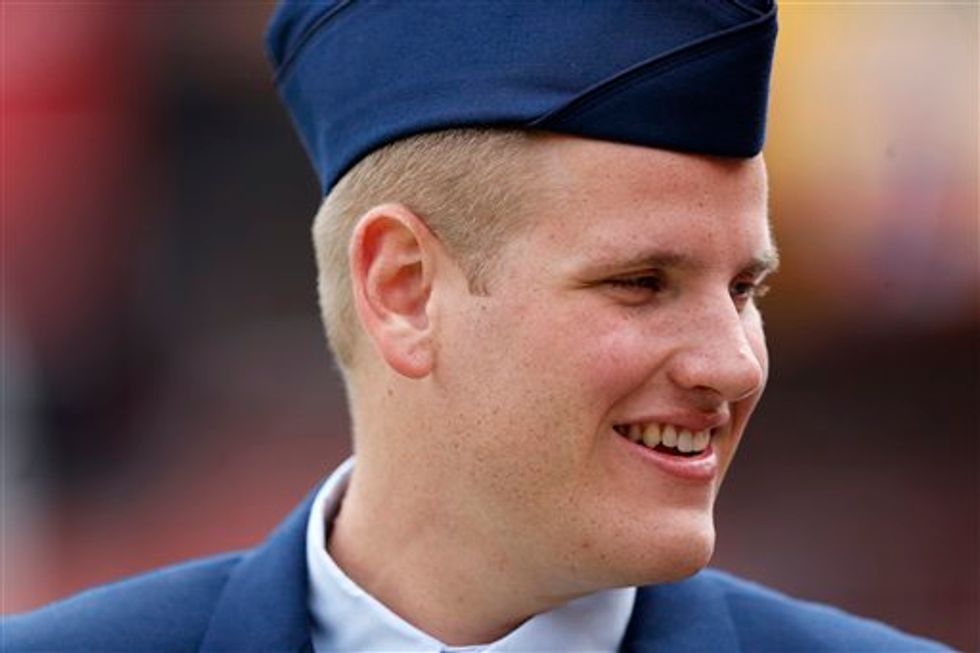 U.S. Air Force Airman 1st Class Spencer Stone was among the men who stopped an attack on a Paris-bound in August. (AP/Patrick Semansky)
"He is alive and in stable condition at this time," the Air Force said in a statement, according to NBC News. "We do not have any information as to the events preceding the incident."
"A1C Spencer Stone has been transported to a local hospital, and is currently being treated for injury," Air Force spokesman Lt. Col. Christopher Karns told the Air Force Times. "The incident is currently under investigation by local law enforcement."
KCRA-TV reported that a fight in the street led to the stabbing. It noted that after the incident around 12:45 a.m., police blocked of a portion of the street but it had been reopened by 6 a.m. Thursday.
As of Thursday morning, the Sacramento Police Department tweeted on the ordeal is that it was unable to reveal the victim's identify and unable to confirm any crime. It later told TheBlaze in an emailed statement that it received a call at 12:46 a.m. regarding the stabbing.
"The victim, a man in his 20s, was located on scene and transported to an area hospital by fire personnel.
It is believed that the victim was out with a group of friends when a physical altercation led to the victim being stabbed multiple times in his upper body," the police department said in a statement. "Detectives were called to the scene to assist with the investigation and the victim is currently being treated for what appears to be non-life threatening injuries. The Sacramento Police Department respects the identity of all crime victims and appreciates your patience as we work to provide you with further details."
Stone, a U.S. Air Force Airman 1st Class, was injured while stopping Morocco-born Ayooub El-Khazaani who opened fire on a Paris-bound train in August. National Guardsman Alek Skarlatos, Sacramento State University student Anthony Sadler and British consultant Chris Norman were also credited for having stopped the attacker.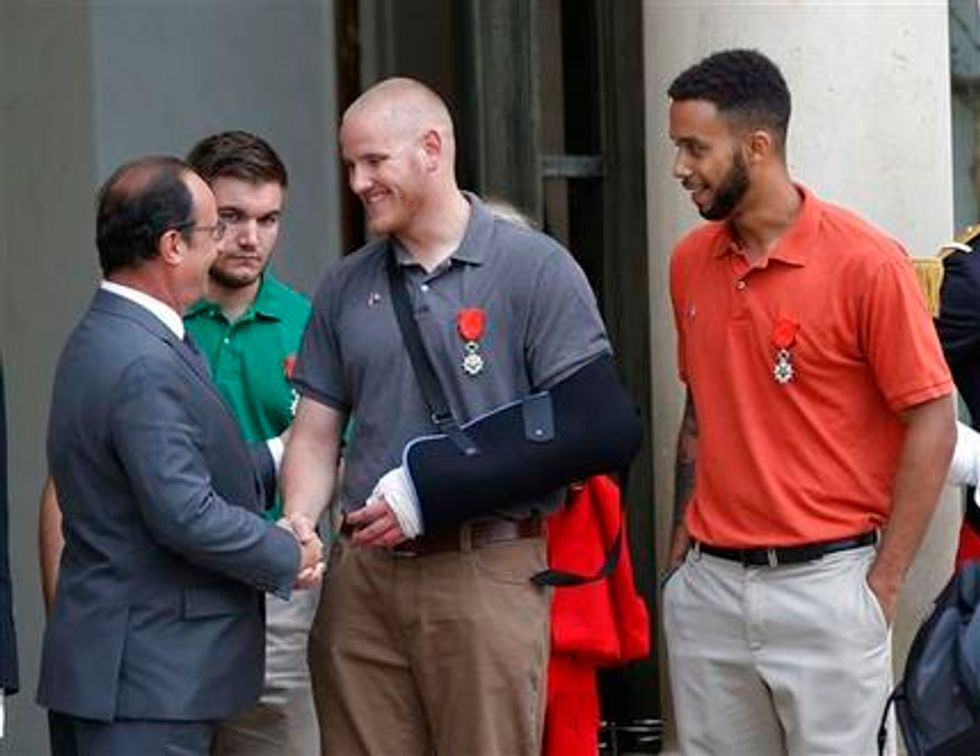 French President Francois Hollande bids farewell to U.S. Airman Spencer Stone as U.S. National Guardsman Alek Skarlatos of Roseburg, Ore., second from left, and Anthony Sadler, a senior at Sacramento State University in California, right, look on at the Elysee Palace in Paris, France, after Hollande awarded them with the French Legion of Honor on Monday, Aug. 24, 2015. The three American travelers say they relied on gut instinct and a close bond forged over years of friendship as they took down a heavily armed man on a passenger train speeding through Belgium on Friday, Aug. 21. (AP /Michel Euler)
Stone was stabbed with a box cutter by El-Khazaani at the time and had to have surgery as a result of the injury.
President Barack Obama hosted the three Americans at the White House in August and said they "represent the very best of America." The Air Force in September decided to promote Stone two ranks and it was announced that he would receive the Purple Heart.
After the attack, French prosecutor Francois Molins revealed that El-Khazzani used his phone to watch a YouTube video of "Islamic preaching" that urged violent acts before his attack.
The Paris prosecutor's office said authorities are formally opening a judicial investigation into terror-related acts after the thwarted attack.
—
The Associated Press contributed to this report.