The editorial board of the student newspaper at Claremont McKenna College is taking a public stand against the racially charged student protests that ultimately resulted in the college dean's resignation.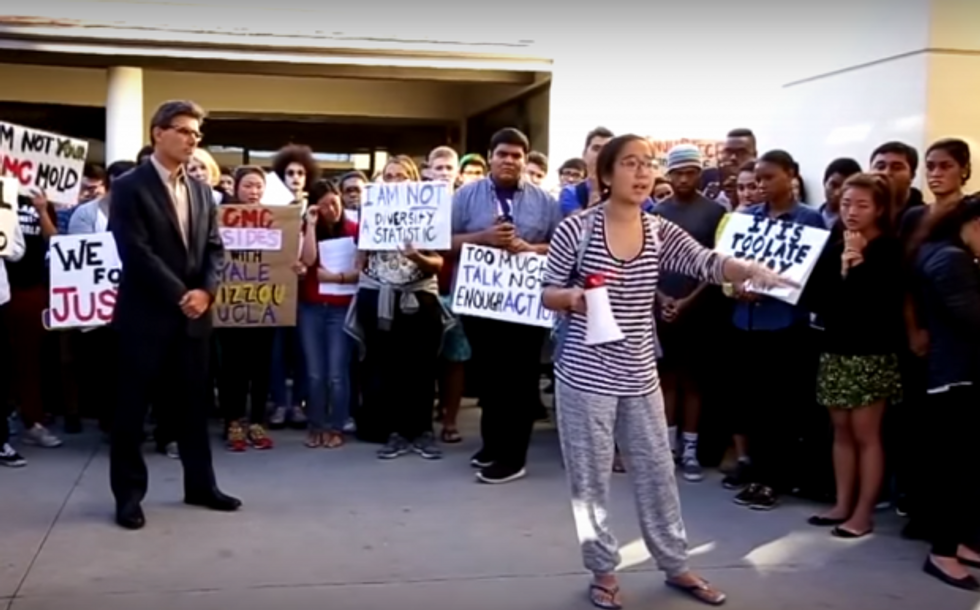 A student speaks on racial issues at Claremont McKenna College (YouTube)
The Claremont Independent editorial board expressed disappointment in nearly everyone involved, including former Dean Mary Spellman, President Hiram E. Chodosh, the student protesters making extreme demands and even themselves.
"First, former Dean Mary Spellman. We are sorry that your career had to end this way, as the email in contention was a clear case of good intentions being overlooked because of poor phrasing," the editorial board wrote. "However, we are disappointed in you as well. We are disappointed that you allowed a group of angry students to bully you into resignation. We are disappointed that you taught Claremont students that reacting with emotion and anger will force the administration to act."
The university's president also received harsh criticism for not being "brave enough to come to the defense of a student who was told she was 'derailing' because her opinions regarding racism didn't align with those of the mob around her."
TheBlaze covered the incident referenced above in which an Asian student was silenced for arguing people should be judged on the content of their character, not their race. She also asserted that black people can also be racist.
But there were more tough words for Chodosh:
Second, President Chodosh. We were disappointed to see you idly stand by and watch students berate, curse at, and attack Dean Spellman for being a "racist." For someone who preaches about "leadership" and "personal and social responsibility," your actions are particularly disappointing. You let your colleague, someone who has been helping your administration for the past three years and the college for six years, be publicly mocked and humiliated. Why? Because you were afraid. You were afraid that students would also mock and humiliate you if you defended Dean Spellman, so you let her be thrown under the bus. You were so afraid that it only took you five minutes to flip-flop on their demand for a temporary "safe space" on campus. Your fear-driven action (or lack thereof) only further reinforced the fear among the student body to speak out against this movement. We needed your leadership more than ever this week, and you failed us miserably.
The editorial board then addressed the student protesters for their bullying tactics and immature behavior.
"We are ashamed of you for trying to end someone's career over a poorly worded email," the editorial board continued. "This is not a political statement––this is a person's livelihood that you so carelessly sought to destroy. We are disappointed that you chose to scream and swear at your administrators. That is not how adults solve problems, and your behavior reflects poorly on all of us here in Claremont."
However, the student paper claimed the demand for "safe spaces" is the most disappointing thing to come out of the protests because college "is the last place that should be a safe space."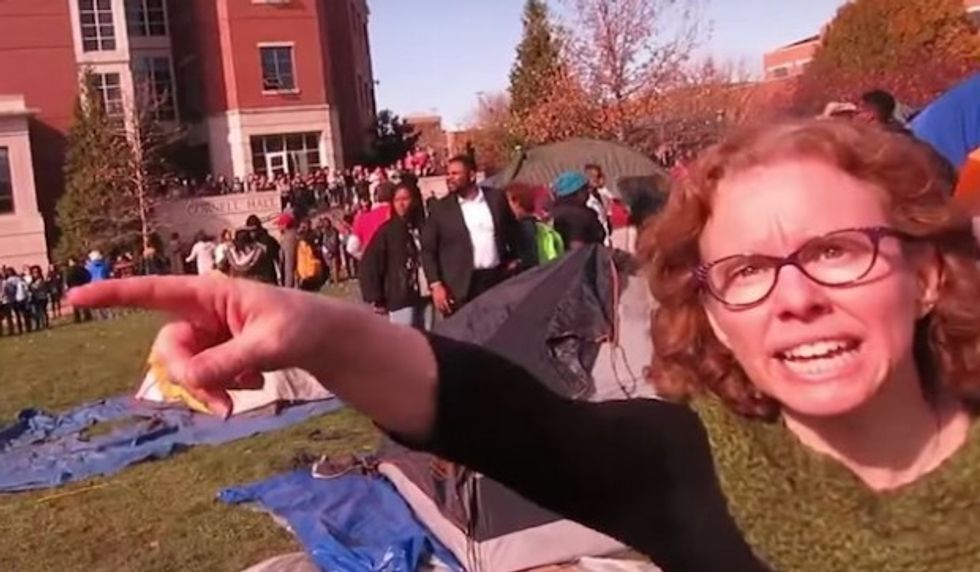 Journalism Professor Melissa Click in a screen grab insisting that a student journalist leave the safe space immediately.
"We come here to learn about views that differ from our own, and if we aren't made to feel uncomfortable by these ideas, then perhaps we aren't venturing far enough outside of our comfort zone," the scathing column stated.
Lastly, the students behind the Claremont Independent admitted they are also "disappointed in students like ourselves, who were scared into silence." Here's how the op-ed concludes:
We are not racist for having different opinions. We are not immoral because we don't buy the flawed rhetoric of a spiteful movement. We are not evil because we don't want this movement to tear across our campuses completely unchecked.

We are no longer afraid to be voices of dissent.
This is the first comment below the article: "I really really want to share this article. Just afraid my classmates will burn me alive."
Read the full column here.
(H/T: Instapundit)
--