Poland's new foreign minister suggested Sunday that the hundreds of thousands of Syrian migrants pouring into Europe should be sent back to Syria as a trained army to fight and liberate their country from the Islamic State group.
Witold Waszczykowski, who was sworn into office Monday along with the new Polish government, said in an interview with Poland's TVP television that the migrants could be gainfully employed as soldiers, accusing them of currently spending their time in Berlin cafes sipping coffee.
"Hundreds of thousands of Syrians have come to Europe recently. We can help them form an army," he said, according to Agence France-Presse.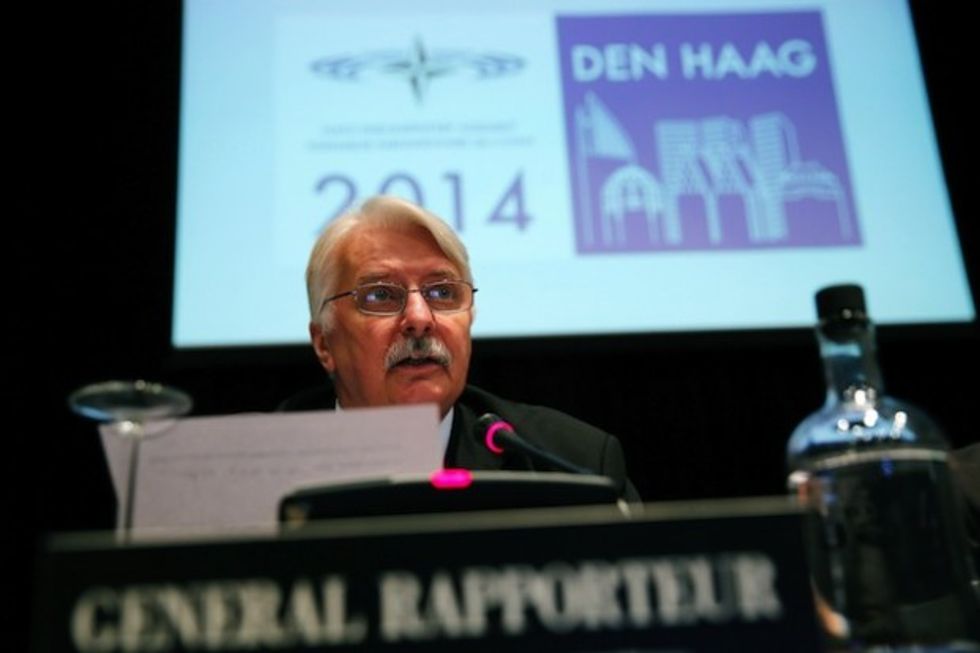 Poland's incoming foreign minister, Witold Waszczykowski, suggests offering military training to Syrian migrants with the aim of sending them back to Syria to fight the Islamic State group. (File photo: Bas Czerwinski/AFP/Getty Images)
"Tens of thousands of young men disembark from their rubber dinghies with iPad in hand and instead of asking for drink or food, they ask where they can charge their cellphones," Waszczykowski said.
"They can go to fight to liberate their country with our help," he said.
"Do you imagine that we send our army to fight for Syria, and hundreds of thousands of Syrians sip coffee on the Unter den Linden [boulevard in Berlin] or the Old Town [in Warsaw] while we fight for their freedom?," Waszczykowski said, according to a translation by Radio Poland.
Radio Poland noted that following Friday's terrorist attacks in Paris, the new Polish government was likely to reverse its predecessor's pledge to the European Union to accept 7,000 migrants from Syria and Eritrea.
"Poland must maintain full control over its borders, over its asylum and immigration policies," Poland's new minister for European affairs, Konrad Szymanski, said Saturday.
Europe's acceptance of hundreds of thousands of migrants faced fresh scrutiny following the Greek government's announcement over the weekend that at least one of the Paris attackers was allowed to enter Europe as a Syrian refugee last month.
Alabama Gov. Robert Bentley announced Sunday night that he would not accept any Syrian refugees in his state, asserting he did not want to place citizens "in harm's way."