A former director of the Central Intelligence Agency says he "would be surprised" if there were not an Islamic State-inspired terror attack in the United States before mid-December.
R. James Woolsey, who was director of the CIA under President Bill Clinton from 1993-95, is chairman of the Foundation for Defense of Democracies and a Chancellor at the Institute of World Politics. He spoke with TheBlaze TV's For the Record Nov. 17 in an interview that will appear in an upcoming FTR episode.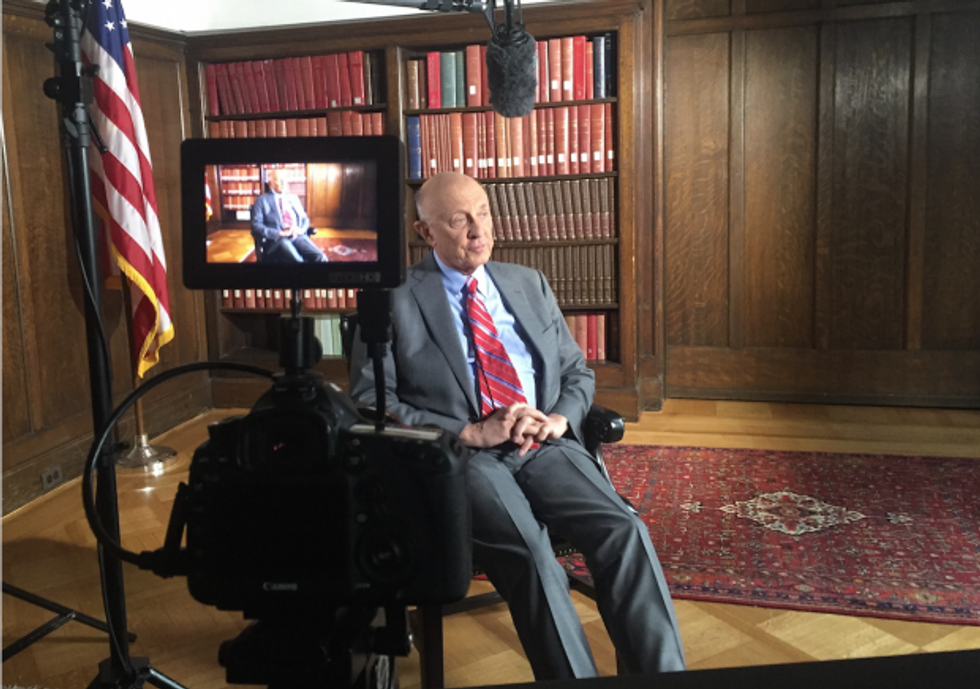 Former CIA Director R. James Woolsey speaks with with TheBlaze TV's For the Record Nov. 17.
"I'm not sure much is preventing [a Paris-style] operation from happening here, and ISIS has said they're coming after Washington, D.C., next," Woolsey said. "I would be surprised if a couple or three weeks go by and nothing happens."
Woolsey says one key to preventing an attack is to allow local law enforcement more leeway to detect possible threats.
"I trust there won't be any nonsense about telling police they cannot stop and frisk in the presence of an ISIS threat for example," Woolsey said. "I think New York may need to go back to [former Mayor Rudy] Giuliani and away from [current Mayor Bill] de Blasio. That sort of thing needs to be done here in the United States.  And overseas, we need to go on the attack.  We need to destroy ISIS at home, and we need to do it quickly."
Woolsey points to concealed-carry weapons as a key resource for those looking for an effective way to protect themselves.
"I think that, where people can carry weapons legally or at least leave them home legally and have filled out all the proper forms, then people ought to think seriously about arming themselves in these circumstances," Woolsey said.
He also suggested that basic preparedness at home would go a long way toward maintaining order in the wake of a possible strike.
"This is a really very difficult situation, but we have to behave like Americans," he continued. "We got to store some dried food and water and crank radio and get ready to help our neighbors in case something happens to them and organize and be ready."
"We've done this sort of thing through our civilization's history and we can, again, reduce the impact of whatever it is ISIS throws at us," Woolsey added.