Republican presidential front-runner Donald Trump has no plans on leaving the 2016 race for the White House.
In a Washington Post interview last week that was published Wednesday morning, the real estate tycoon said he is "never backing out" — even if he loses in one or more of the early primary states.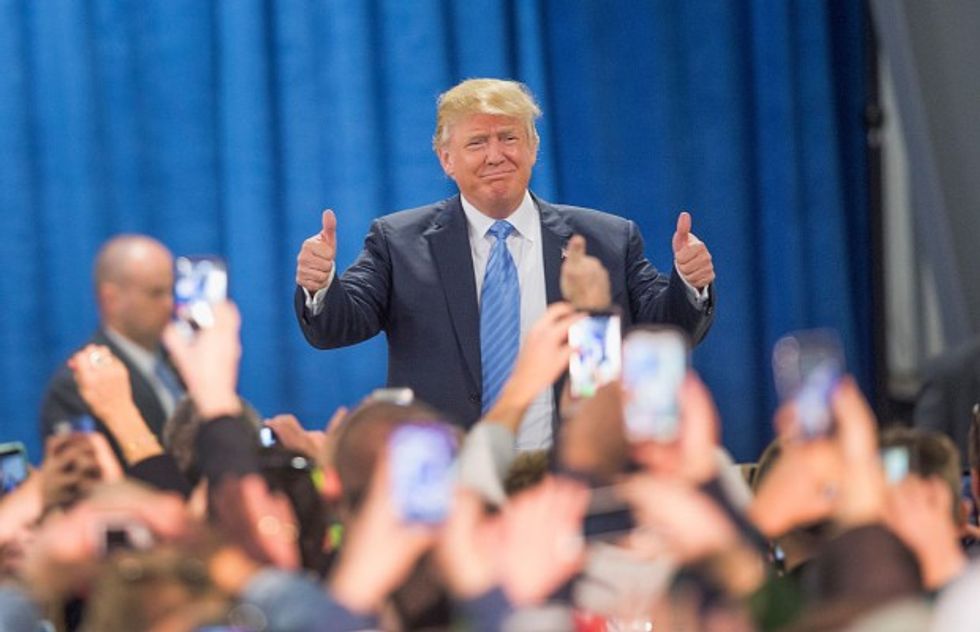 Donald Trump arrives for a campaign event at Mississippi Valley Fairgrounds, Dec. 5. (Getty Images/Scott Olson)
"I'm never backing out," Trump told two Post reporters, adding that he can "handle" defeat in primary states. As it stands, Trump could potentially lose the first, and very important, primary state of Iowa.
"I will never leave the race," the billionaire businessman reiterated when asked about comments Trump made to NBC's Chuck Todd a few months back. "I. Will. Never. Leave. This. Race."
In October, Trump told Todd that he would leave the race only should his poll numbers and crowd sizes begin to dwindle.
"I'm not a masochist," Trump said at the time. "If I was dropping in the polls where I saw that I wasn't going to win, why would I continue?"
The interview, which was conducted prior to Trump's latest controversy, solidly confirms that Trump is committed to a run for the White House. Trump's supporters, it was found out in reports of a poll released Tuesday, are just as committed to him. According to the USA Today/Suffolk University poll, 68 percent of Trump supporters said they would stand with the candidate should he leave the GOP and run third-party. Only 18 percent said they would reconsider their support.
In September, Trump signed a "loyalty pledge" to the GOP amid rumors that he would potentially run third-party, but those rumors resurfaced last month, after Trump accused the GOP of not holding up their end of a "deal."
—
Follow the author of this story on Twitter and Facebook:
[facebook //www.facebook.com/plugins/like.php?href=