Republican presidential candidate Ted Cruz has a 10 point lead over Donald Trump in Iowa, according to a Bloomberg Politics/Des Moines Register Iowa Poll, Bloomberg reported.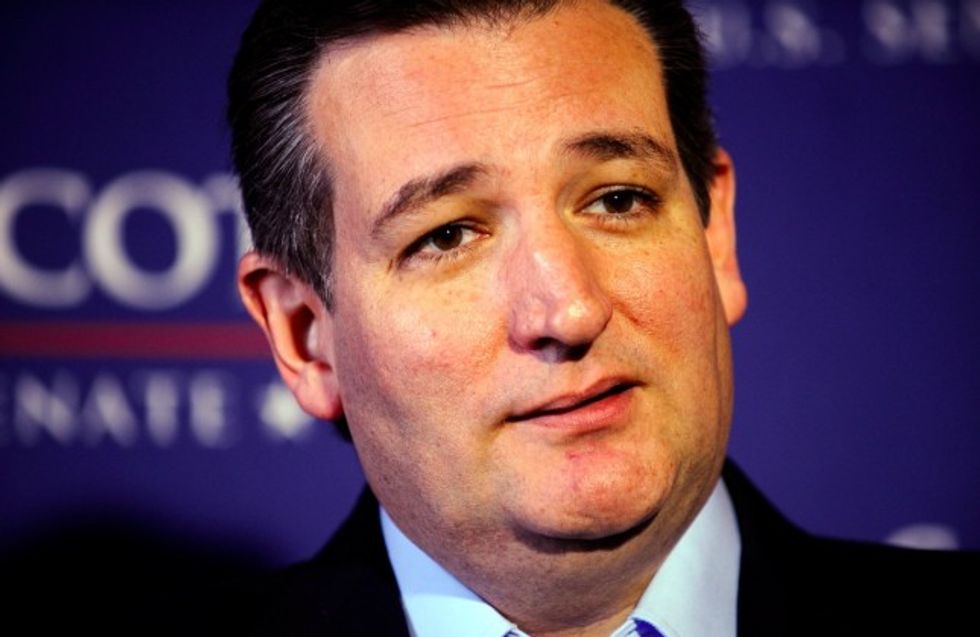 Republican presidential candidate Sen. Ted Cruz, R-Texas, speaks to the media before a town hall meeting at Furman University on Monday, Dec. 7, 2015, in Greenville, S.C. (AP Photo/Rainier Ehrhardt)
The Texas senator Cruz is favored by 31 percent of those likely to attend the Republican caucuses, the poll showed. Trump holds 21 percent — up from 19 percent in October, but below the business mogul's high point of 23 percent in August.
More from Bloomberg:
Cruz's 21-percentage-point jump since October is the largest surge between Iowa Polls recorded in at least the last five presidential caucus campaigns. When first and second choices are combined, he has the support of 51 percent of likely caucus-goers. The senator's great leap forward comes largely at the expense of [Ben] Carson, as Iowa's evangelicals appear to have picked the candidate they want to get behind. The retired neurosurgeon, now barely in third-place, is supported by 13 percent, down from the first-place showing he posted in October, when he was at 28 percent.
With Sen. Marco Rubio in fourth place at 10 percent, and the poll has Jeb Bush found himself up slightly since October — 6 percent from 5 percent — leaving him in fifth place. The former Florida governor's negatives are the highest among GOP candidates, with 54 percent of likely Republican caucus-goers viewing Bush unfavorably, Bloomberg said. In October, that reading sat at 43 percent for Bush.
Conversely Cruz's favorability rating is at an all-time high of 73 percent, which tops the GOP candidates, the poll found.
More from Bloomberg:
Cruz dominates yet another gauge the poll takes of candidates' strength, the "Selzer Score," which uses multiple measures to try to assess potential upside in a crowded field. The index looks at first and second choices, as well as whether respondents could ever — or would never — support candidates not in their first two choices. (The first choices are given double weight, while "ever support" is given a half weighting.) Using that system, Cruz scores an unprecedented 97.5. He's followed by Trump at 72.5, Carson at 67.5 and Rubio at 62.
This latest poll was conducted between Dec. 7 and 10 and included 400 likely Republican caucus participants, Bloomberg reported; there's a 4.9 percent margin of error.
You can read the entire poll breakdown here.
(H/T: The Huffington Post)
—
Follow Dave Urbanski (@DaveVUrbanski) on Twitter