Sen. Ted Cruz (R-Texas) vowed on Monday night to "enforce the law" when it comes to illegal immigration if elected president — and that includes his administration deporting any illegal immigrant "apprehended" by authorities. There are currently an estimated 12 million people living in the U.S. illegally.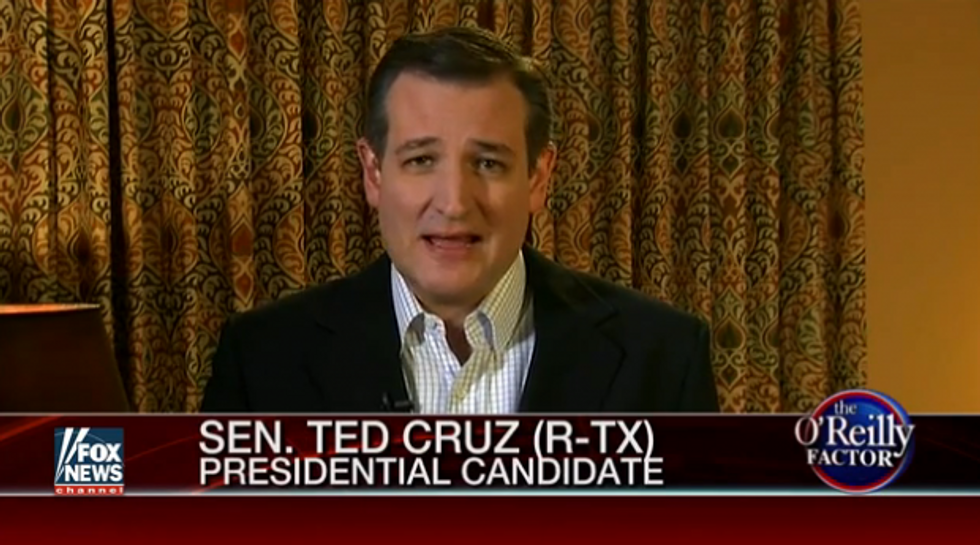 Fox News
"We should enforce the law," Cruz told Fox News host Bill O'Reilly. "Federal law requires that anyone here illegally that's apprehended should be deported."
Cruz also advocated for building a strong border wall and tripling the U.S. Border Patrol force.
When further pressed on whether he would actively search for and deport people like "Tommy O'Malley," an Irish immigrant O'Reilly made up, Cruz replied, "You better believe it."
When asked how his administration would do that, he explained that his administration would beef up its biometric entry and exit system so that the government would have a better idea of who is overstaying their visas.
"Both Donald Trump and Marco Rubio would allow those 12 million people to become U.S. citizens. I will not," Cruz added.
In January, Cruz pushed back against Donald Trump's plan to round up and deport all illegal immigrants.
"I don't intend to send jackboots to knock on your door and every door in America, that's not how we enforce the law for any crime," he told CNN at the time.
His critics are now accusing him of flip-flopping on the issue.
Cruz in both instances appeared to make it a point to say he would deport any immigrant who is "apprehended," leaving some wiggle room as to exactly what that means. He also included his position on enforcing the enhanced biometric entry and exit system for visas.
But he didn't suggest sending immigration officials door-to-door looking for illegal immigrants during his Fox News interview.
So then, how does Cruz plan to locate and deport illegal immigrants as president?
Here's exactly what he said when O'Reilly asked that question: "That's what ICE exists for. We have law enforcement who looks for people that are violating the laws, that apprehends them and deports them."
---