The top reactions to Democratic front-runner Hillary Clinton and challenger Vermont Sen. Bernie Sanders are "dishonest" and "socialist," respectively, according to a new Gallup survey.
The poll, which was released Tuesday, found that when Americans were asked about Clinton and given a word list, the most cited descriptions were "dishonest" and "dislike her." Sanders, on the other hand, was labeled a "socialist" and "old."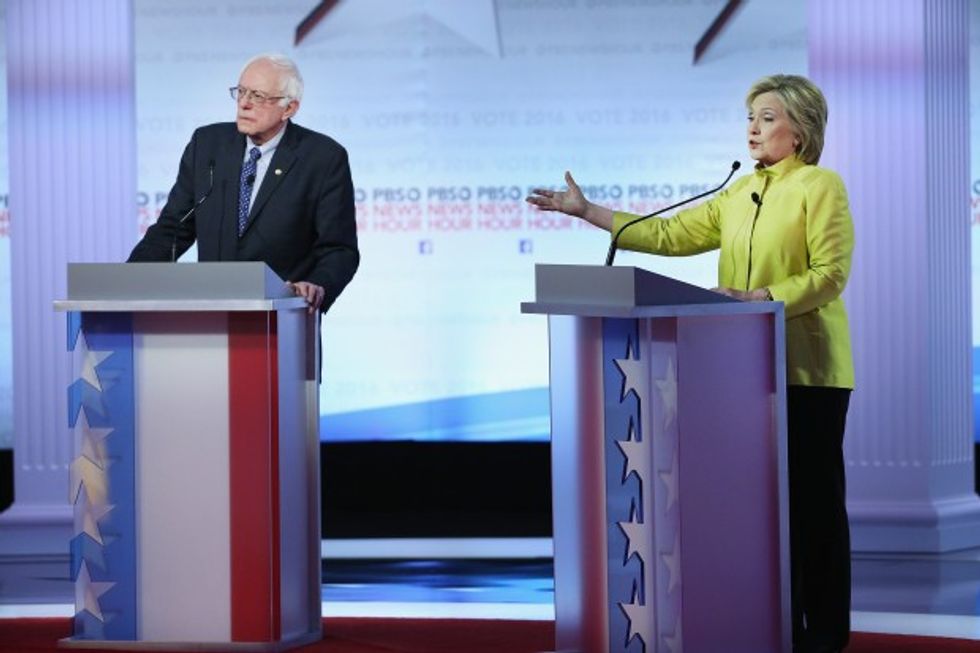 Vermont Sen. Bernie Sanders and Hillary Clinton participate in the PBS NewsHour Democratic presidential candidate debate at the University of Wisconsin-Milwaukee Feb. 11. (Getty Images/Win McNamee)
Twenty-one percent of respondents found Clinton "dishonest," while 9 percent said they disliked her. For Sanders, 12 percent described him as a "socialist," while 6 percent described him as "older" or "aged."
Other top labels for Clinton included "capable of being president," "like her" and "criminal/belongs in jail." Sanders, on the other hand, was also seen as a "fresh face" and "favorable."
However, the survey also found that Americans generally believe Clinton is capable of being president, while they believe Sanders is an honest man.
In addition, Gallup noted that the perception of Clinton as dishonest is not new. When voters were asked the same question in 2008, the label was also the most cited in association with Clinton. As for Sanders, Gallup noted that the "socialist" label came mostly from Republicans.
Overall, the poll found that just 29 percent of Americans have a positive view of Clinton, whereas 51 percent say they do not. The respondents had an overall positive view of Sanders, 26 percent to 20 percent, despite a large number not being familiar with the Vermont senator.
The survey of 1,014 adults was conducted between Feb. 13-14. It has an overall margin of error of +/- 4 points.
—
Follow the author of this story on Twitter and Facebook:
[facebook //www.facebook.com/plugins/like.php?href=