Once again controversial conservative speaker Milo Yiannopoulos is facing resistance over another one of his speeches on a college campus.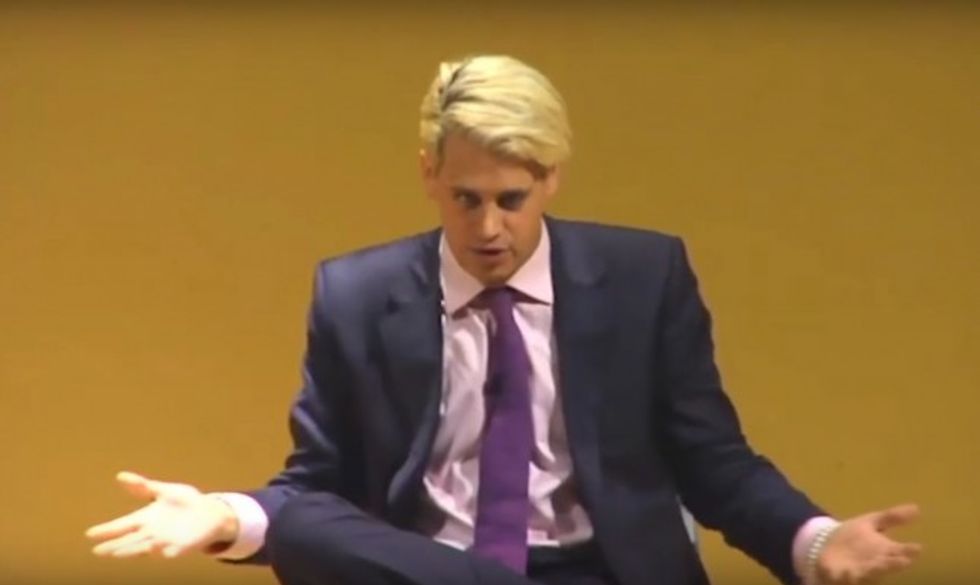 Milo Yiannopoulos (Image source: YouTube)
Yiannopoulos' no-holds-barred takedowns of left-wing ideals such as feminism, safe spaces and trigger warnings have been criticized as everything from "white supremacy" to hateful rhetoric, but an online petition calling for the cancellation of his scheduled May 24 appearance at DePaul University ups the ante a bit.
It contends, among other things, that Yiannopoulos' commentary "kills":
As a Vincentian institution, DePaul University is responsible for standing against systemic injustices in all forms. Students from communities of all races, sexual and gender identities, and religious affiliations deserve to be able to co-exist on campus without the presence of the virulent hatred Yiannopoulos promotes. The systemic oppression of these communities is not a form of "intellectual thought", nor is it just "someone's opinion." It is not a tool for an entertainer to use and classify as "pop culture" or "sensationalism" to turn a profit.

It is real, it hurts people, and it kills. Yiannopoulos profits off of the oppression of others.
Not that the petition doesn't point to other issues, noting that "Yiannopoulos continuously speaks out in ways that are racist, sexist, homophobic, transphobic, anti-feminist, and Islamaphobic." It also says that letting him speak is tantamount to "allowing the rhetoric of hate speech and perpetuating systemic persecutions against people of color, women, Muslims, queer, trans, and gender nonconforming individuals, and other communities on campus."
While the petition calls out Yiannopoulos for using a "homophobic slur" to promote his string of speaking engagements (i.e., "The Dangerous Faggot Tour"), it doesn't mention that Yiannapoulos himself is openly gay.
The petition also declares that because of "the violently oppressive commentary he has made in the past, it is our belief that his presence will ultimately bring harm to the students on our campus." The school's Republican student group is hosting Yiannopoulos event.
Further, it claims DePaul President Dennis Holtschneider "directly refused a personal request to cancel the event," adding that he stated, "I do not share the same level of concern as you for the well-being of our students if they are exposed to this spectacle." Letting Yiannopoulos speak, the petition adds, "is an unpardonable action for an institution which claims to stand for and with members of all communities within the human family."
As of Thursday morning, the petition attracted 338 supporters — although not all comments reflected allegiance to the document.
"I'm disappointed that you young men and women are behaving like little children. You're afraid — yes, afraid — of this man's opinions because they're divergent from your own?" one commenter asked. "Having your worldview challenged by an intelligent, witty and well prepared lecturer is so frightening that [you] feel the need to stop it? The world is going to crush you."
This story has been updated.
(H/T: Campus Reform)