Days after Bernie Sanders agreed to participate in a Fox News debate, Democratic front-runner Hillary Clinton declined the invitation.
"We have declined Fox News' invitation to participate in a debate in California," Clinton spokeswoman Jennifer Palmieri said in a statement. "As we have said previously, we plan to compete hard in the remaining primary states, particularly California, while turning our attention to the threat a Donald Trump presidency poses."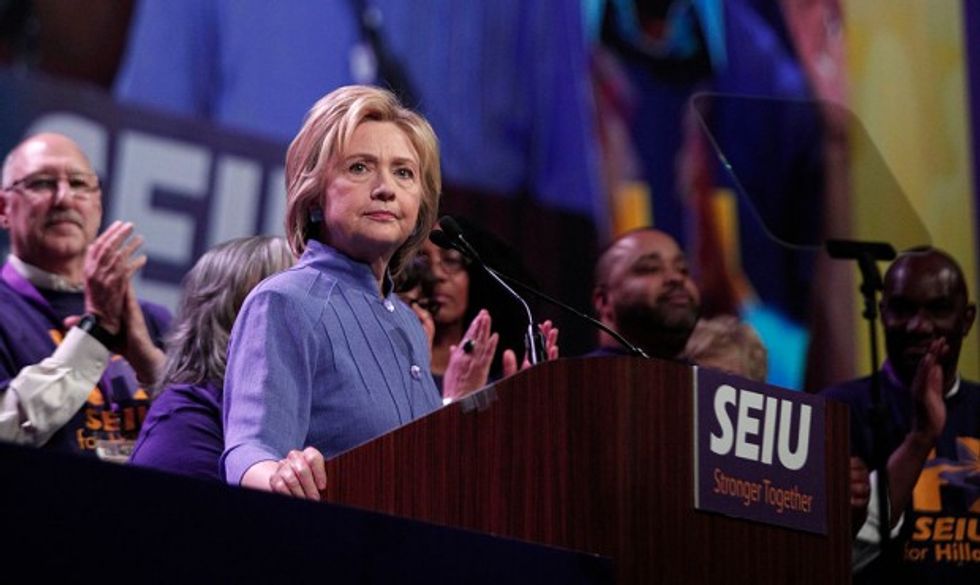 Democratic presidential candidate Hillary Clinton speaks at the Service Employees International Union (SEIU) 2016 International Convention at Cobo Center May 23, 2016 in Detroit, Michigan. Recent polls show Clinton in a tight race with Republican candidate Donald Trump. (Photo by Bill Pugliano/Getty Images)
Sanders tentatively agreed last week to the Fox News forum, which was expected to take place this month in California, just days ahead of the Golden State's looming June 7 primary. Both the Sanders and Clinton campaigns agreed in February to four more debates, but only three have taken place.
In response to Clinton's decision to forgo the debate, Bill Sammon, Fox News vice president and Washington managing editor, said, "Naturally, Fox News is disappointed that Secretary Clinton has declined our debate invitation, especially given that the race is still contested and she had previously agreed to a final debate before the California primary."
Sanders has been pushing for Clinton to participate in one final debate. However, given Clinton's extreme likelihood of sealing up the Democratic nomination, she has little motivation to appease her opponent's request.
"We believe that Hillary Clinton's time is best spent campaigning and meeting directly with voters across California and preparing for a general election campaign that will ensure the White House remains in Democratic hands," Palmieri continued.
—
Follow the author of this story on Twitter: