After more than two decades of speculation and intrigue, the Nicole Brown and Ron Goldman murder case may finally reach its resolution, a longtime friend of O.J. Simpson recently suggested.
Former LAPD officer Ron Shipp told the New York Daily News that Simpson is "in total torment today" and claimed that the retired football star will eventually confess to fatally stabbing his ex-wife and her friend.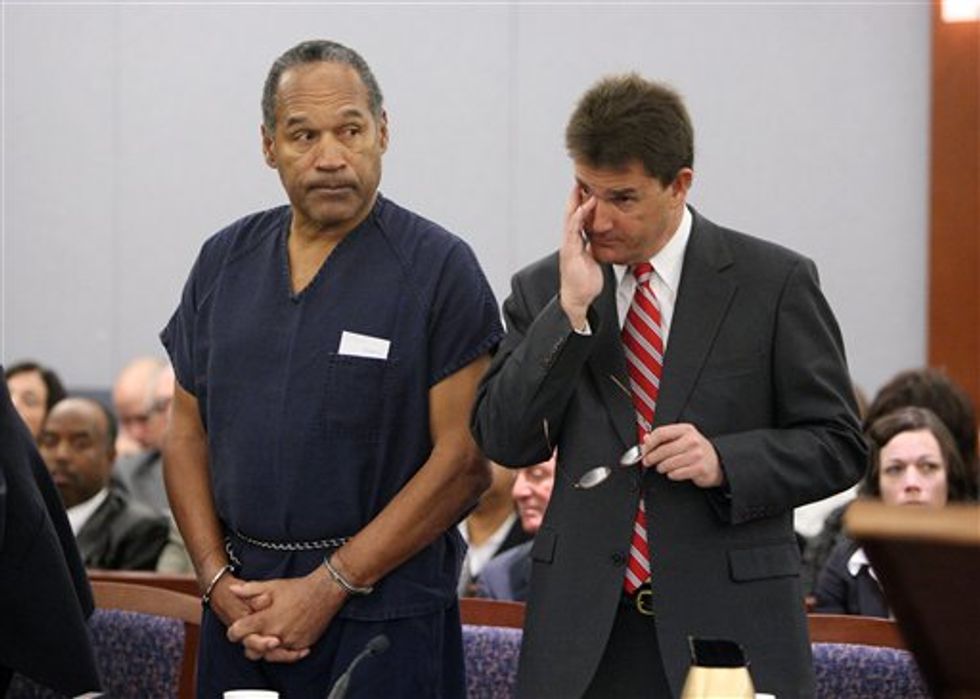 O.J. Simpson, left, and his lawyer Yale Galanter appear during his sentencing hearing for his robbery and kidnapping conviction at the Clark County Regional Justice Center in Las Vegas Dec. 5, 2008. (AP Photo/Isaac Brekken, Pool, File)
Shipp made the assertion at the Los Angeles premiere of ESPN's "O.J. Simpson: Made in America" documentary, which is set to premiere this month.
"Someone told me he is 300 pounds and he looks horrible," Shipp told the Daily News. "O.J. has always felt his appearance meant everything and now, deep down inside, he is starting to live with himself."
Nicole Brown Simpson and Ron Goldman were found stabbed to death outside of Brown's home in 1994.
Shipp testified in Simpson's 1995 criminal case that Simpson told him, "'I've had some dream of killing her.'"
Simpson was acquitted in October 1995. He was found liable in a 1997 civil suit and ordered to pay the victims' families $33 million.
He is now serving a 33-year sentence after being found guilty in 2008 in a Nevada robbery and kidnapping case. Simpson, 68, will be eligible for parole in October 2017.
O.J. Simpson returns to the courtroom after a lunch break during the fifth day of an evidentiary hearing in Clark County District Court on May 17, 2013 in Las Vegas, Nevada. (Getty Images)

Shipp said, "I hope one day he actually will rid us of all the doubt and all the conspiracy theories and say, 'Sorry I cannot go to prison [because of double jeopardy laws], but I am sorry I did it.'"
The retired LAPD officer told the Daily News that he still thinks a confession is possible.
"I got a call about a conspiracy theory about Jason (Simpson's son) being the killer and I thought, man, come on Juice, just say 'my son didn't do it,'" he said.
Earlier this year, a retired Los Angeles police officer came forward with a knife believed to have been found on the retired football player's former estate nearly two decades ago.
At the time, O.J. Simpson's ex-manager, Norman Pardo said in a radio interview that he knows who killed Nicole Brown Simpson and Ronald Goldman — and it wasn't O.J.
"I know who did it, and I knοw why they did it," Pardo told KNX-AM. "I just can't disclose it right now."
Forensic tests later determined the knife was not connected to the stabbings.
In May, Simpson's lawyer in his murder trial revealed what the retired football player allegedly said to him following his infamous acquittal. Attorney Robert Shapiro told Fox News' Megyn Kelly during an interview that Simpson whispered in his ear, "You told me this would be the result from the beginning. You were right."
Later in that same interview, Kelly asked the attorney bluntly, "How can you live with yourself?"
Shapiro responded: "Our system of justice is based on the theory that we hope and pray that innocent people are never convicted. And the price we pay is that guilty people sometimes do and will go free."
The five-part ESPN documentary on Simpson and the widely publicized case will air June 11.
—
Follow the author of this story on Twitter: