All charges were dismissed Tuesday against the filmmakers behind the Center for Medical Progress' undercover videos of Planned Parenthood executives.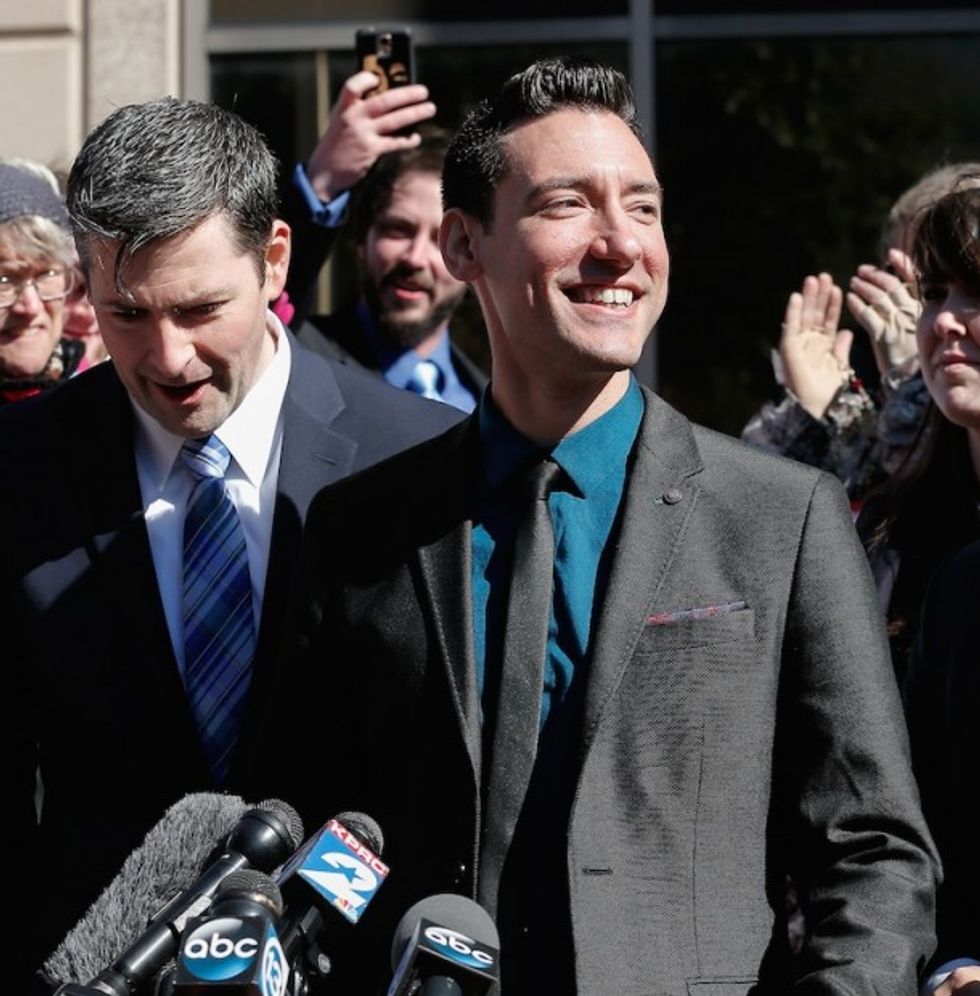 David Daleiden, one of the two anti-abortion activists indicted last week, speaks to supporters outside the Harris County Criminal Courthouse after turning himself in to authorities Thursday, Feb. 4, 2016, in Houston. Daleiden and Sandra Merritt are charged with tampering with a governmental record, a felony punishable by up to 20 years in prison. (AP Photo/Bob Levey)
David Daleiden and his associate Sandra Merritt were indicted for their roles in the release of the videos in January. Misdemeanor charges against Daleiden were dismissed last month.
But Texas District Judge Brock Thomas dismissed the last charge — tampering with government records, a felony — Fox News reported. Prosecutors alleged Daleiden and Merritt used fake driver's licenses while dealing with Planned Parenthood, the network said, adding that if they had been convicted of the felony charge, each could have been sentenced to up to 20 years in prison.
The controversial videos released last summer depicted Planned Parenthood employees appearing to negotiate the price of aborted fetal body parts "per specimen." Profiting from the sale of human body parts — including those of the unborn — is a felony in the United States. Spokespersons for Planned Parenthood have denied illegal conduct.
In a statement, Daleiden said that the dismissal of the "bogus, politically motivated charges" against them is "a resounding vindication of the First Amendment rights of all citizen journalists, and also a clear warning to any of Planned Parenthood's political cronies who would attack whistleblowers to protect Planned Parenthood from scrutiny."
"Planned Parenthood tried to collude with public officials to manipulate the legal process to their own benefit, and they failed," he said. "A year after the release of the undercover videos, the ongoing nationwide investigation of Planned Parenthood by the House Select Investigative Panel makes clear that Planned Parenthood is the guilty party in the harvesting and trafficking of baby body parts for profit."
Peter Breen, special counsel for Thomas More Society, who represented Daleiden, said in a statement that the dismissal is a huge win for the First Amendment rights of undercover journalists."
"David Daleiden used standard undercover journalism techniques and followed all applicable laws in doing so," Breen said. "This meritless and retaliatory prosecution should never have been brought. Planned Parenthood did wrong here, not David Daleiden."
Melaney A. Linton, the president and CEO of Planned Parenthood Gulf Coast, said in an emailed statement that "Planned Parenthood provides high-quality, compassionate health care and has been cleared of any wrongdoing time and again."
"Daleidan [sic] and other anti-abortion extremists, on the other hand, spent three years creating a fake company, creating fake identities, and lying," Linton said. "When they couldn't find any improper or illegal activity, they made it up. They spread malicious lies about Planned Parenthood in order to advance their anti-abortion agenda. The decision to drop the prosecution on a technicality does not negate the fact that the only people who engaged in wrongdoing are the extremists behind this fraud."
This post has been updated to include a response from a spokesperson for Planned Parenthood, who retuned TheBlaze's request for comment after publication.
—
Follow the author of this story on Twitter and Facebook: