Republican nominee Donald Trump and Democratic nominee Hillary Clinton will face off Sunday for their second of three nationally televised debates.
The candidates will come face-to-face at Washington University in St. Louis, Missouri, at the same time Sunday Night Football airs the Green Bay Packers hosting the New York Giants.
Expect much of the conversation to focus on the aftermath of a leaked hot-mic conversation between Trump and Access Hollywood's Billy Bush, in which Trump made crude comments about women. The story prompted an apology from Trump, but many of his supporters have disavowed the comments and stepped back from his campaign, including House Speaker Rep. Paul Ryan and Indiana Gov. Mike Pence.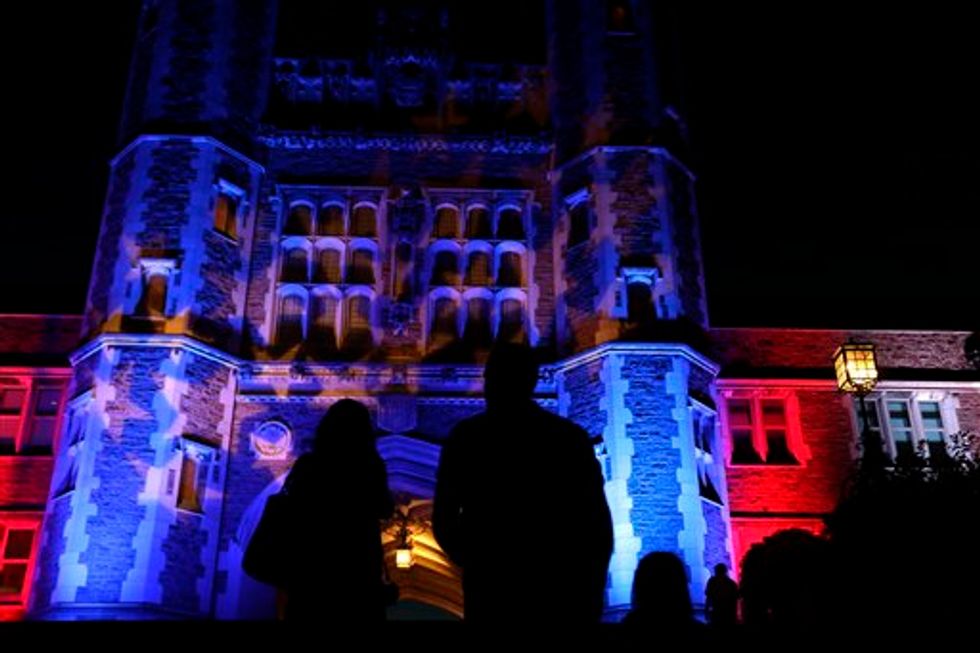 Brookings Hall is lit up in a patriotic theme as preparations continue ahead of the second presidential debate at Washington University in St. Louis. (AP/Jeff Roberson)
Logistically, the second debate will feel a little different than the formal, podium vibe of other two — it be be more like a town hall meeting, with half of the questions being posed directly by the voters and the other questions being asked by moderators. The people in the room will be undecided voters chosen by the Gallup company, and the debate will be moderated by CNN's Anderson Cooper and ABC News' Martha Raddatz.
The debate will last 90 minutes, from 9 p.m.-10:30 p.m. EDT, with no commercial breaks.
This is also the first time Trump and Clinton will debate publicly since Trump's 1995 tax releases were leaked last week. The vice presidential candidates, Virginia Democratic Sen. Tim Kaine and Pence sparred on the tax issue during Tuesday's vice presidential debate, with Pence arguing that Trump had simply used the tax code "the way it's supposed to be used."
This debate also follows revelations Thursday night that Clinton's State Department coordinated with the White House to help quash potential fallout from news that she had used a private email server while serving as secretary of state. Spokespeople for each of the agencies reportedly worked together to try to prevent the next secretary of state, John Kerry, from talking about the email scandal in media appearances.
And a leaked audio tape of Trump lewdly discussing women, published by the Washington Post on Friday, is nearly certain to be a topic of discussion.
The candidates are also likely to address Hurricane Matthew's devastation in Haiti and landfall in swing-state Florida.
Trump reportedly held a rare town hall-style event in New Hampshire Thursday, but insisted that it wasn't "practice" for Sunday night's debate.
"This isn't practice," Trump said, according to Politico. "This has nothing to do with Sunday."
—
Follow the author of this story on Twitter and Facebook:
[facebook //www.facebook.com/plugins/like.php?href=