A Virginia high school teacher was caught on video at the end of his rope with students he says are guilty of more than just garden-variety bad behavior.
"I have been threatened multiple times!" the teacher at George Wythe High School in Richmond was heard screaming at students last week. "I don't come here to put my life in danger from other people's nonsense!" The teacher punctuated his declaration by pounding hard on a desk.
"I don't go home, go to sleep, then come to work and expect to be threatened. ... I don't deserve it!" he added.
Prior to the teacher's tongue lashing, some students exited the classroom to follow him down a hallway and laugh at and taunt him.
Here's the clip:
"It's just heart wrenching to see our employees have to endure the taunting," Richmond School Board member Kim Gray told WTVR-TV.
Gray, who sits on the disciplinary committee, said gang activity is affecting the entire district.
"We're seeing all of the gang activity within all of our comprehensive high schools," she said. "It's spilling into the middle schools and in some of the elementary schools as well."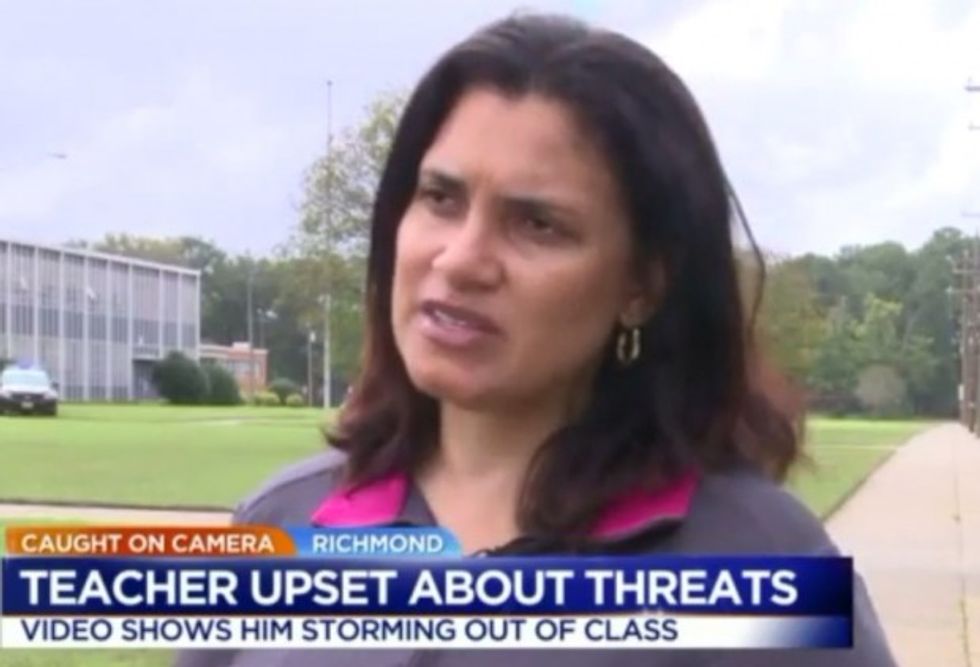 School board member Kim Gray (Image source: WTVR-TV)
And how bad is the violence?
Gray told WTVR it "ranged from capital murder of an officer to rape and sodomy to armed robbery to drug activity. The same kinds of crimes that we're seeing in our communities our students are committing."
The district said it's investigating the situation and declined to release more information.
"I feel like the kids need to come to school to learn and not to badger or fight other students as well as teachers," one parent, Adline Martin, told the station. "That's why it's so hard for us to get teachers to teach good kids trying to learn."
This story has been updated.