Supreme Court Justice Ruth Bader Ginsburg, a noted liberal activist judge, recently took a position on the national anthem protests initiated by San Francisco 49er quarterback Colin Kaepernick that would surprise most Democrats.
According to Ginsburg, the protests are "dumb and disrespectful" — that's what she told Yahoo anchor Katie Couric in a recent interview.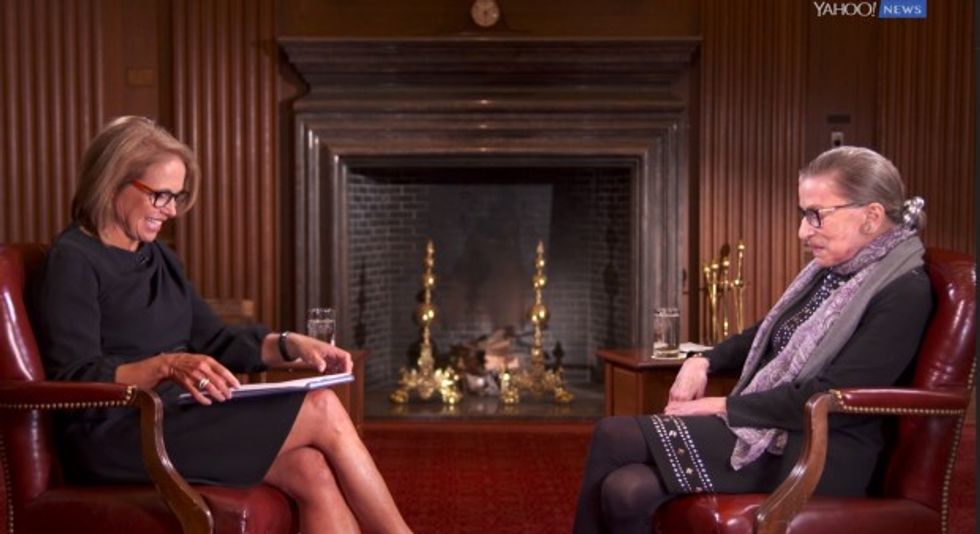 Image source: Yahoo News
"I think it's really dumb of them," Ginsburg told Couric. "Would I arrest them for doing it? No."
"I think it's dumb and disrespectful. I would have the same answer if you asked me about flag burning," she added. "I think it's a terrible thing to do, but I wouldn't lock a person up for doing it. I would point out how ridiculous it seems to me to do such an act."
When asked by Couric to elaborate on the legality of the protests, Ginsburg doubled down on her feelings that the protests are in no way pragmatic.
"If they want to be stupid, there's no law that should be preventive. If they want to be arrogant, there's no law that prevents them from that," the Supreme Court justice said. "What I would do is strongly take issue with the point of view that they are expressing when they do that."
Kaepernick started the protests in August after he kneeled during the national anthem before a pre-season game. Since then, other professional sports athletes, along with high school and college players, have joined in the protests.
The protests started because Kaepernick wanted to bring more attention to the issue of fatal police shootings of black men across the country as well as police corruption.
—
Follow the author of this story on Twitter and Facebook:
[facebook //www.facebook.com/plugins/like.php?href=