A member of a liberal student group at West Virginia University got violent with members of a conservative group on campus — and a video of the altercation is quickly gaining attention.
The video contains two clips: The first shows members of the conservative Turning Point USA chapter being told to leave a meeting of the college's Left Alliance on Wednesday. A Turning Point member replies, "That's real inclusive. We just wanted to learn more about your organization, but if you're gonna force us to leave—" A bearded member of the Left Alliance wearing a baseball cap then says, "Yeah, you guys should go."
But the second clip shows that same bearded student from the Left Alliance lunging toward a female conservative student outside the meeting, getting in her face and loudly asking: "Why did you film our f***ing meeting?"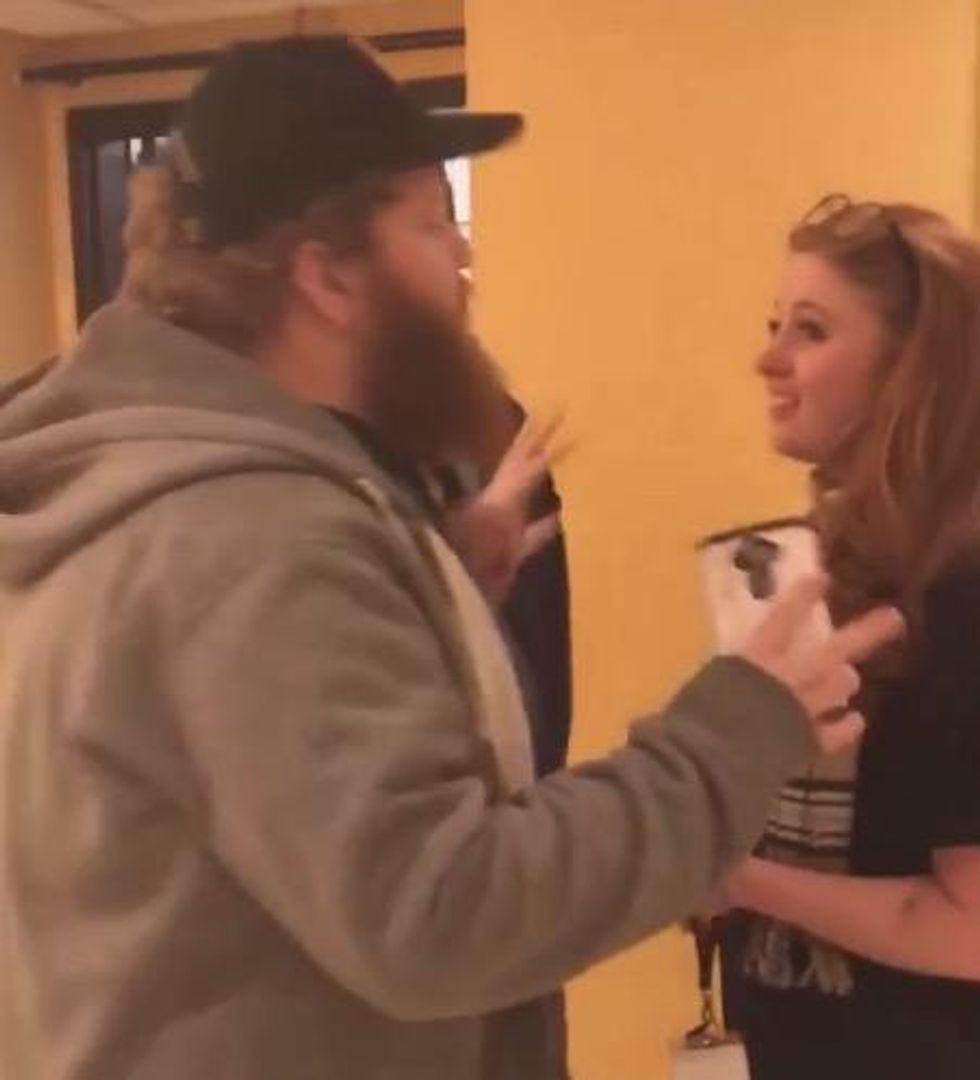 Image source: YouTube
Seconds later the bearded student heads toward a conservative student who was videotaping the altercation, apparently twice striking the student's cellphone and asking: "What is your f***ing problem?" and "Why the f*** are you filming me?"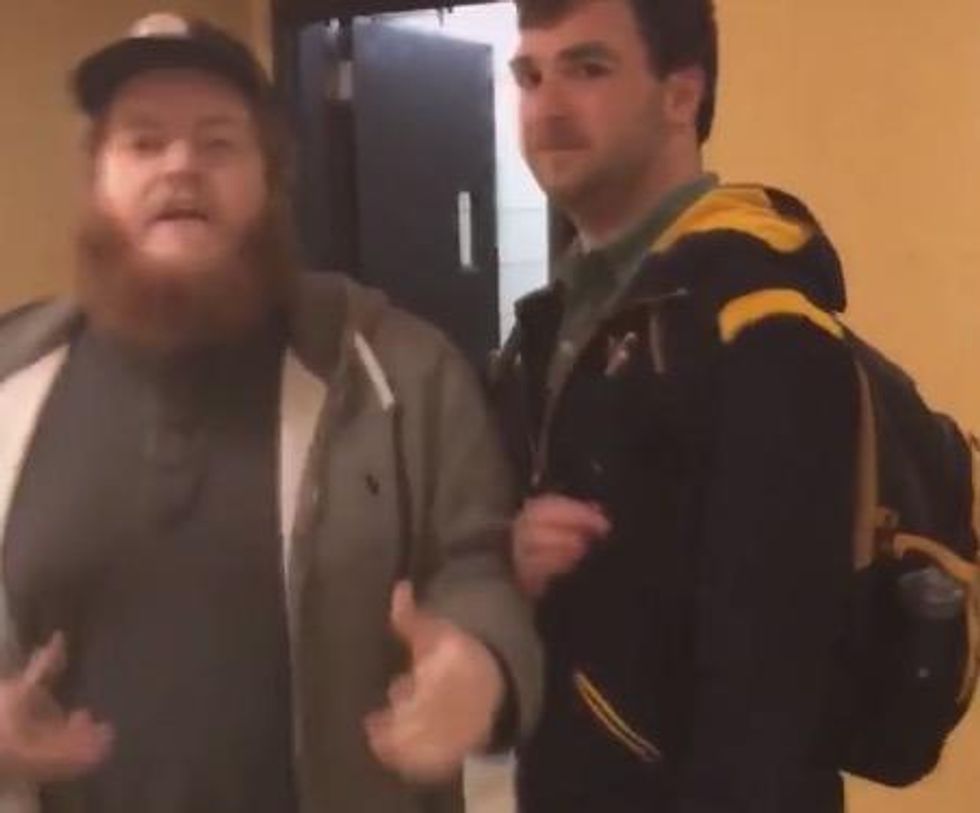 Image source: YouTube
The student answers: "Because you're attacking me right now."
The bearded student claims the Turning Point students were "not allowed" in the Left Alliance meeting and then gets even more unhinged.
"F*** you, you f***ing conservative," he says before trying to take the student's cellphone: "Give me your f***ing phone. ... Do not f***ing film us."
Here are the two clips together in one video. (Content warning: Strong language):
Kaitlynn Critchfield of the Turning Point group told TheBlaze Thursday that members of her group tried sitting in during the meeting to find out where the Left Alliance would be setting up display tables to pass out literature in a free-speech zone so Turning Point could set up next to them. Critchfield added she also wanted to invite the Left Alliance's president to debate a member of Turning Point,
But Critchfield told TheBlaze the bearded student from the Left Alliance knew the Turning Point students right away and told them to "get the f*** out." Critchfield said she started videotaping at that point because she was "worried something was going to happen." In that first clip the bearded student identifies Turning Point as a "conservative group."
About two minutes later, Critchfield said she and other Turning Point members were walking away from the meeting when the bearded student came running after them. Critchfield said the bearded student "pushed me into a wall" and tried wrestling her cellphone out of her hand. After other Turning Point members helped "get him off of me," Critchfield said another Turning Point member began recording — which is the second clip.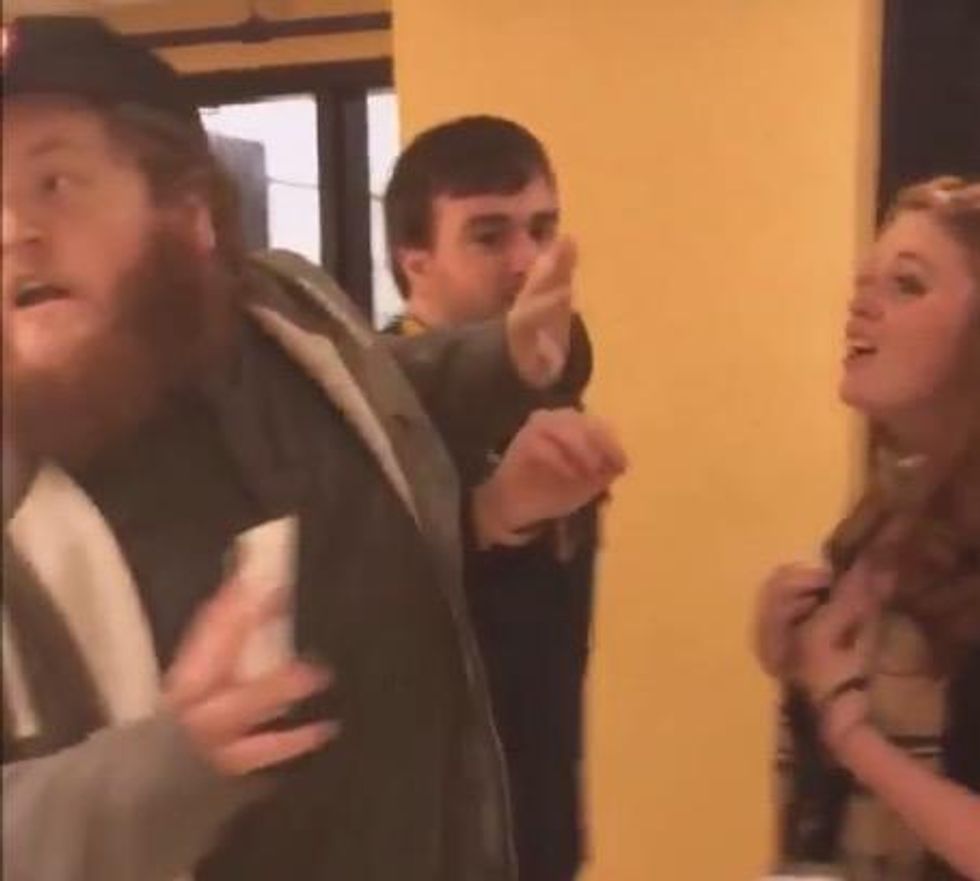 Image source: YouTube
Critchfield told TheBlaze the bearded student twice punched the chest of the Turning Point student who was videotaping the second clip.
Critchfield added that Turning Point members reported the incident to police and showed them video. She said police then pulled the bearded student out of the Left Alliance meeting and took a statement from him.
WVU campus police on Thursday said the college's communications office would be responding to TheBlaze's request for information.
UPDATE 3:57 p.m.: TheBlaze on Thursday received the following statement from WVU regarding the incident:
West Virginia University is aware of a video being widely distributed on social media and some news outlets of an altercation between two students with differing political points of view. University Police has investigated and neither party involved wishes to press charges. The report will be sent to Student Conduct, who will now investigate and take appropriate action.

West Virginia University continues to stand behind the right of its students, faculty and staff to express their ideas and points of view, but also remains adamant that it be done in a peaceful, civil and respectful manner.
This story has been updated.
(H/T: The College Fix)