A pro-Palestinian student group at Swarthmore College wants the president of the elite Pennsylvania school to ban Sabra Hummus from campus — over what the group said is the brand's ties to Israel.
Students for Justice in Palestine created a petition that says, "Sabra Hummus is owned by the Strauss Group, a multinational corporation that invests in, financially supports, and even sends care packages to the Golani Brigade of the Israeli armed forces."
More from the petition:
It is morally unacceptable that Swarthmore should continue to support the international human rights violations of the Golani Brigade and Israeli Apartheid at large. By selling Sabra, Swarthmore is an accessory to the occupation of Palestine.

We call upon President [Valerie] Smith to affirm the dignity of Palestinian life, recognize the illegal occupation of Palestinian land, and deshelve all current Sabra products and end their future sale at Swarthmore College.
Campus Reform reported that the call for the Sabra Hummus ban is gaining strong support on the suburban Philadelphia campus, with more than 350 Swarthmore community members having signed the petition, according to a Swarthmore SJP tweet.
What do Swarthmore Students for Israel have to say?
The Swarthmore Students for Israel group, not surprisingly, said it's against the call for the Sabra Hummus ban, as it notes on its Facebook page:
We, Swarthmore Students for Israel, firmly denounce the recent efforts to ban Sabra products from being sold on Swarthmore's campus. The BDS movement is an effectively antisemitic movement which seeks to delegitimize and ultimately eliminate the State of Israel.

We are always willing to engage in constructive dialogue in order to work on co-existence and improving the lives of Palestinians and Israelis alike. However, we will not engage in any further dialogue regarding this issue beyond this statement. Discussing actions that contribute to the boycott of an entire state cannot possibly be constructive, as it is an inherently one-sided discussion that delegitimizes the Jewish State's very right to exist. We refuse to provide a voice to this movement and allow it to continue pushing its bias against an entire people.

We are confident that the Swarthmore student body will choose dialogue and coexistence over a boycott that is antisemitic at its core and serves only to divide us further.
SSI Vice President Rebekah Katz told Campus Reform that her group is "hopeful that President Smith and the Swarthmore Administration recognizes the danger in acquiescing to a BDS demand, and the hostile environment it creates for Jewish students both present and prospective."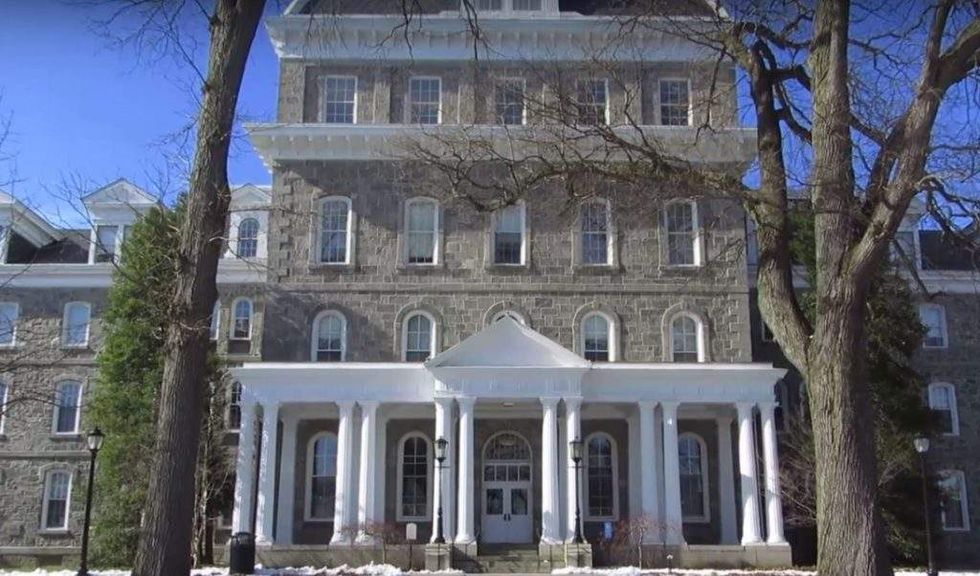 Swarthmore College (Image source: YouTube screenshot)
The outlet added that this isn't the first time Swarthmore SJP has called for a boycott of Sabra Hummus, noting that the group did so in 2012 and claimed the hummus "disappeared from campus shelves."
Campus Reform said reached out to Swarthmore College and the SJP chapter but didn't receive responses.
What else has been happening as Swarthmore?
The school advertised a religion course set for next fall titled, "Queering the Bible." The course description said it "destabilizes long held assumptions about what the Bible — and religion — says about gender and sexuality."
It also offered a class in the Spring 2017 semester titled, "Is God a White Supremacist?"
The college also made headlines last fall after a conservative student penned a column for the student newspaper and then said she received threats and was bullied on the internet more than 100 times.