The judge presiding over the Kyle Rittenhouse homicide trial ruled Monday that the prosecution can't refer two men he fatally shot — and another man he wounded — as "victims," the Milwaukee Journal-Sentinel reported.
What's more, the paper said, Kenosha County Circuit Judge Bruce Schroeder added that Rittenhouse's attorneys can refer to the three shot men as "rioters" and "looters."
What are the details?
The decision on courtroom semantics stems from Schroeder's "standard rule," the Journal-Sentinel said, as he prohibits use of the term "victim" until someone is convicted of a crime, which hasn't happened yet.
Rittenhouse, 18, was charged with homicide and attempted homicide after he fatally shot Joseph Rosenbaum and Anthony Huber and wounded Gaige Grosskreutz in Kenosha, Wisconsin, NBC News said.
Rittenhouse — who was 17 on the night of the Aug. 25, 2020, shootings — is from Illinois and was in Kenosha to defend businesses from looting and arson amid rioting over the shooting of Jacob Blake, a black man, by a white police officer. Rittenhouse pleaded not guilty to the charges against him and said he acted in self-defense.
"I feel I had to protect myself," Rittenhouse said last fall during an interview from a juvenile detention center. "I would have died that night if I didn't."
Assistant District Attorney Thomas Binger wanted Rittenhouse's lawyers barred from calling the Rosenbaum, Huber, and Grosskreutz "looters, rioters, arsonists or any other pejorative term," the Journal-Sentinel said.
More from the paper:
While looting, rioting and arson occurred in the two nights before the shooting, Binger argued that unless there's specific proof Rosenbaum, Huber and Grosskreutz were engaged in any of those actions, and that Rittenhouse had seen it, the labels are even more "loaded" than what judge ascribes to "victim."

Schroeder was not swayed. "Let the evidence show what it shows," he said, and declined to prohibit the defense from using the state's unwanted terms.
Not surprisingly, CNN talking heads were decidedly unhappy with the judge's ruling:
Judge says men Kyle Rittenhouse killed shouldn't be called 'victims'youtu.be
What the left will likely ignore
As TheBlaze reported last year, video recorded on the night of the shootings allegedly caught Rosenbaum antagonizing a gun-carrying group in town to defend property, glaring at them, and daring them to "shoot me!"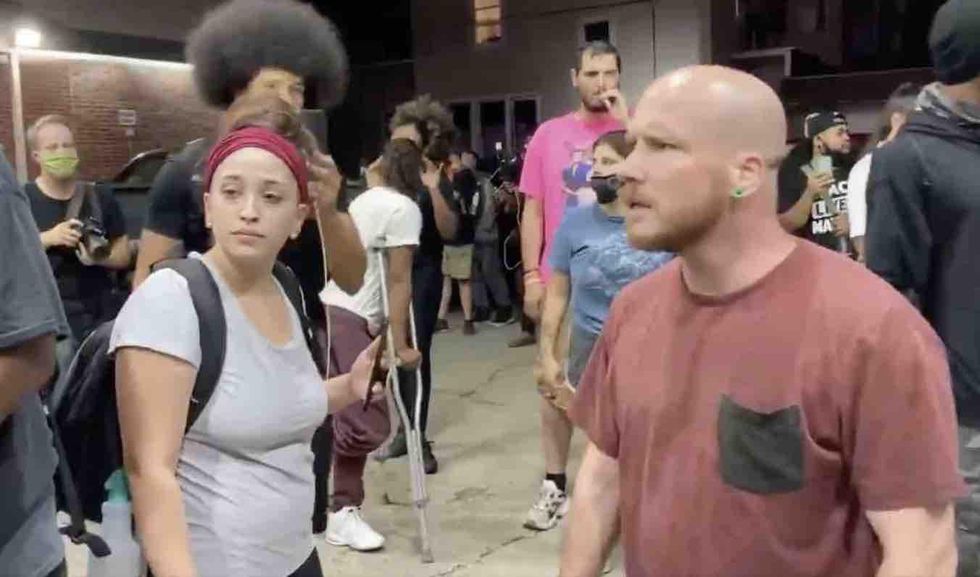 Image source: Twitter video screenshot via @Julio_Rosas11
He even uttered the N-word as black people were feet away. (Content warning: Language, racial slurs):
In addition, video allegedly shows Rosenbaum — who apparently removed his red T-shirt to use as a head covering — chasing after a male armed with a rifle. Rosenbaum then allegedly throws a bag of tools at the guy with the gun and then lunges at him, after which the individual with the gun opens fire.

Rosenbaum was then seen in a graphic clip of the shooting aftermath dying in the street and wearing the same capri-length jeans, white sneakers with white socks, and tan belt as he's wearing in the video of him confronting militia members.
Anything else?
NBC News reported that Grosskreutz — who has not been charged with a crime — sued the city, the county, and law enforcement this month for enabling a "band of white nationalist vigilantes" amid unrest following Blake's shooting.
While a spokesperson representing Kenosha and its police department declined to comment, the network said that an attorney representing Kenosha County and the sheriff called Grosskreutz's allegations false.
"The lawsuit also fails to acknowledge that Mr. Grosskreutz was himself armed with a firearm when he was shot, and Mr. Grosskreutz failed to file the lawsuit against the person who actually shot him," attorney Sam Hall said, according to NBC News.
Indeed, Grosskreutz allegedly told a friend that he regretted "not killing the kid" who shot him at close range — and tore off a chunk of his arm — and "emptying the entire mag."
Here's a clip showing both Huber and Grosskreutz getting shot shortly after Rosenbaum was shot. (Content warning: Language):