The suspect accused of physically attacking a conservative activist last month on the campus of the University of California, Berkeley, pleaded not guilty to three felony counts Wednesday, KGO-TV reported.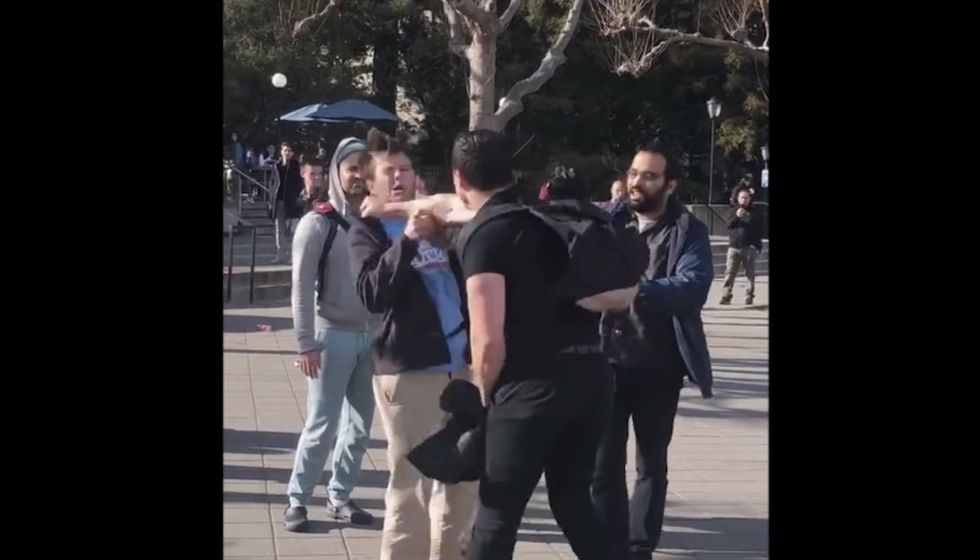 Image source: YouTube screenshot
Prosecutors said Zachary Greenberg is the man seen in the viral video attacking Hayden Williams, the station said.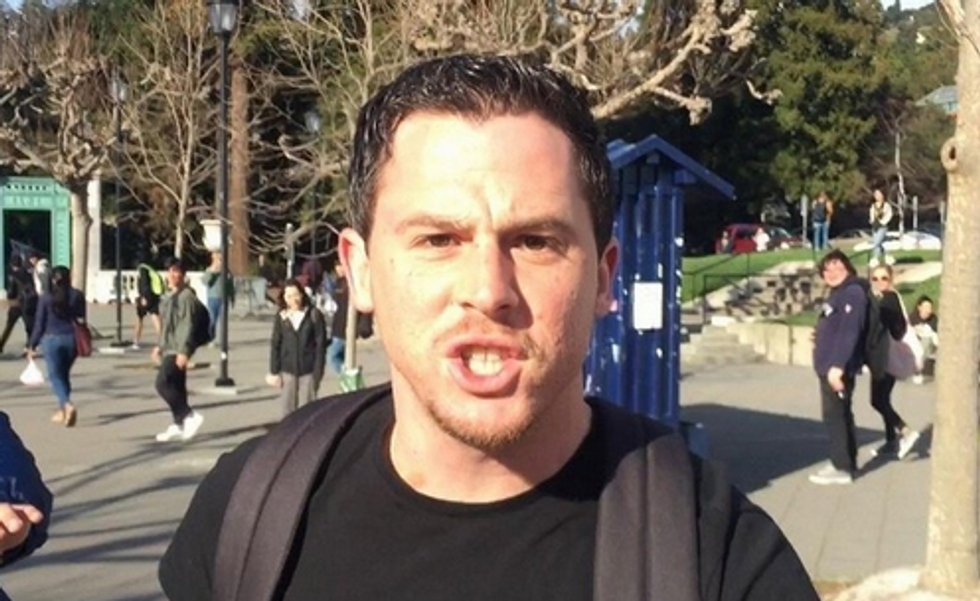 Image source: UC Berkeley police
Williams — a field representative for the Leadership Institute, which trains conservative activists — was helping conservative student group Turning Point USA recruit members at UC Berkeley on the afternoon of Feb. 19.
Greenberg was arrested last week and is facing charges of assault with force likely to produce great bodily injury, battery with serious bodily injury, criminal threats — all felonies — as well as misdemeanor vandalism.
Teresa Drenick with the Alameda County District Attorney's office told The College Fix that felony assault "does carry a maximum penalty of four years in state prison."
What did Williams' attorney say?

"It's actually sickening to watch it," Williams' attorney, Harmeet Dhillon, said of the attack video following Greenberg's hearing. "It's outrageous that a man who is exercising his rights on the UC campus is assaulted and subject to physical threats."
Williams received a black eye as a result of the attack and said he suffered from concussion-like symptoms and that his ears were ringing days after the attack.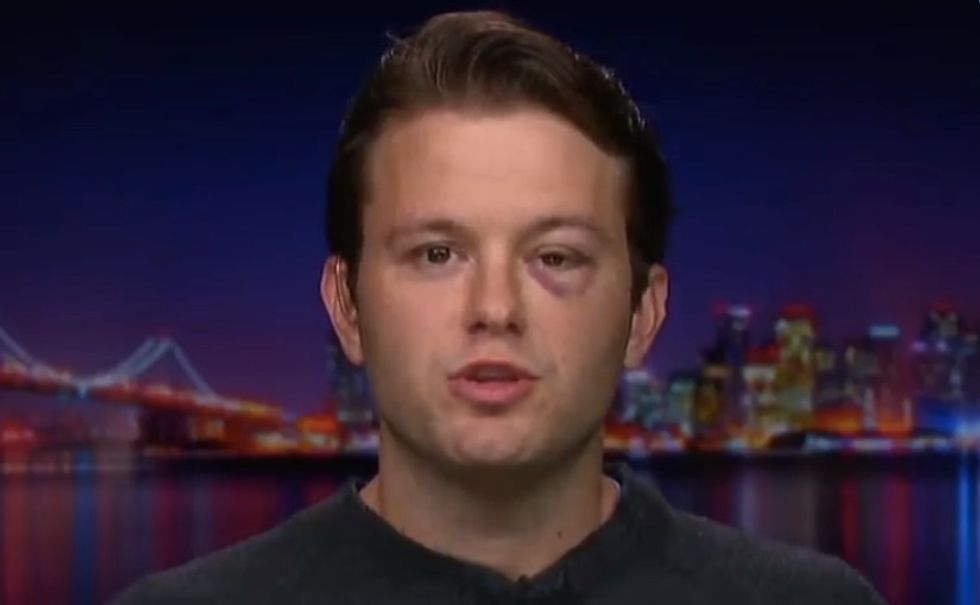 Image source: Fox News video screenshot
Greenberg — who is not a UC Berkeley student — was ordered not to contact Williams, and he isn't allowed within 100 yards of the campus, KGO said.
What did Greenberg's attorney say?

Greenberg's attorney Alanna Coopersmith focused on her client's right to due process, KTVU-TV reporter Henry K. Smith noted.
"Mr. Greenberg is a 28-year-old man, he was using the library at UC Berkeley to study, he has a clean record," Coopersmith said following Greenberg's not guilty plea. "I realize that many people observing this case are interested in constitutional freedom, and I would remind that one important constitutional freedom is the presumption of innocence, due process of law, due process in courtroom, not on social media or the Internet."
Coopersmith added that Greenberg is a student "elsewhere" but did not give specifics.
What's the background?
Williams told Fox News' Sean Hannity that some Berkeley students got angry at Turning Point USA's recruitment table sign that read, "Hate Crime Hoaxes Hurt Real Victims." The network added that the group also had a sign that read, "This is MAGA Country" — a reference to President Donald Trump's 2016 campaign slogan, "Make America Great Again."
The signs also referred to the controversy surrounding "Empire" actor Jussie Smollett, who was arrested last week and accused by Chicago police of staging a fake hate crime against himself — at the hands of Trump supporters — to advance his career.
Williams told Hannity the man who punched him claimed Williams and Turning Point were promoting violence — and then the culprit got violent himself, even threatening to "shoot" him, according to the video of the incident.
Here's the clip. ( Content warning: language):
(H/T: The College Fix)