WASHINGTON (TheBlaze/AP) -- A Florida man who piloted a gyrocopter through miles of America's most restricted airspace before landing at the U.S. Capitol is now facing charges that carry up to 9 1/2 years in prison.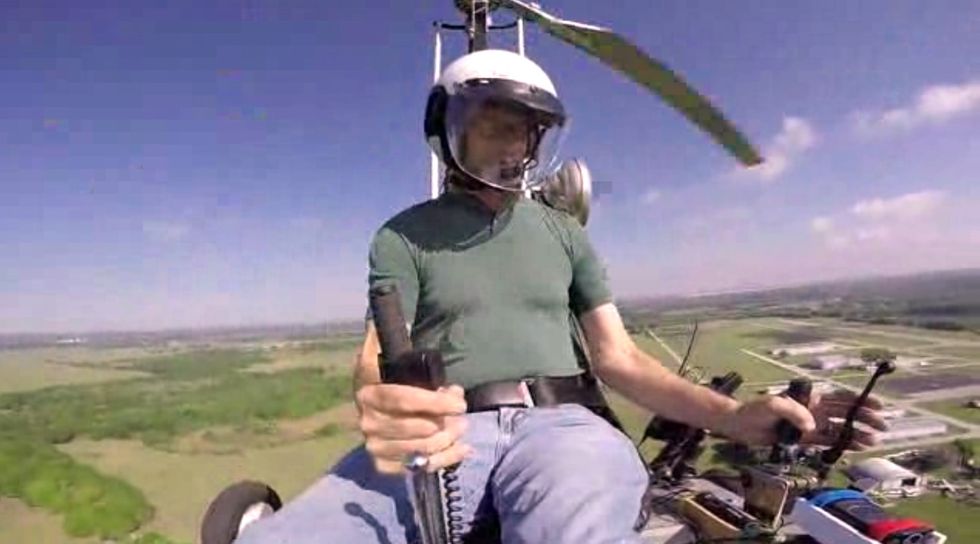 Image source: Screengrab via Tampa Bay Times
The U.S. attorney's office for the District of Columbia said Wednesday in a statement that a grand jury has indicted Douglas Hughes on six charges. He is scheduled to appear Thursday in federal court in Washington.
Hughes, who took off from Gettysburg, Pennsylvania, was arrested April 15 after he landed on the Capitol's West Lawn. Hughes has said his flight was intended to call attention to the influence of big money in politics. The stunt also led to a congressional hearing and exposed a gap in ensuring the safety of buildings in the city.
The incident is just one of several recent occurrences reigniting debates about security in Washington. It came on the heels of multiple security breaches at the White House and the revelation that Capitol Police officers had left their guns in bathrooms; one of the them was discovered by a child.
Capitol Police Chief Kim Dine told members of Congress Wednesday that there's "no excuse" for why officers left their weapons in the bathrooms. 
Breaches at the White House have included one man who got over the fence and was able to make it all the way into the executive mansion before Secret Service agents apprehended him. Another incident involved a drone being flown over the fence.