After Democratic presidential candidate Martin O'Malley was booed and heckled at the liberal Netroots Nation conference for saying "Black lives matter; white lives matter; all lives matter," Glenn Beck's radio co-hosts Pat Gray and Stu Burguiere were stunned.
"Did you ever think that you'd be in a country where someone would say 'all lives matter' and would be disagreed with?" Burguiere asked. "How is that controversial? It's the least controversial thing that's possible to say!"
That O'Malley later apologized for saying all lives matter, the two added, marks an "amazing moment in human history."
"There have been many cases where countries have decided that not all lives matter. ... Have any of those turned out well?"  Burguiere asked. "When you make a decision as a society that all life doesn't matter, you wind up really regretting that."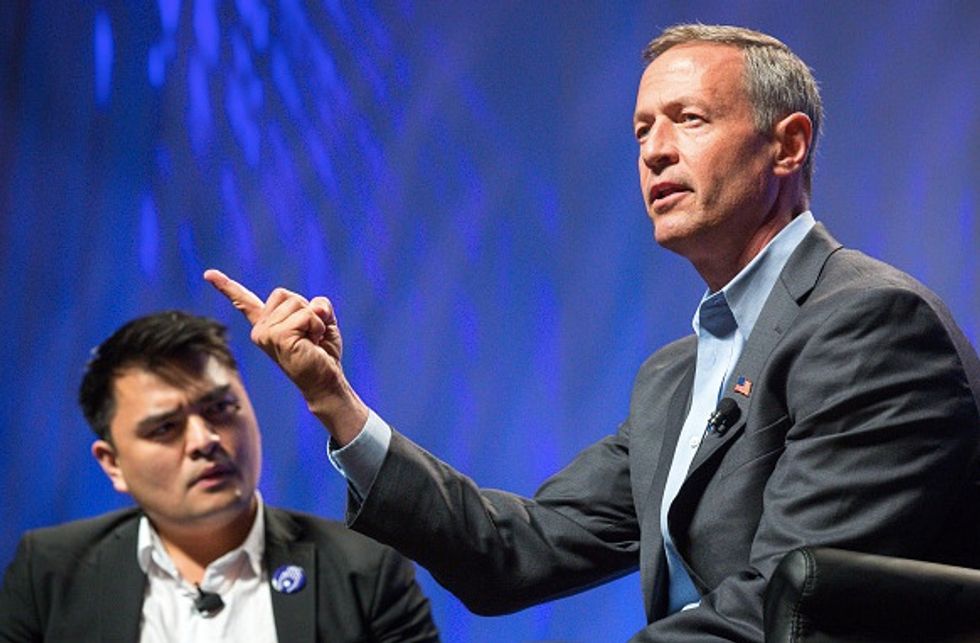 Former Maryland Gov. Martin O'Malley, right, speaks of his commitments at the Netroots Nation 2015 Presidential Town Hall with moderator Jose Antonio Vargas on July 18, 2015 in Phoenix, Arizona. The Democratic presidential candidate spoke of the criminal justice system in income inequality before being interrupted by demonstrators yelling 'Black Lives Matter' and challenging his record as mayor and governor. (Image source: Charlie Leight/Getty Images)
"This is one of the two main political parties in the country," Burguiere continued. "This is not some crazy group of -- I mean, it is a crazy group -- but this is supposed to be mainstream. And he can't bring himself to say all lives matter?"
Gray noted that Democratic presidential candidate Hillary Clinton was also criticized for saying "all lives matter" back in June.
"I mean, what kind of insane group of people is this?" Burguiere said. "You can't say that people's lives matter comfortably anymore?"
"It's an insane group of people who have been running this country for six years now, going on seven," Gray responded. "We're getting what we voted for sadly. ... We're reaping the benefits right now. I don't know how else to put it."
[mlbvideo content_id=274473683]
The full episode of The Glenn Beck Program, along with many other live-streaming shows and thousands of hours of on-demand content, is available on just about any digital device. Click here to watch every Glenn Beck episode from the past 30 days for just $1!