Israelis took to Facebook this week to urge NBC to fire Ayman Mohyeldin, accusing the reporter of filing biased and inaccurate dispatches from Israel.
In a Hebrew video that has been viewed more than 650,000 times so far, the NBC foreign correspondent is presented Pinocchio-like, with a digitally-elongated nose.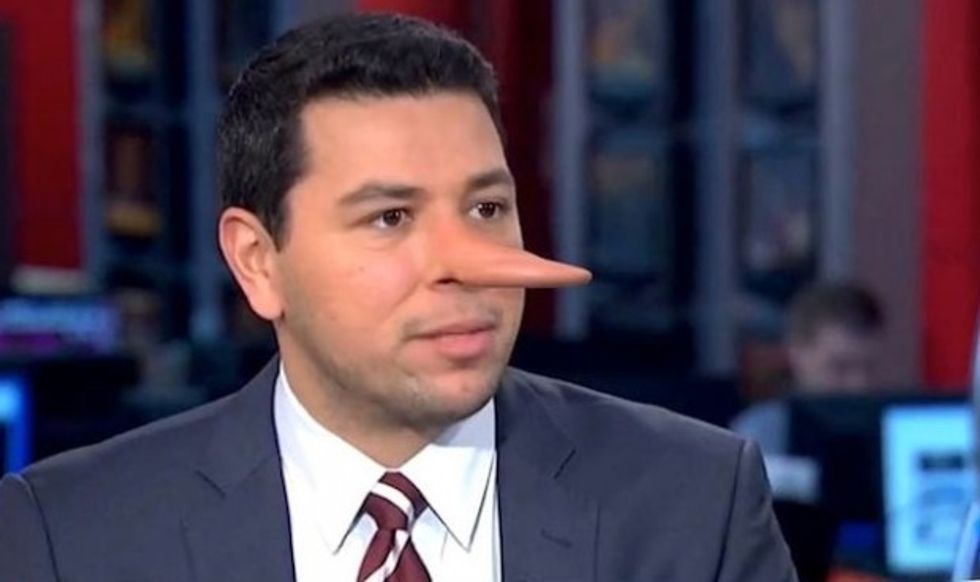 Image source: Facebook/TheKindOnes
The video, prepared by the Israeli group "The Kind Ones," included photos of people holding up signs that read "#FireTheLiar."
New campaign to force #NBC to fire their reporter #AymanMohyeldin #Firetheliar pic.twitter.com/sB389aXXCZ

— orli sagi (@SagiOrli) November 8, 2015
The group pledged to screen a video in New York's Times Square in two weeks, which will include more photos of people holding the "fire the liar" sign.
Mohyeldin has previously been accused of skewed reporting from Israel and Gaza. Most recently, he was corrected live on-air last month by MSNBC anchor Jose Diaz-Balart, who took issue with the reporter's assertion that a Palestinian who charged at Israelis while holding a knife was empty-handed.
Mohyeldin's camera crew captured video of the October incident in Jerusalem, which showed the Palestinian holding a knife. However, the NBC correspondent presented the incident as an unprovoked shooting by Israeli police, saying, "Both of his hands were open and both of his hands did not have a knife."
The pro-Israel website The Tower recently surveyed other controversial reports from Mohyeldin:
During Operation Protective Edge last year, NBC pulled Mohyeldin out of Gaza after he sarcastically accused Israel of killing four teens in a Facebook post, writing: "The #US State Department Spokesperson just said that #Hamas is ultimately responsible for #Israel shelling and killing 4 boys who were cousins aged 9-11 because Hamas didn't accept the #ceasefire. Discuss among yourselves."

He was later sent back to Gaza, where he reported that an Israel drone had struck a hospital. NBC was forced to delete a portion of his report in which he claimed that he had seen an Israeli drone fire at the hospital. An Italian journalist who had actually witnessed the attack confirmed that Hamas, not Israeli forces, had been responsible for the rocket strike that destroyed the hospital.

Prior to joining NBC, Mohyeldin worked for Al Jazeera. In 2009 the Canadian Broadcasting Company's ombudsman upheld a complaint against Mohyeldin, stating that one of his reports — asserting that some United Nations employees had "obviously been targeted" by Israel — "did not meet the standards of accuracy and fairness within the CBC's Journalistic Standards and Practices."
Israelis are on edge following a wave of multiple daily Palestinian stabbing attacks and other assaults that began in September, which have been enthusiastically encouraged on Palestinian social media and in official Palestinian Authority media outlets.
The Kind Ones – the group behind the #FireTheLiar video - describes its mission as encouraging Israelis to perform acts of kindness. It has also recruited citizen volunteers to guard Israeli pre-schools during the wave of Palestinian terrorist attacks.
TheBlaze emailed NBC seeking comment and will update this post with any response.
(H/T: Times of Israel)