A former U.S. congressman urged Attorney General Loretta Lynch to arrest him after she warned on Thursday that her office would take a more aggressive approach to those spewing anti-Muslim rhetoric.
"I think Islam has a real freaking problem, alright?" Former Illinois Rep. Joe Walsh said in a video posted to his Facebook page. "There is a cancer in Islam, and if they're not going to learn to assimilate, I don't want them in this country."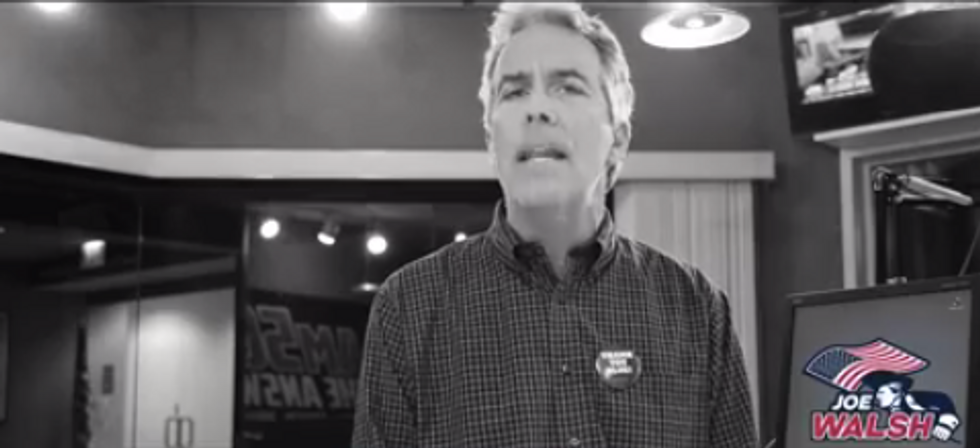 Screen grab via Facebook video
"You got a problem, Loretta Lynch, with me saying that? Then throw me in jail," Walsh, a conservative talk show host, argued. "I think Islam is evil. I think Islam has a huge problem. I think most Muslims around the world are not compatible with American values. I don't want them here."
Walsh continued to slam Lynch in his video for the comments she made at Muslim Advocate's 10th anniversary dinner one day after law enforcement officials say two people opened fire at a holiday party in San Bernardino, California, leaving 14 people dead and more than one dozen injured. According to reports, the wife pledged allegiance to the Islamic State on her Facebook page just moments before the attack.
"When we talk about the First Amendment we [must] make it clear that actions predicated on violent talk are not American. They are not who we are, they are not what we do, and they will be prosecuted," Lynch said at the banquet. "My message not just to the Muslim community but to all Americans is: we cannot give in to the fear that these backlashes are really based on."
Walsh, who now hosts his own radio program, served in Congress from 2011 to 2013.
In text that included some stronger language accompanying his video, which has been viewed more than 110,000 times as of Saturday morning, Walsh continued to argue that "most Muslims around the world are terrorists, support terrorism and/or support Sharia Law."
"Any Muslim that is a terrorist or supports terrorism should be killed," Walsh wrote. "If 'Moderate' Muslims don't speak out against terrorism, they are our enemy and we should call them out and kick them out of this country."
"Is that 'anti-Muslim rhetoric' that 'edges toward violence,'" he continued. "Go ahead and prosecute me. I dare you."